Features

Main Features
Energy saving
Higher Coefficient of Performance (COP)

---
Quiet operation
Night time quiet operation function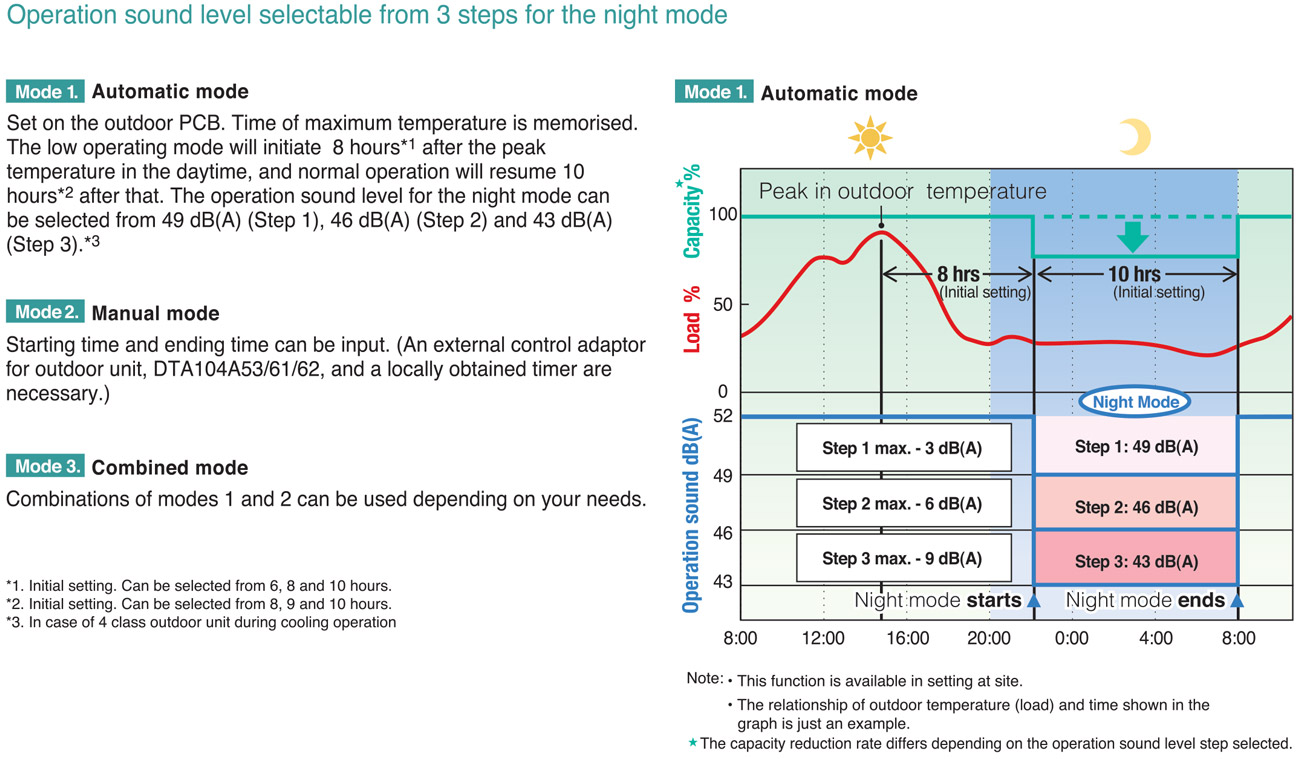 ---
Cutting-edge Technologies
Collection of cutting-edge technologies realises efficient and quiet operation
The high efficiency compressor to achieve a higher COP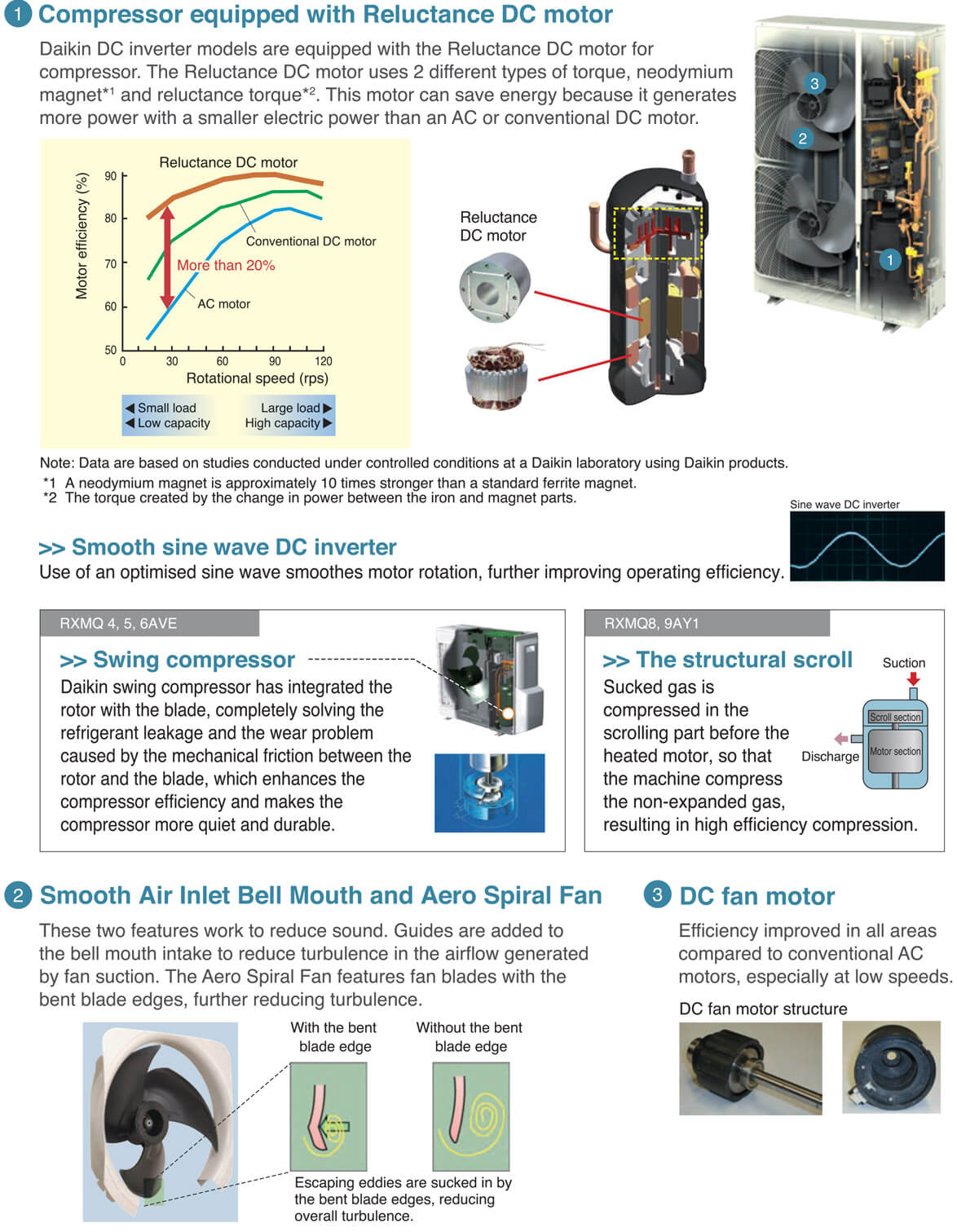 ---
Design Flexibility and Simplified Installation
Connectable up to 14 indoor units
As many as 14 indoor units can be connected to a single outdoor unit, making the VRV IS S series a remarkably versatile system.
Note: Total capacity index of connectable indoor units must be 50-130% of the capacity index of the outdoor unit. Refer to page 42 for the maximum number of connectable indoor unit.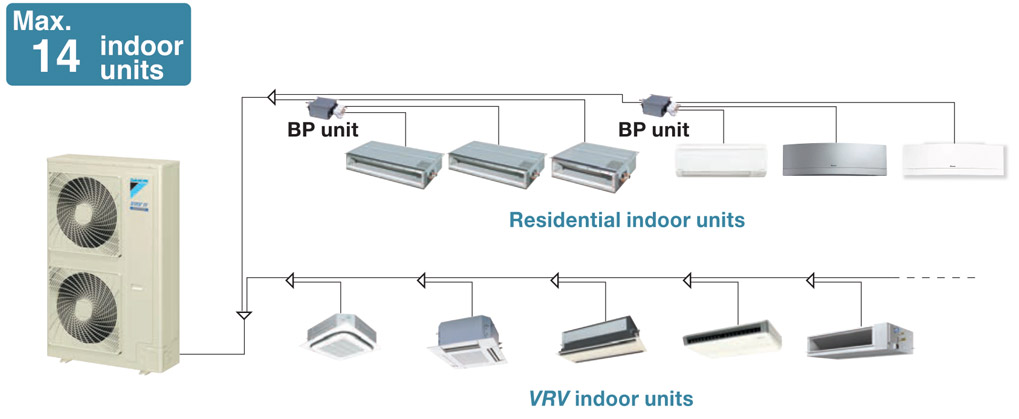 ---
Automatic test operation
Simply press the test operation button and the unit will perform an automatic system check, including wiring, stop valves, piping, and refrigerant charging amount. The results then returned automatically after the check finishes.
---
Simple wiring and piping connection
Unique piping and wiring systems make it possible to install a VRV IV S series quickly and easily.
Super wiring system
A super wiring system is used to enable shared use of the wiring between indoor and outdoor units and the central control wiring, with a relatively simple wiring operation. The DIII-NET communication system is employed to enable the use of advanced control systems.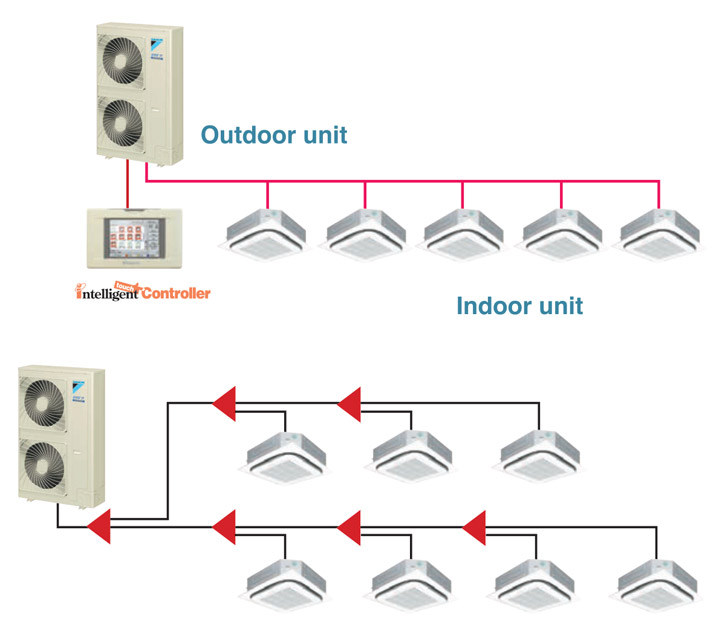 REFNET piping system
Daikin's advanced REFNET piping system makes installation easy. Only two main refrigerant lines are required in any one system. REFNET greatly reduces the imbalances in refrigerant flow between units, while using small-diameter piping.

---
Makes the long piping design possible
Long piping length offers flexibility in the choice of installation positions, and simplifies system planning.
When only VRV indoor units are connected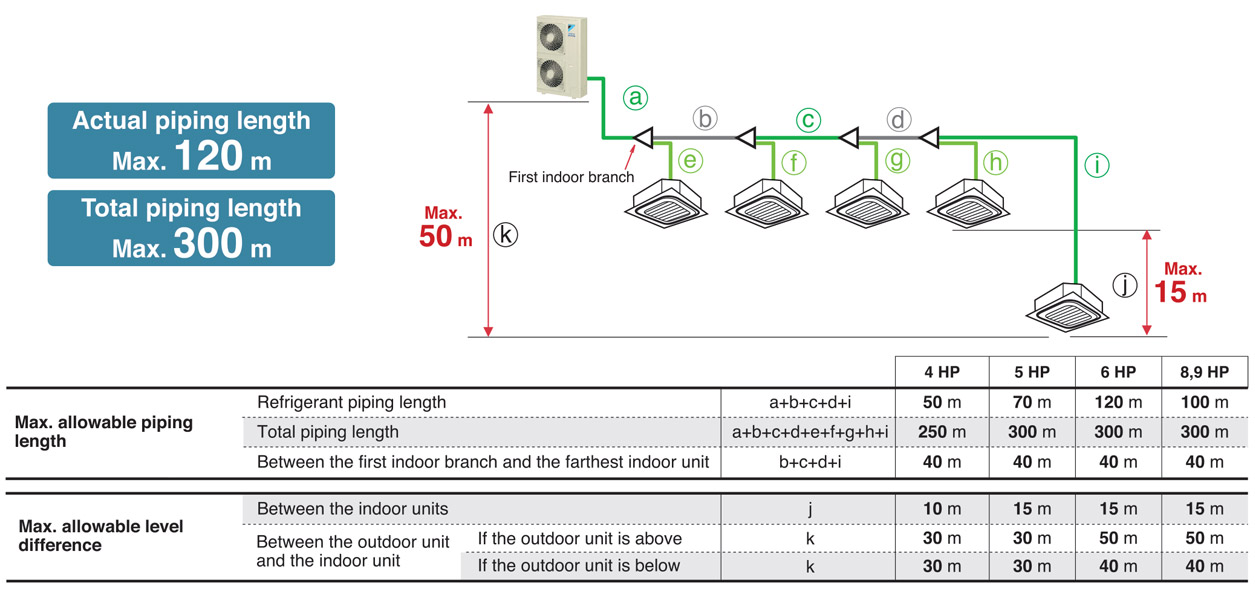 When a mixed combination of VRV and residential indoor units is connected or when only residential indoor units are connected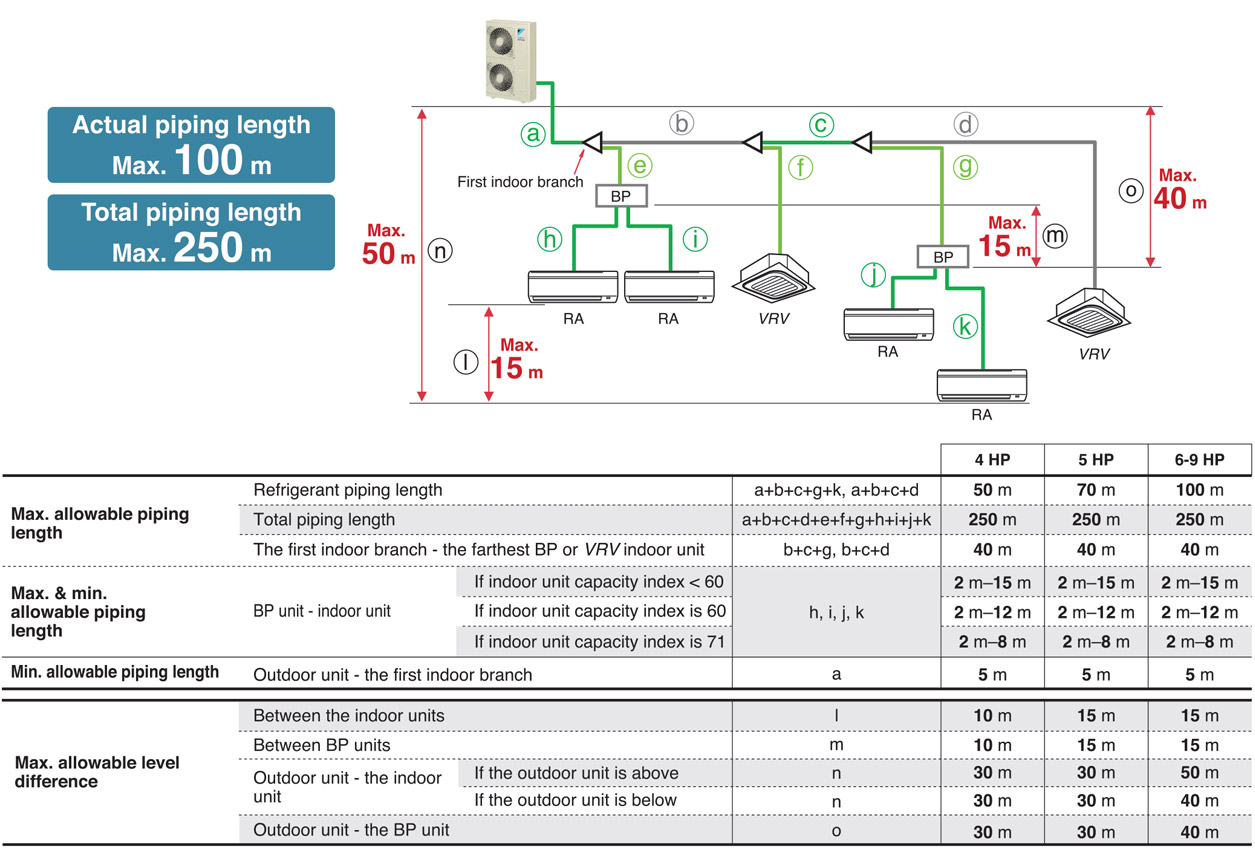 ---
Related Services

Range

Indoor Unit Lineup
Enhanced range of choices
A mixed combination of VRV indoor units and residential indoor units can be combined into one system, opening the door to stylish and quiet indoor units.
VRV indoor units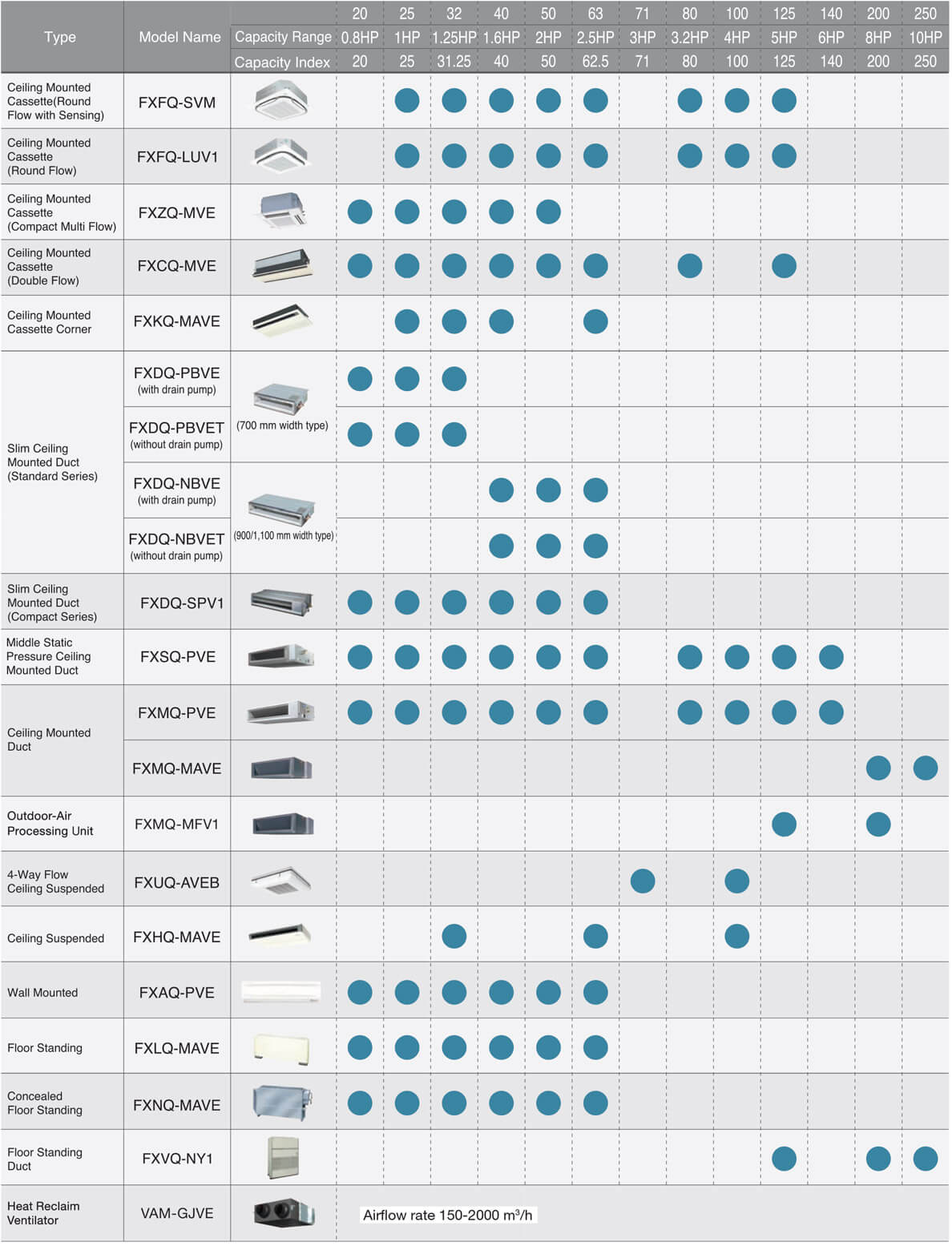 Residential indoor units with connection to BP units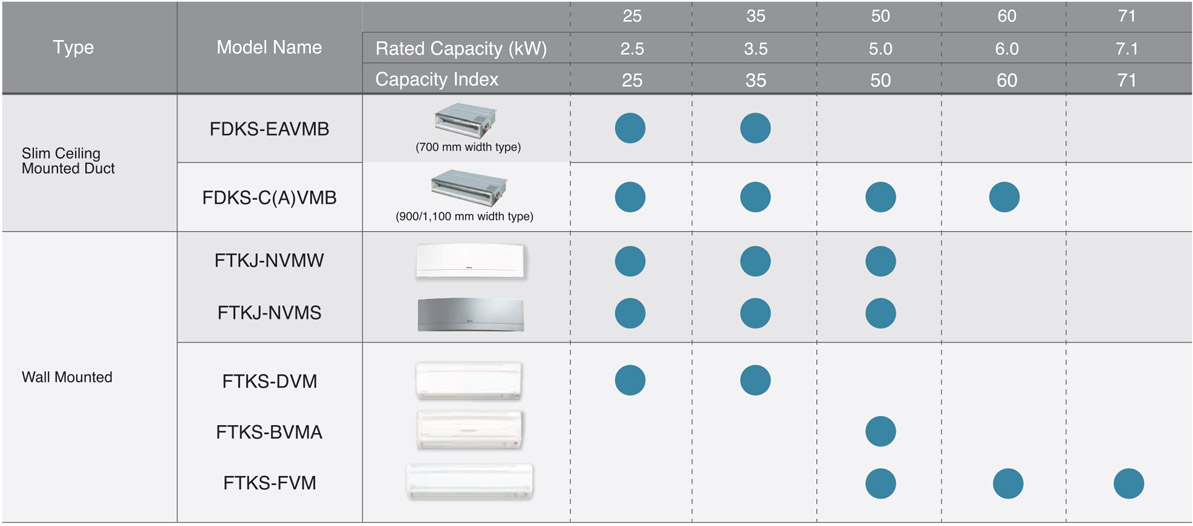 Note: BP units are necessary for residential indoor units.
VRV indoor units combine with indoor units, all in one system.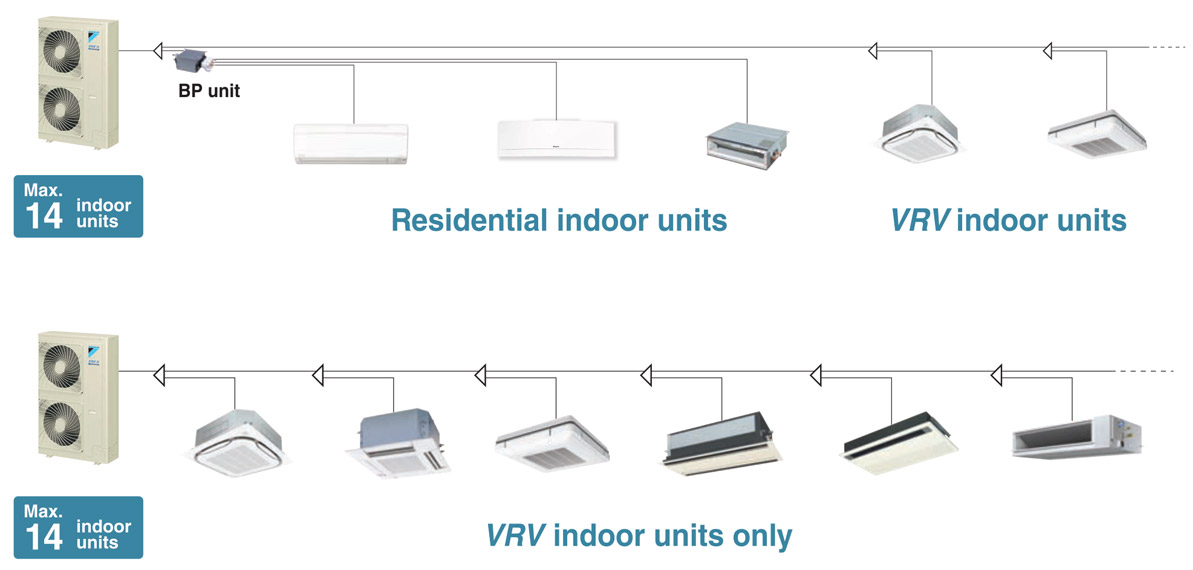 Controller

Individual Control Systems for VRV Indoor Units
Navigation Remote Controller (Wired remote controller) (Option)

Simple operation

Energy Saving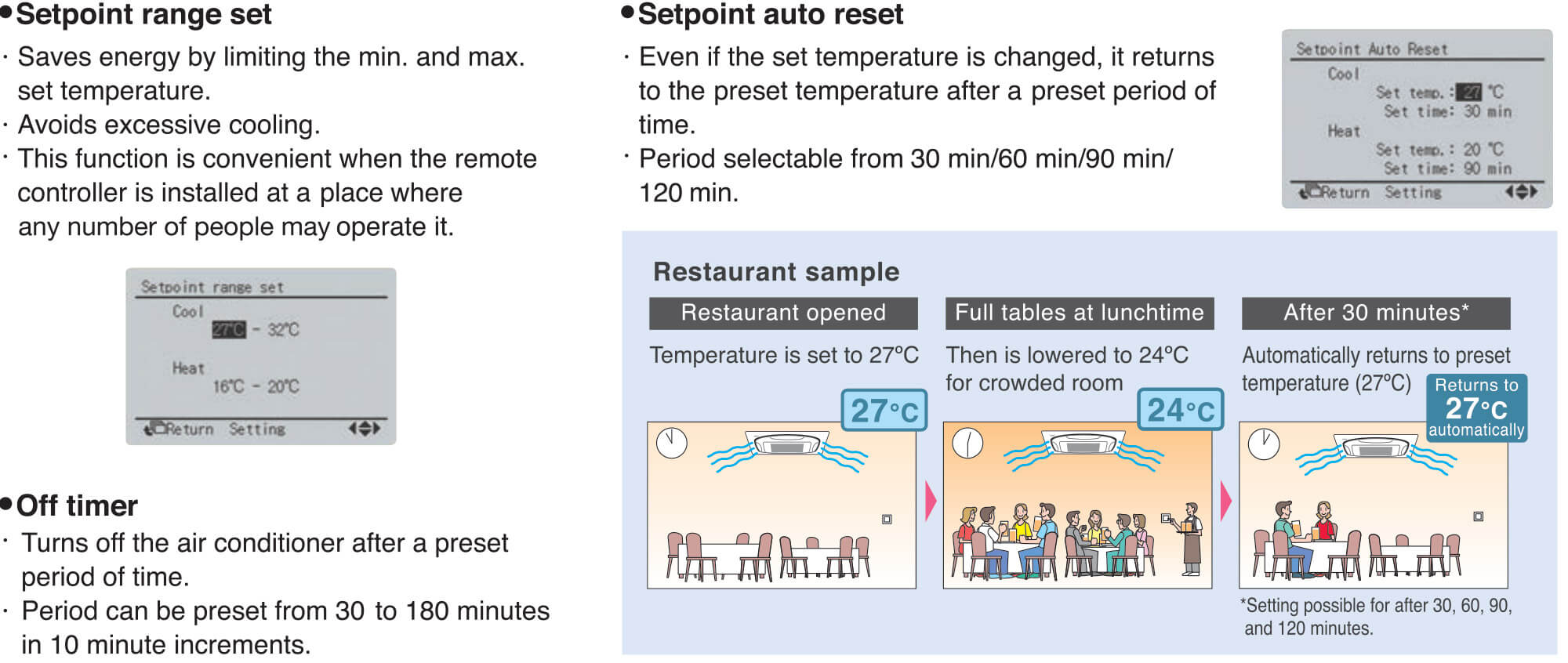 Convenience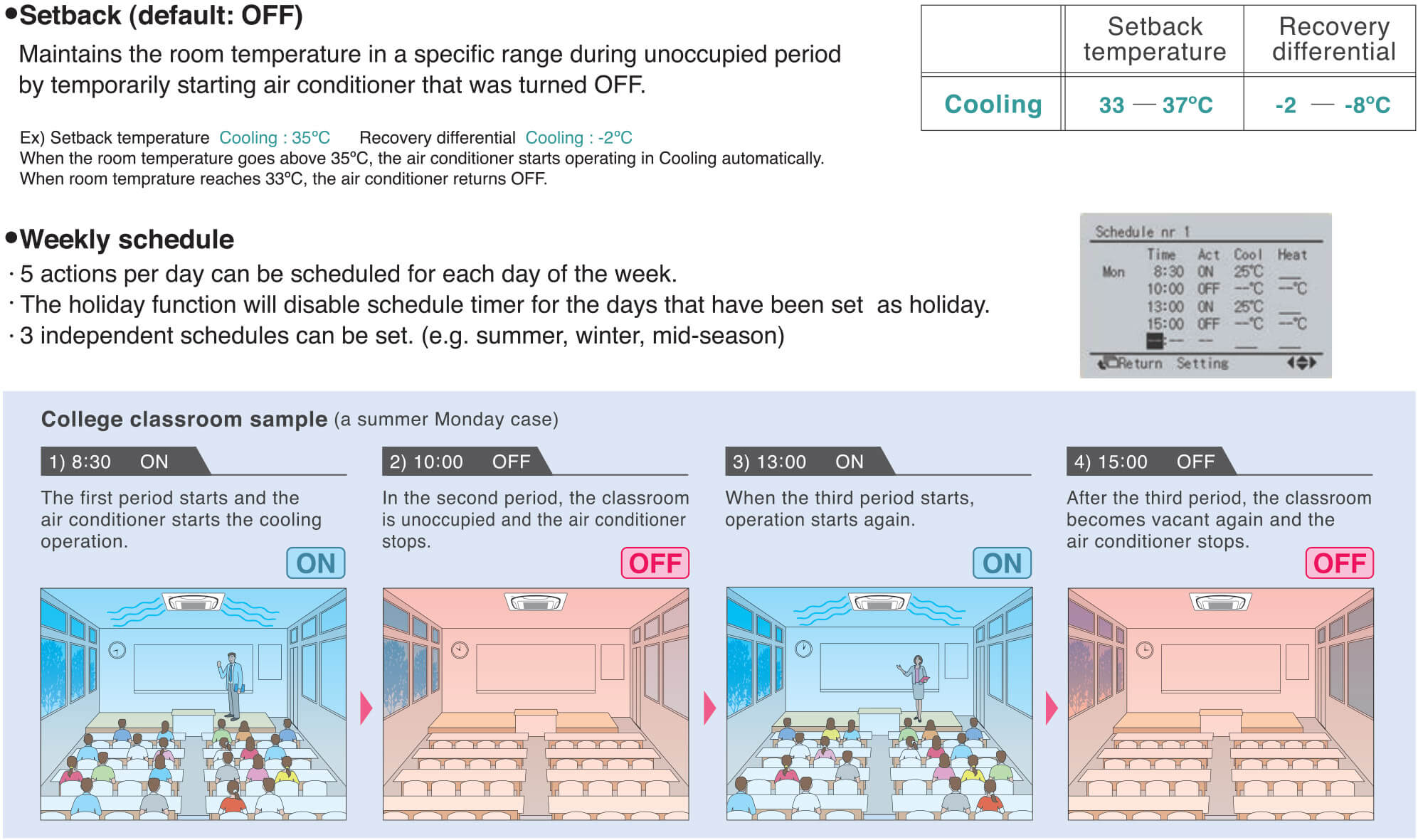 Comfort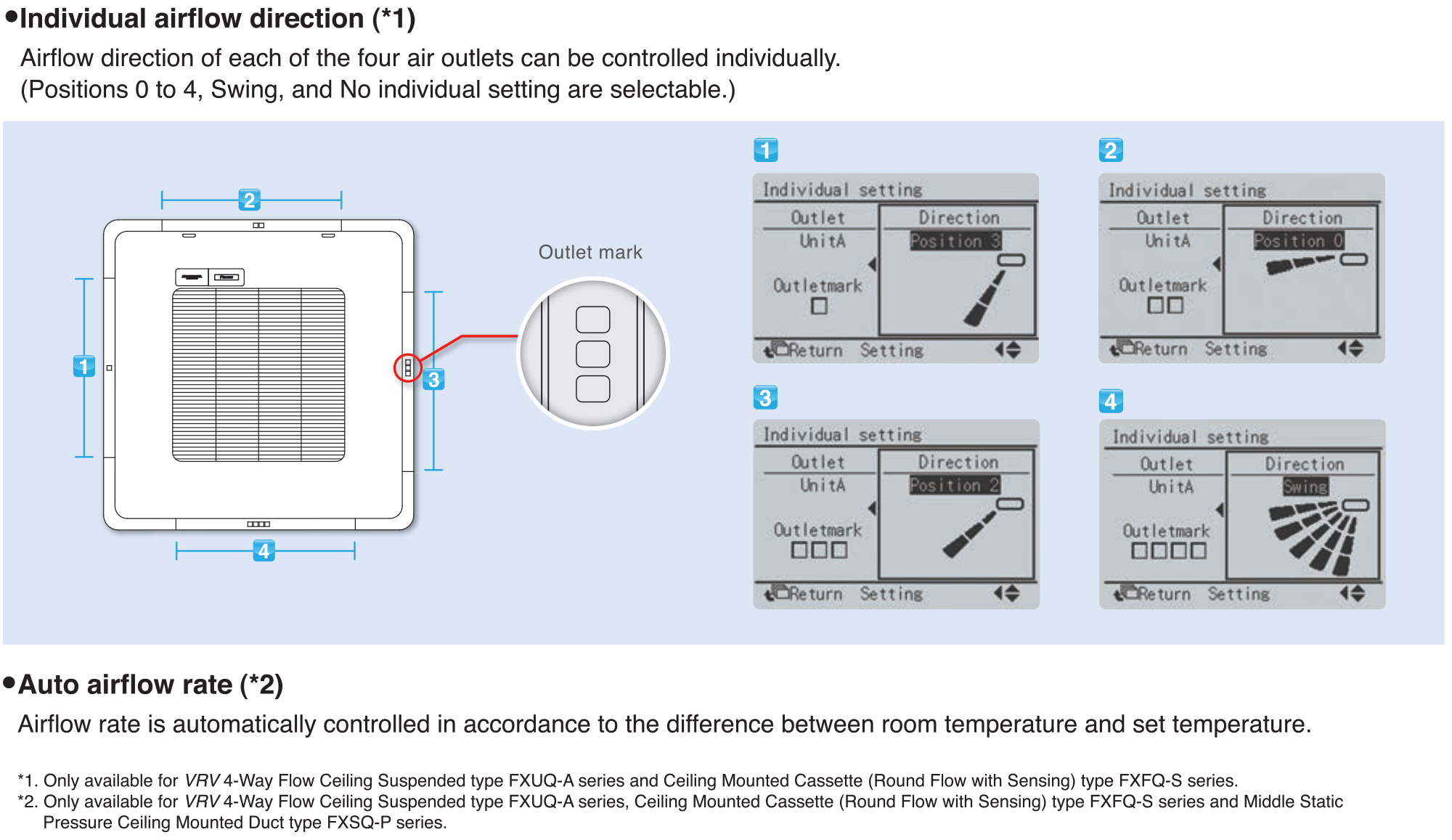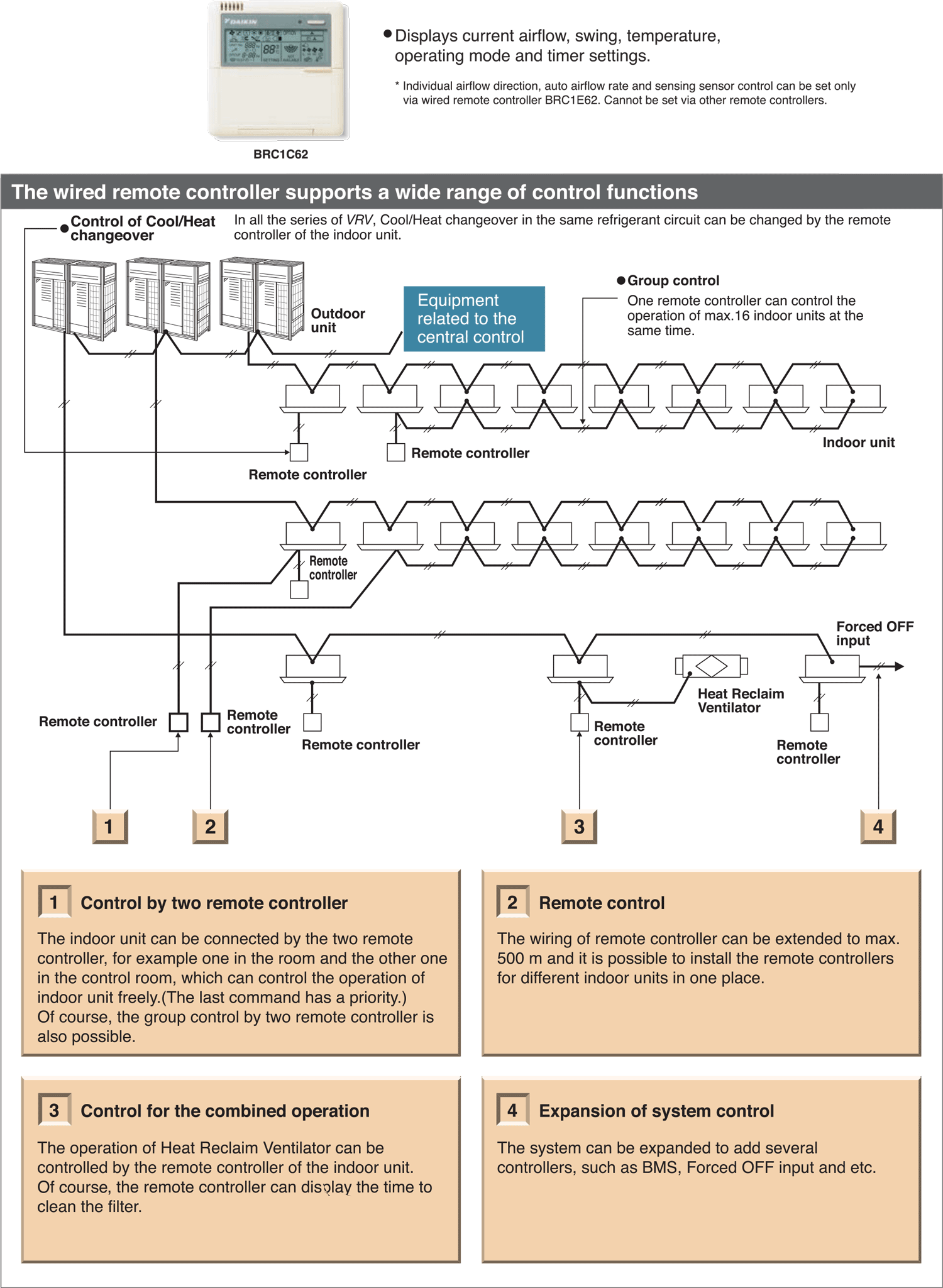 Wireless remote controller (Option)
Simplified remote controller (Option)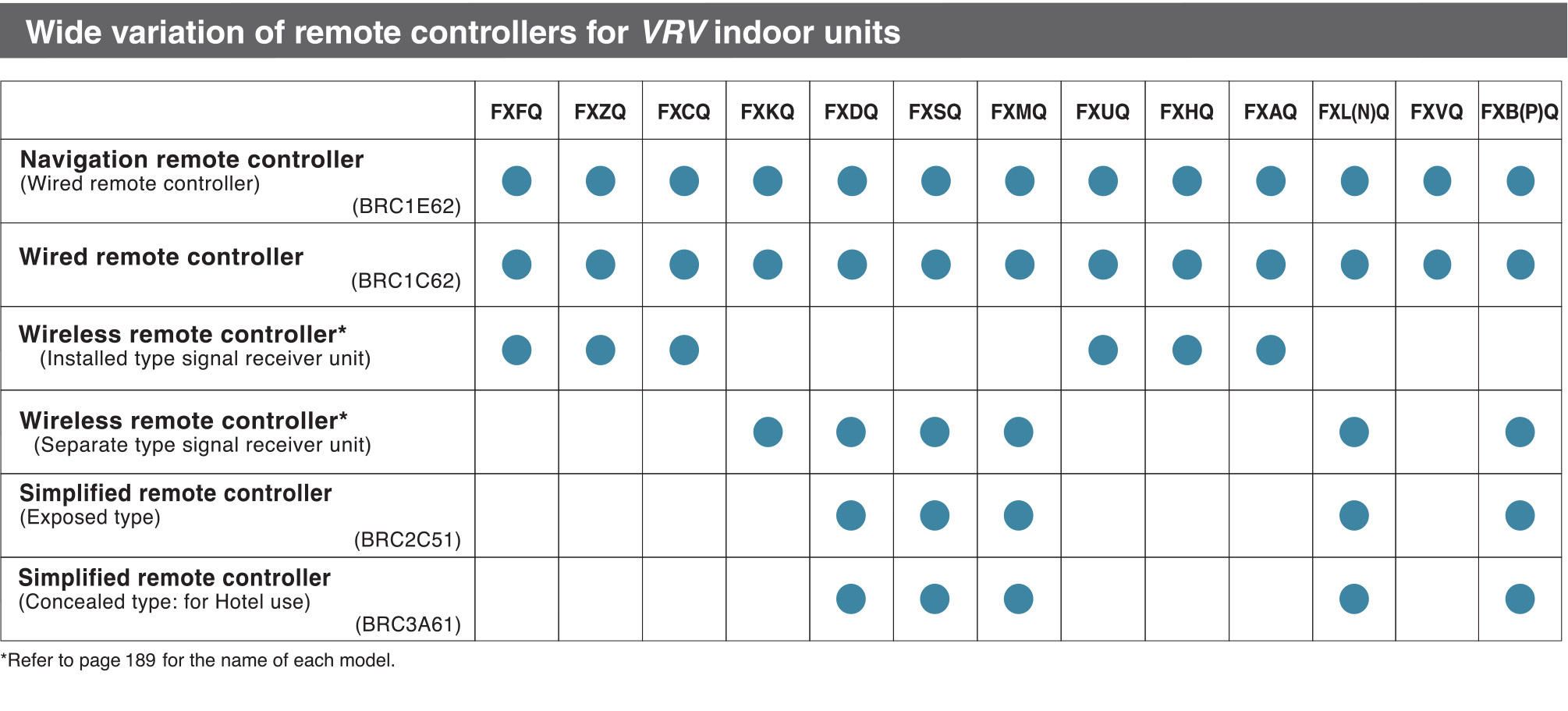 Integrated Building Monitoring System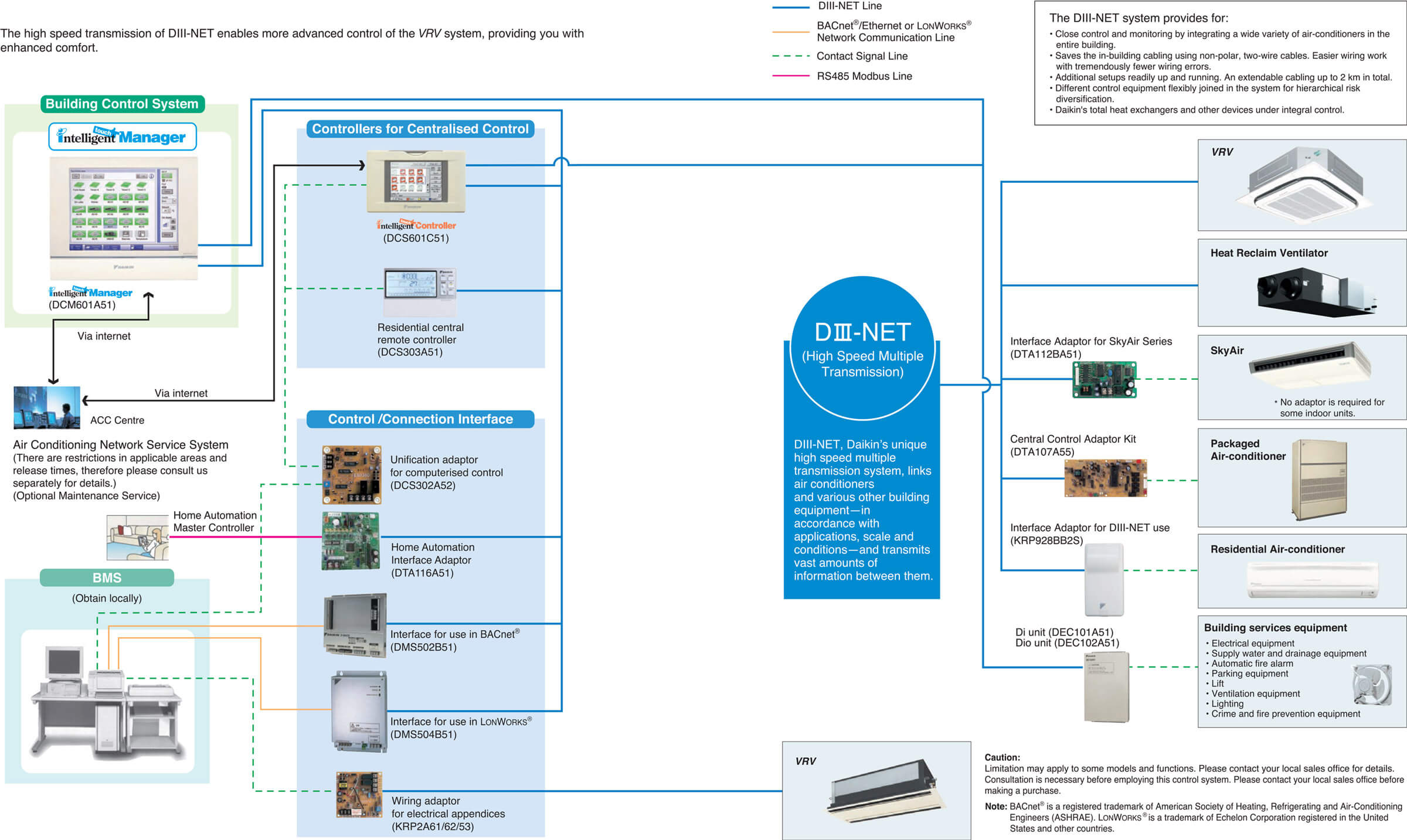 ---
Advanced Control Systems for VRV Indoor Units

One touch selection enables flexible control of equipment in a building.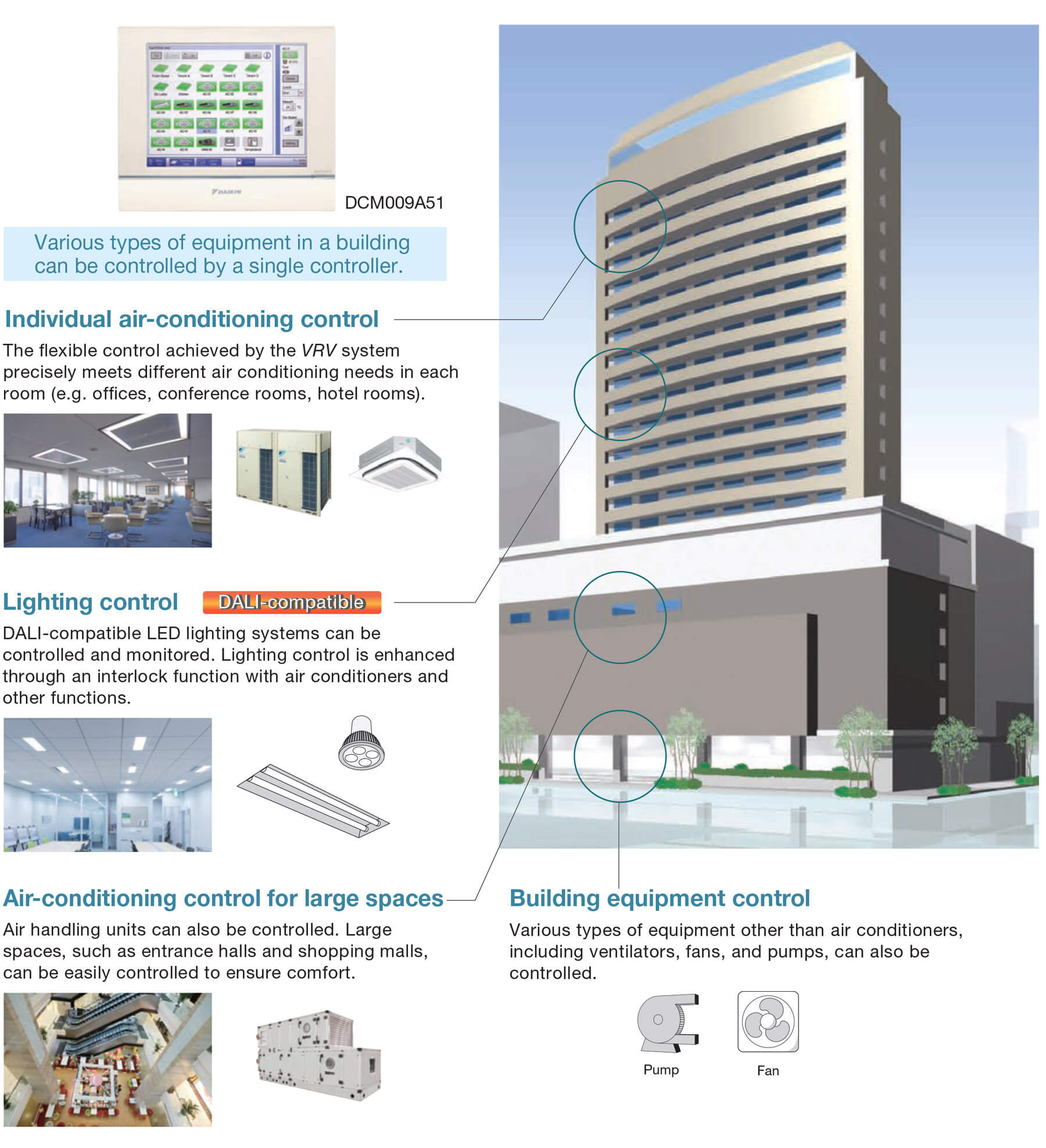 For Energy Saving & Comfort
intelligent Touch Manager maximises the advantages of VRV features
intelligent Touch Manager is an advanced multi-zone controller that provides the most cost-effective way to control and monitor the Daikin VRV system.
The 10.4" LCD touch screen is easy to use with three different screen views to include the floor plan layout view, icon view and list view and menus for system configurations.
It is also easy to use with standardized remote Web Access from your PC.
It can manage a total of 650 management points consisting of up to 512 Daikin indoor unit groups (up to 1024 indoor units) along with building equipment control / monitoring with Digital Inputs / Output (Di/Dio), Analog Inputs / Output (Ai/Ao) and Pulse input (Pi) optional devices.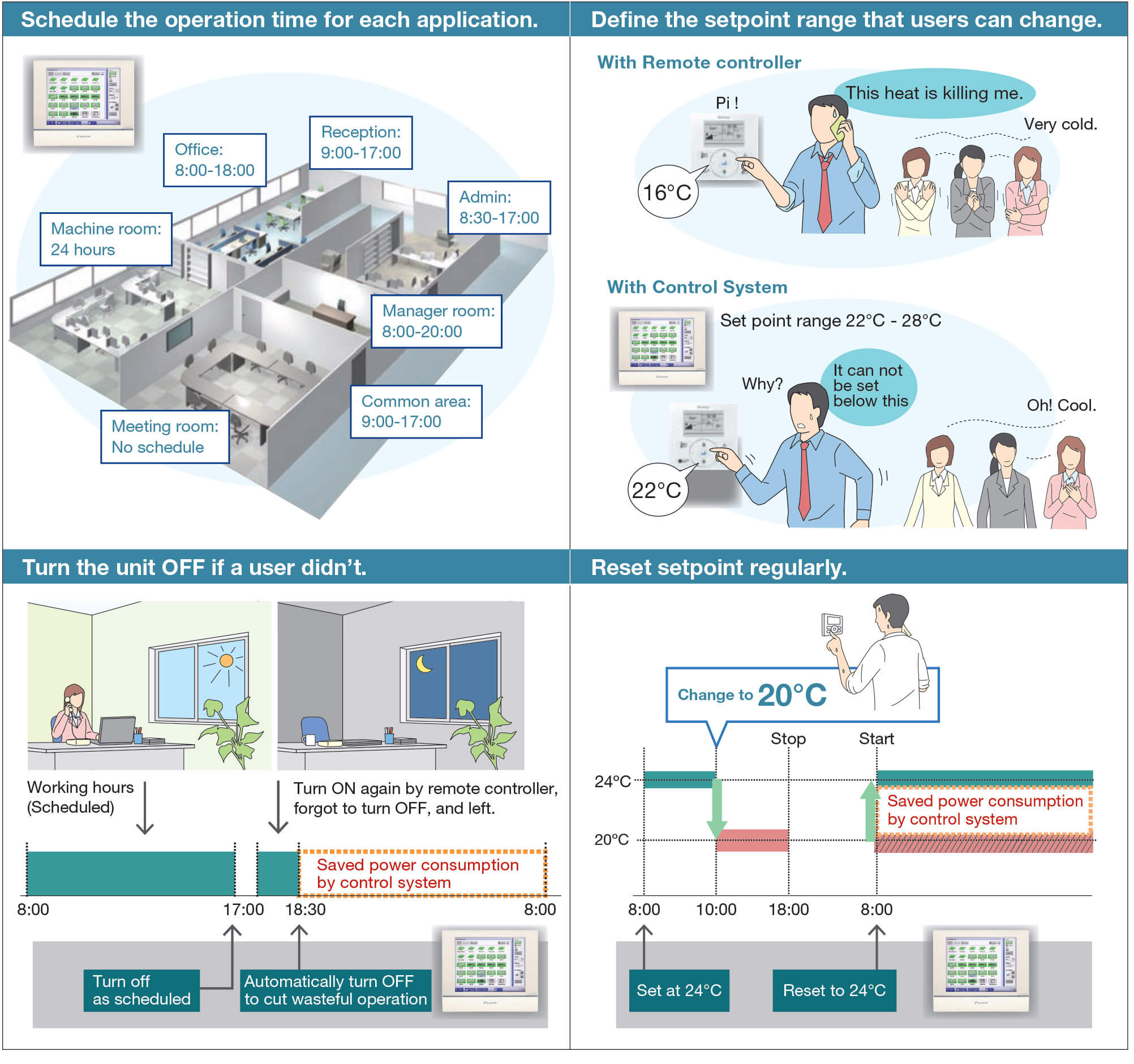 Specifications