Features

Refined Design Meets Advanced
Realising compact technology with performance
As a leading global innovator, Daikin advanced from the conventional 2 module combination to a single module for 20 HP model. This allows the installation area to reduce by 43% as compared to the previous VIII Series.
With this unbridled passion for high quality and advanced technology solutions, the new 20 HP is designed with the following considerations:

---
Design considerations
Increase surface area of heat exchanger for better performance
Easy maintenance
Sufficient cooling for electrical component
Eliminate suction resistance issue to enhance air flow volume.
---
Increase surface area of heat exchanger
The unique 4-sided all round heat exchanger ensure sufficient surface area for the heat exchanger as oppose to conventional 3-sided heat exchanger. This improves the heat exchanger performance without increasing the footprint.

---
Easy maintenance
In previous VRV design, the electrical component is usually situated on the front surface which requires the whole electrical component to be removed before maintenance can be carried out.
With the new design, the electrical component is strategically located on the top which ease the maintenance process.
Moreover, the heat exchanger on the front side can be extended to take up the previous space used for the electrical component and improve its performance.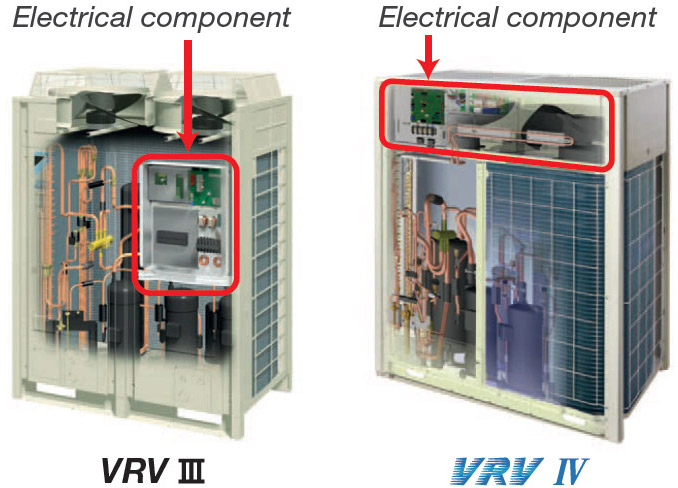 ---
Technologies
Sufficient cooling for electrical component
The new 20 HP model is designed with the electrical box strategically located between a region of positive and negative pressure. This design allows a larger air flow from negative pressure to positive pressure due to the higher pressure difference.
The small holes created in the electric box are now close to the fan blower inlet, thus a significant pressure difference can still be achieved unlike that of VRV III.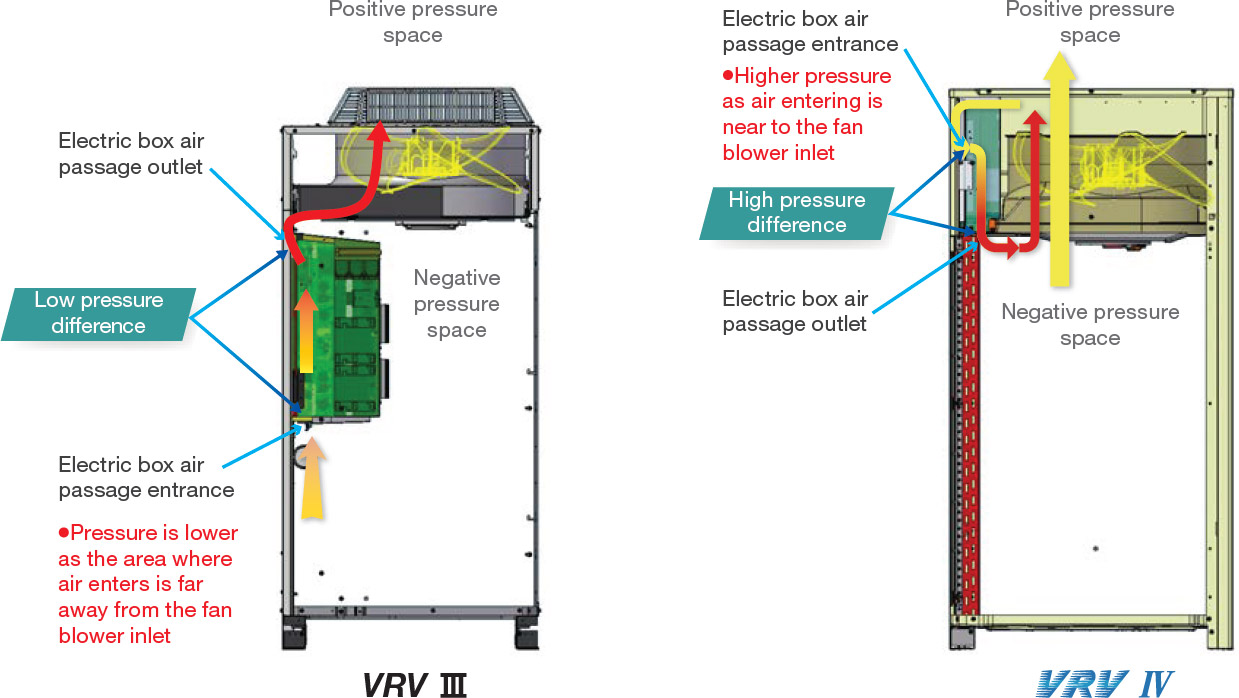 ---
Eliminate suction resistance issue
Without affecting the fan volume, the electric component is re-designed to the top and free up the dead space that existed in previous VRV III models. This eliminates the problem of suction resistance.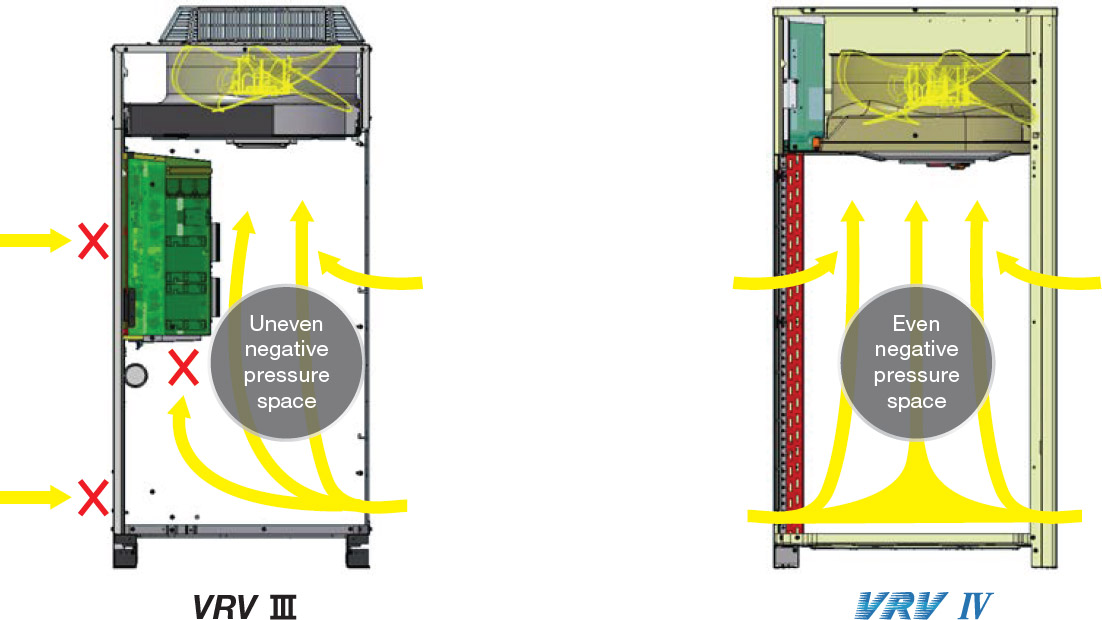 ---
VRT-Variable Refrigerant Temperature
State-of-the-art energy saving technology for VRV system
Customise your VRV system for optimal annual efficiency
The new VRV IV system now features VRT technology. VRT automatically adjusts refrigerant temperature to individual building and climate requirement, thus further improving annual energy efficiency and maintaining comfort. With this excellent technology, running costs are reduced.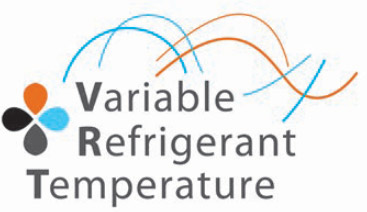 ---
How is energy reduced?
During cooling, the refrigerant evaporating temperature (Te) is raised to minimise the difference with the condensing temperature. Compressors work less, and this reduces power consumption.
---
Typical changes in evaporating temperature and COP depending on changing indoor load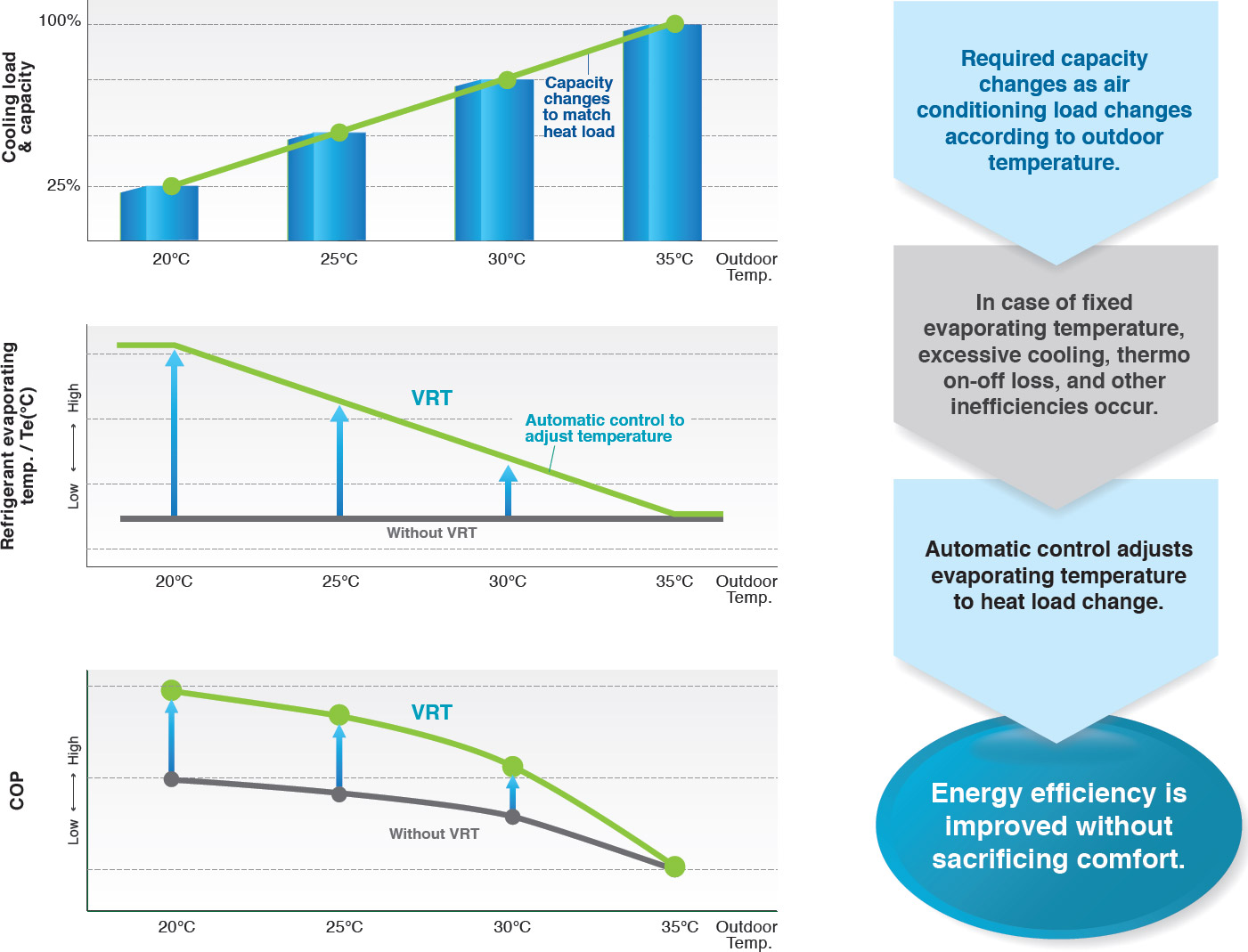 ---
New system, saving more energy
Basic mode is selected to maintain optimal comfort.
VRT is selected to save energy and prevent excessive cooling.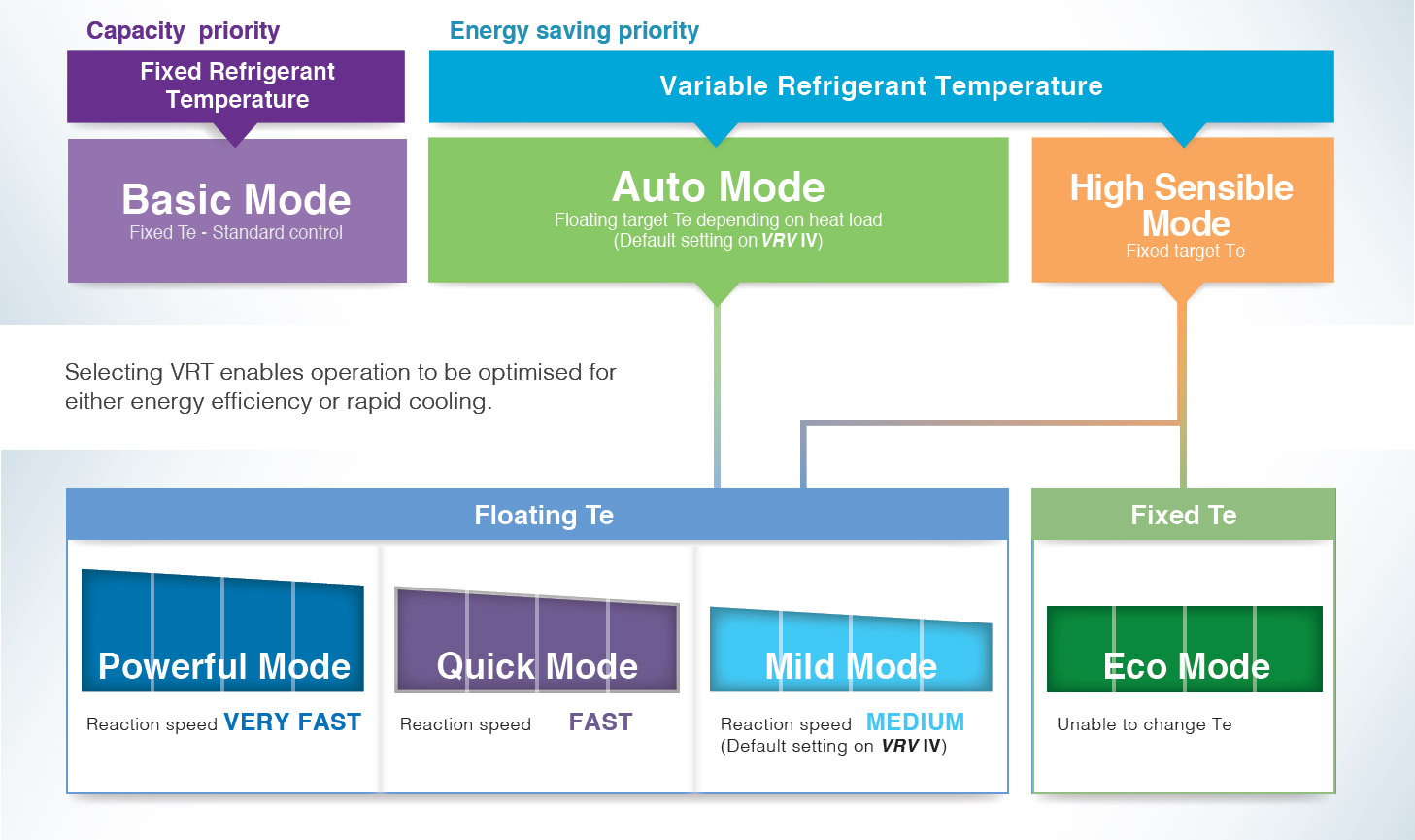 VRT offers quicker cool down to shorten uncomfortable pull down time.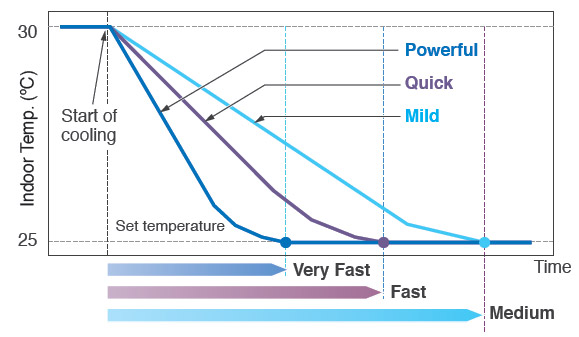 Powerful Mode

Can boost capacity above 100% if needed.
The refrigerant temperature can go lower in cooling than the set minimum.
Gives priority to very fast reaction speed.
The refrigerant temperature goes down fast to keep the room setpoint stable.

Quick Mode

Gives priority to fast reaction speed.
The refrigerant temperature goes down fast to keep the room setpoint stable.

Mild Mode

Gives priority to efficiency.
The refrigerant temperature goes down gradually giving priority to the efficiency of the system instead of the reaction speed.
---
Recommended for use in these situations
Cooling only regions having differences in daily temperature.
VRT is particularly effective at night when temperatures are low.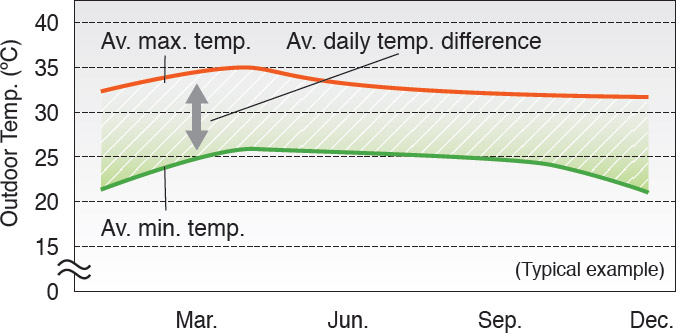 ---
More Flexible System Design
More options for installation location
Long piping length
The long piping length provides more design flexibility, which can match even large-sized buildings.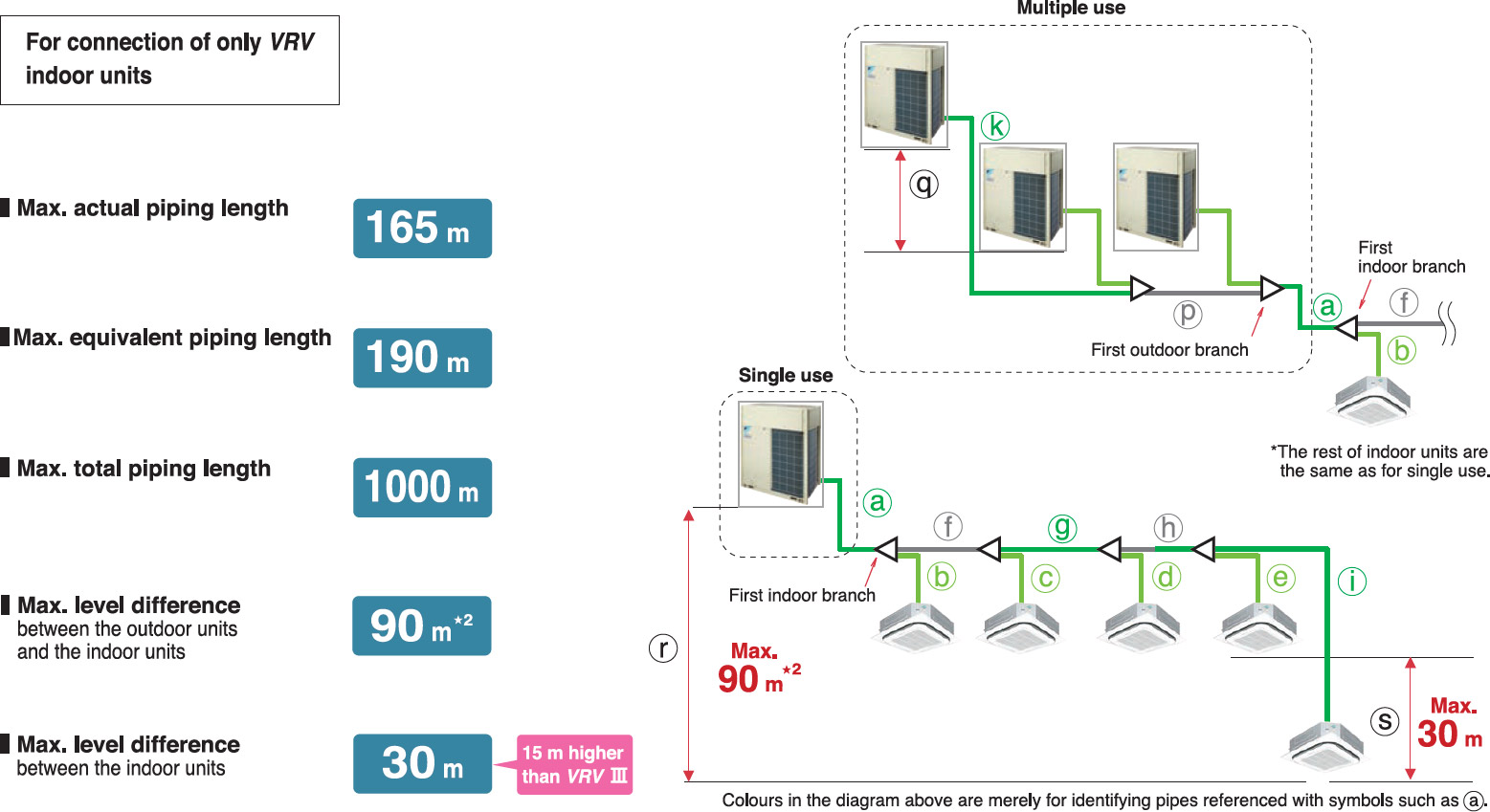 ---
Connection ratio
Connection capacity at maximum is 200%.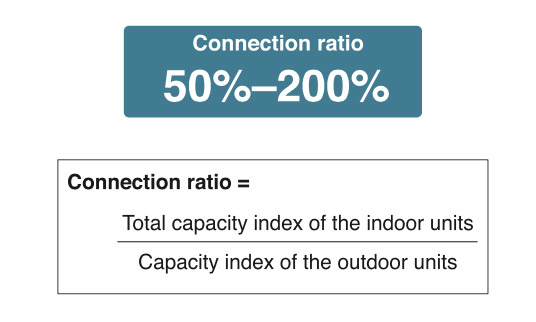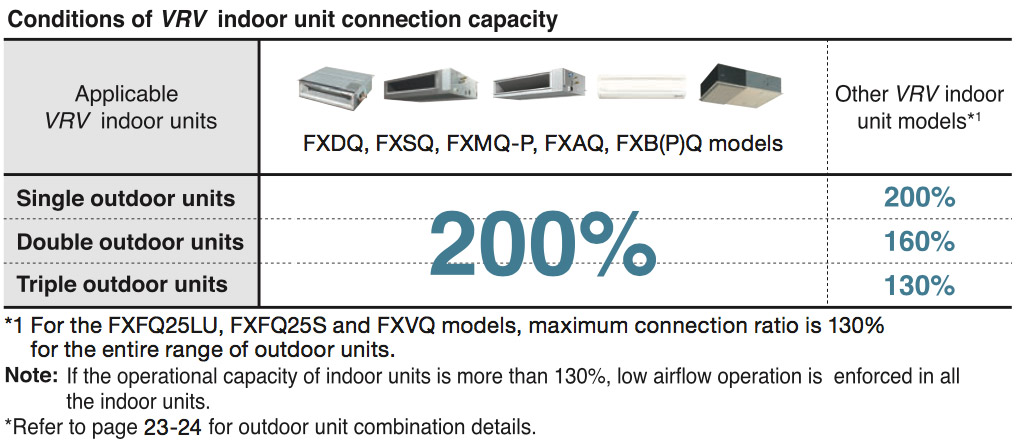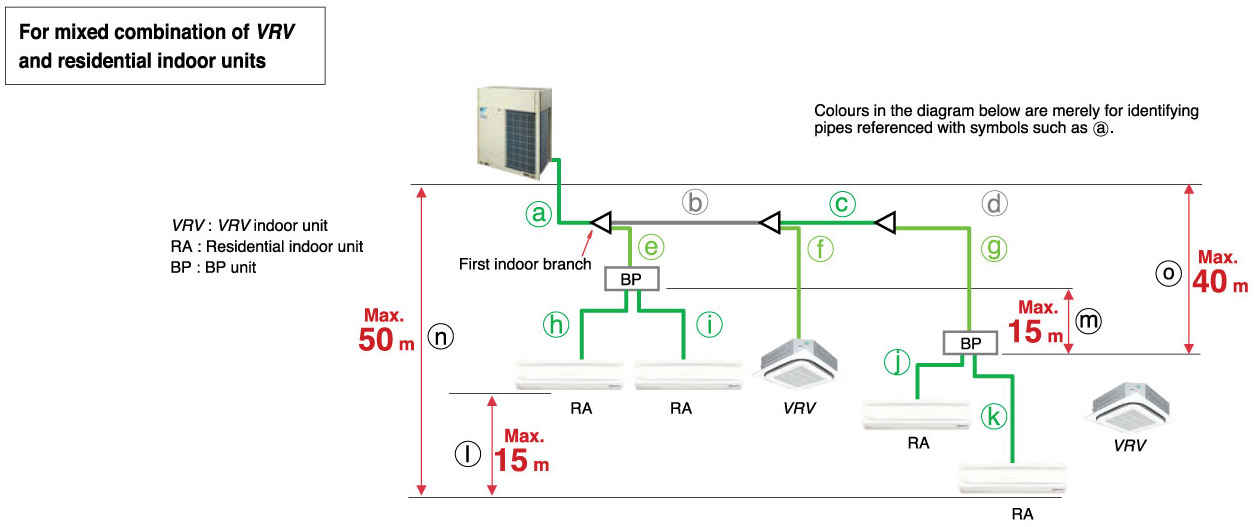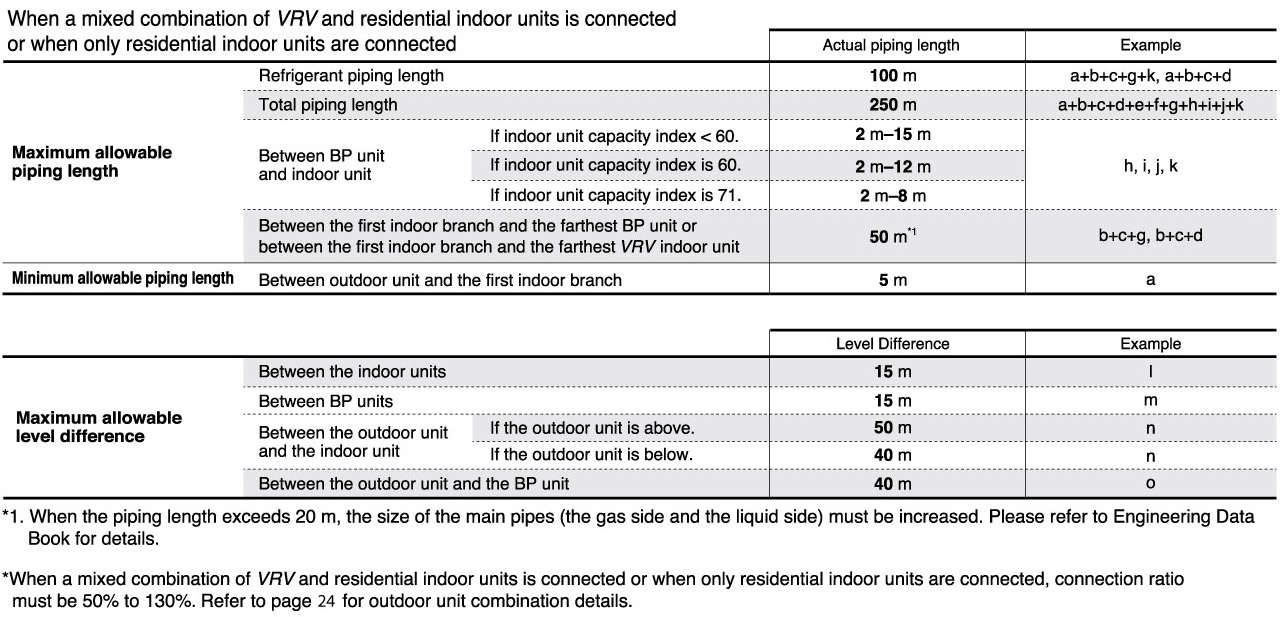 ---
High external static pressure

---
Reliable and Stable System
Multiple advanced features ensuring more accurate test operation and stable system
Efficient automatic test operation
Daikin VRV IV system incorporates a simplified and efficient test operation function, not only greatly accelerating the installation process, but effectively improving the field setting quality as well.
Automatically checks the wirings between outdoor units and indoor units to confirm whether there is a defective wiring.
Confirms and corrects the actual piping length.
Automatically checks whether the stop valve in each outdoor unit is in normal status to ensure the smooth operation of air conditioning system.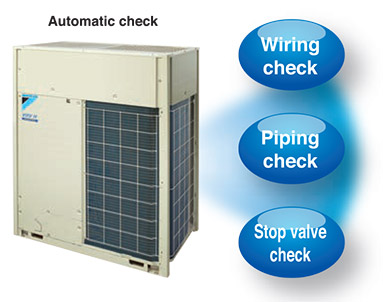 ---
Simplified commissioning and after-sales service
Function of information display by luminous digital tube
VRV IV system utilises 7-segment luminous digital tubes to display system operation information, enabling the operational state to be visually displayed whilst facilitating simplified commissioning and after-sales service.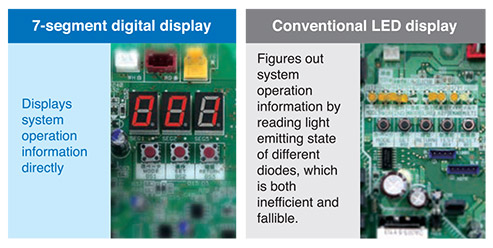 VRV configurator
The VRV configurator is an advanced software solution that allows for easy system configuration and commissioning.
Less time is required on the roof for outdoor unit configuration.
Multiple systems at different sites can be managed in the exact same way, thus offering simplified commissioning for key accounts.
Initial settings on the outdoor unit can be retrieved easily.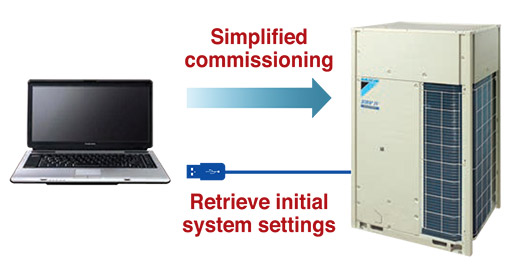 ---
I-demand function
Limit to power consumption can be set precisely to one of 11 levels. Peak power cut-off can be accomplished according to each user situation.
*Set on the circuit board of the outdoor unit.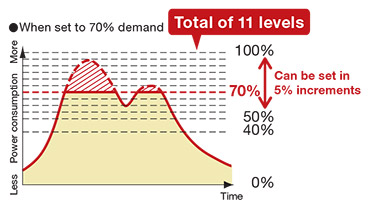 Wide operation temperature range
The versatile operation range of the VRV IV system works to reduce limitations on installation locations. The operation temperature range for cooling can be performed with outdoor temperatures as high as 49 ̊C.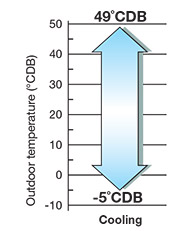 ---
Outdoor unit sequencing technology
Automatic sequencing operation
During start-up, Daikin VRV IV unit sequencing operation will be automatically enabled to ensure balance operation of each outdoor unit to improve longevity of equipment and stable operation.

---
Double backup operation functions responding resiliently to various unexpected situations
Double backup operation functions
Daikin VRV IV system boasts double backup operation functions, which can secure the use of air conditioners in this area to the greatest extent by emergently enabling double backup operation functions even if failure occurs in a set of air conditioning equipment.
In the event of a failure, emergency operation can be conveniently enabled to allow the remaining system to operate in a limited fashion.
Unit backup operation function
If malfunction occurs in an outdoor unit…
Emergency operation can be conveniently set and enabled by the remote controller of indoor units (for systems composed of two or more outdoor units).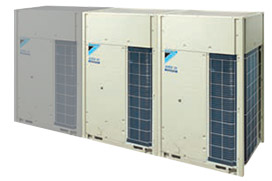 Compressor backup operation function
If malfunction occurs in a compressor…
Emergency operation can be easily set and enabled by the outdoor unit (for a single outdoor unit system, RXQ14-20TAYM models).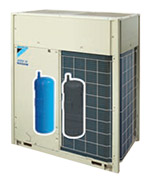 Ease of Maintenance
Double backup operation functions
VRV IV provides maintenance feature* which allows the shutdown of FCU without shutting down the whole VRV system. This feature comes in handy during maintenance period as the remaining indoor units continue to operate.
* Field setting is required.
This feature does not apply to BP unit connection.
For more information, please contact Daikin sales office.

---
Advanced Technologies Achieve
Large capacity all DC inverter compressor in compact casing
Large capacity all DC inverter compressor using high tension strength material, resulting in 12 HP (33.5 kW) compressor using 8 HP (22.4 kW) casing.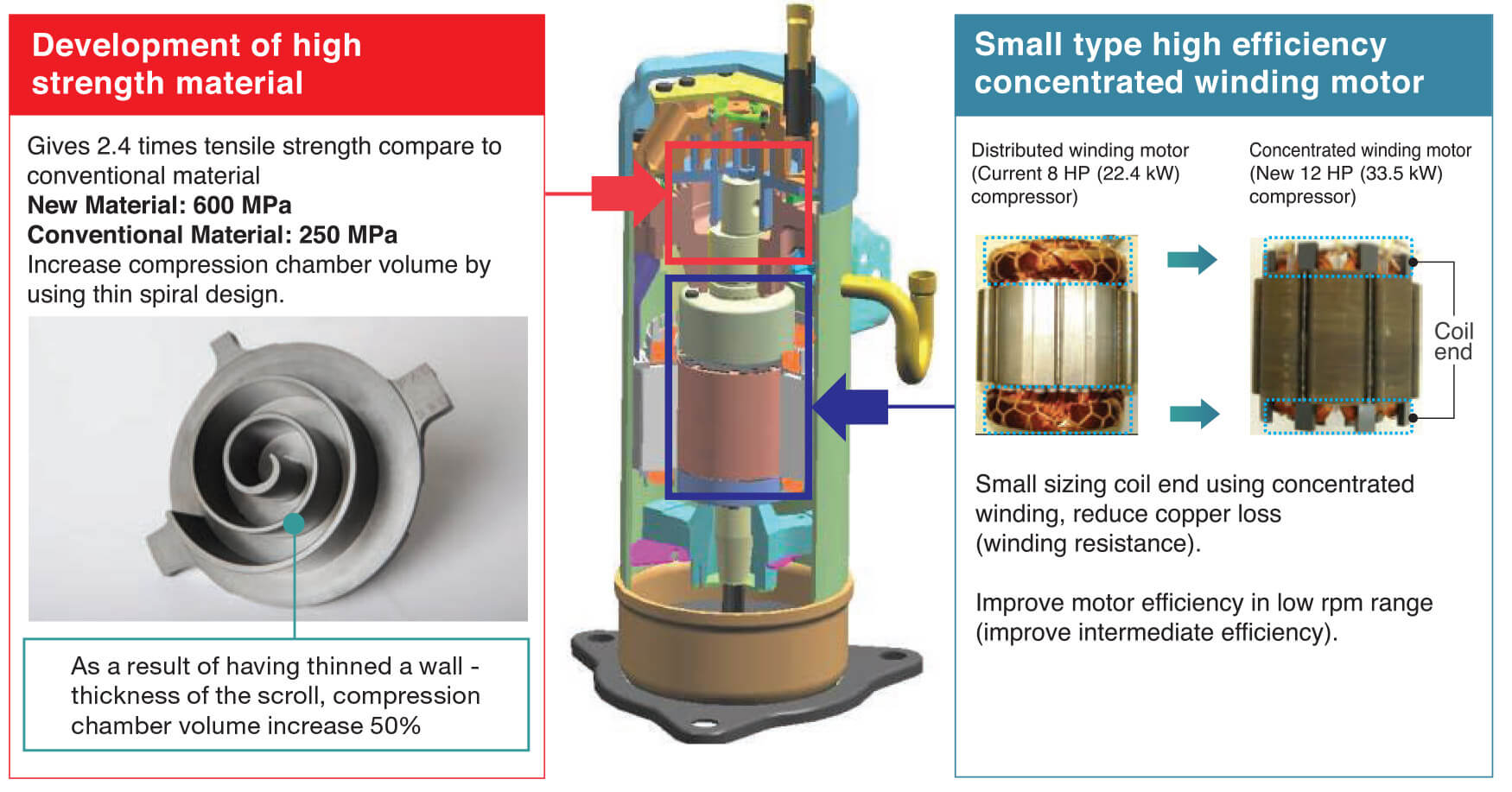 ---
Outer Rotor DC Motor (ODM)
Only Daikin adapted ODM with feature of stable rotation and volumetric efficiency
Advantages of ODM
Thanks to large diameter of the rotor,
Large torque with same electromagnetic force
Stable rotation in all range, and can be operated with small number of rotations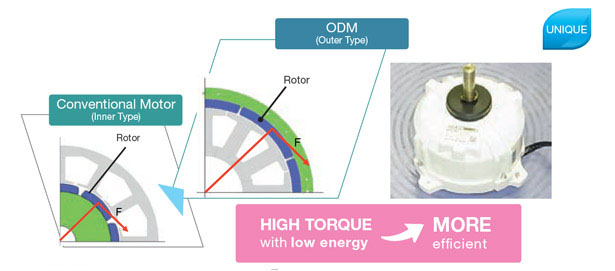 ---
Highly integrated heat exchanger
Improve performance by increasing heat exchanger area while maintaining the same installation space.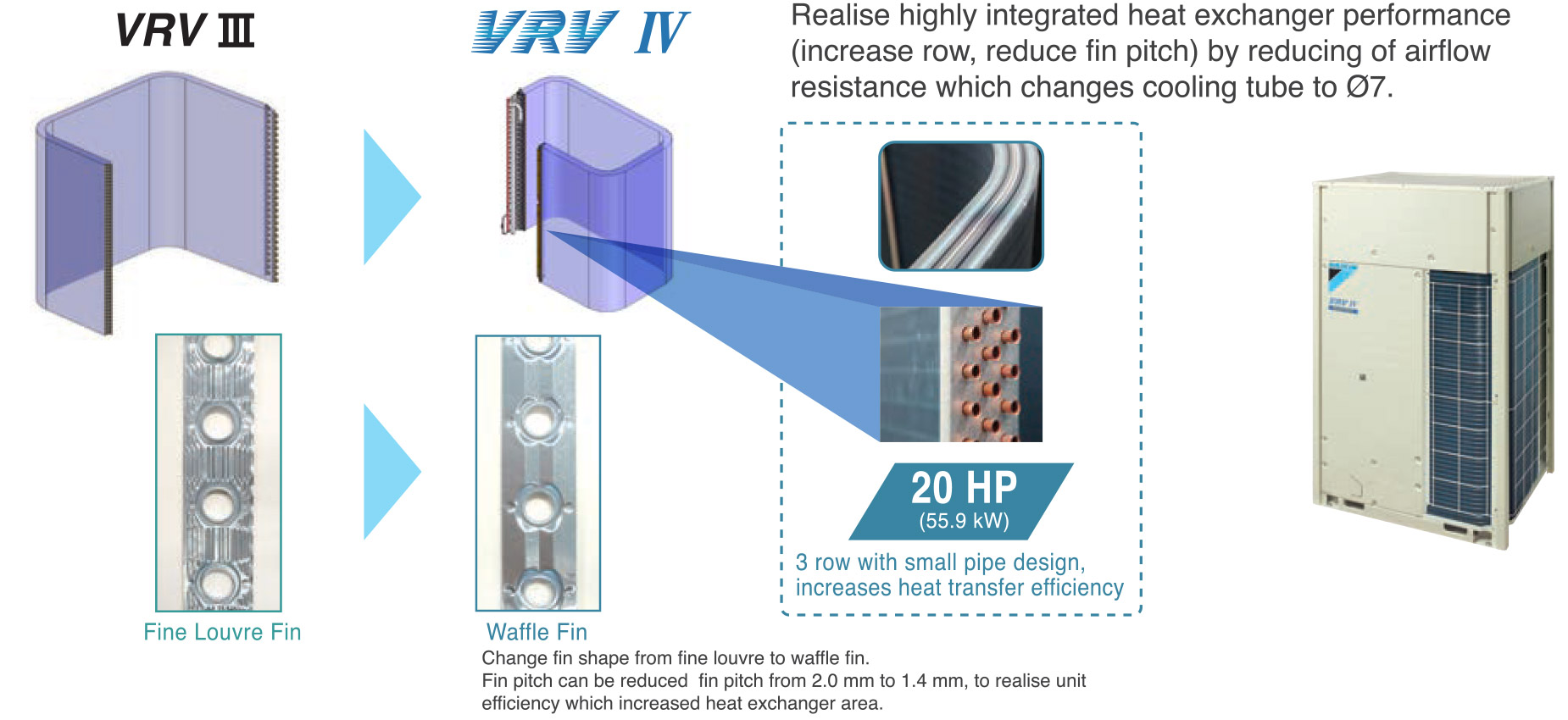 ---
Excellent Performance
Various advanced control main PC board
SMT* packaging technology
SMT packaging technology adopted by the whole computer control panel improves the anti-clutter performance.
Protects your compter boards from the adverse effect of sandy and humid weather.
*SMT: Surface mounted technology
---
Refrigerant cooling technology, ensures stability of PCB temperature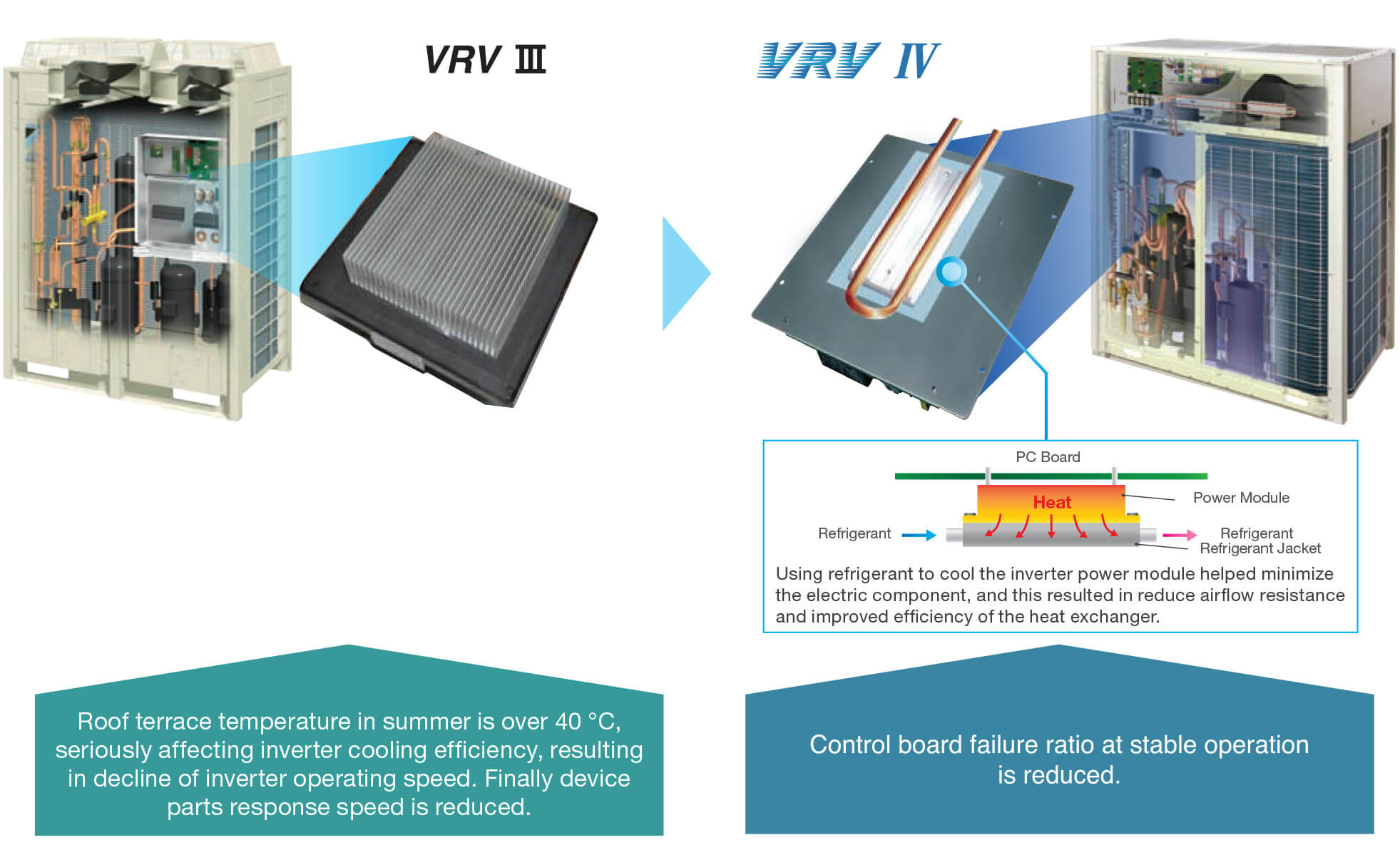 Improve reliability at high ambient temperature
It is possible to cool the inverter power module stability even at high ambient temperature.
This helps to keep air-conditioning capacity and also reduces failure rate.
---
Related services

Range

Outdoor Unit Lineup
Outdoor Units
The outdoor unit capacity is up to 60 HP (168 kW) in increment of 2 HP.
VRV IV outdoor unit offers a higher capacity of up to 60 HP, responding to the needs of large-sized building.
The single outdoor unit has only 2 different shapes and dimensions, not only
simplifying the design process, but also bringing the system flexibility to a new level. With the outdoor unit capacity increased in increment of 2 HP, customers' needs can be precisely met.
Outdoor units with anti-corrosion specifications (-E type on request) are designed specifically for use in areas which are subject to salt damage and atmospheric pollution.
Lineup

High-COP Type


Standard Type


Space Saving Type


---
Outdoor Unit Combinations
For connection of only VRV indoor units
High-COP Type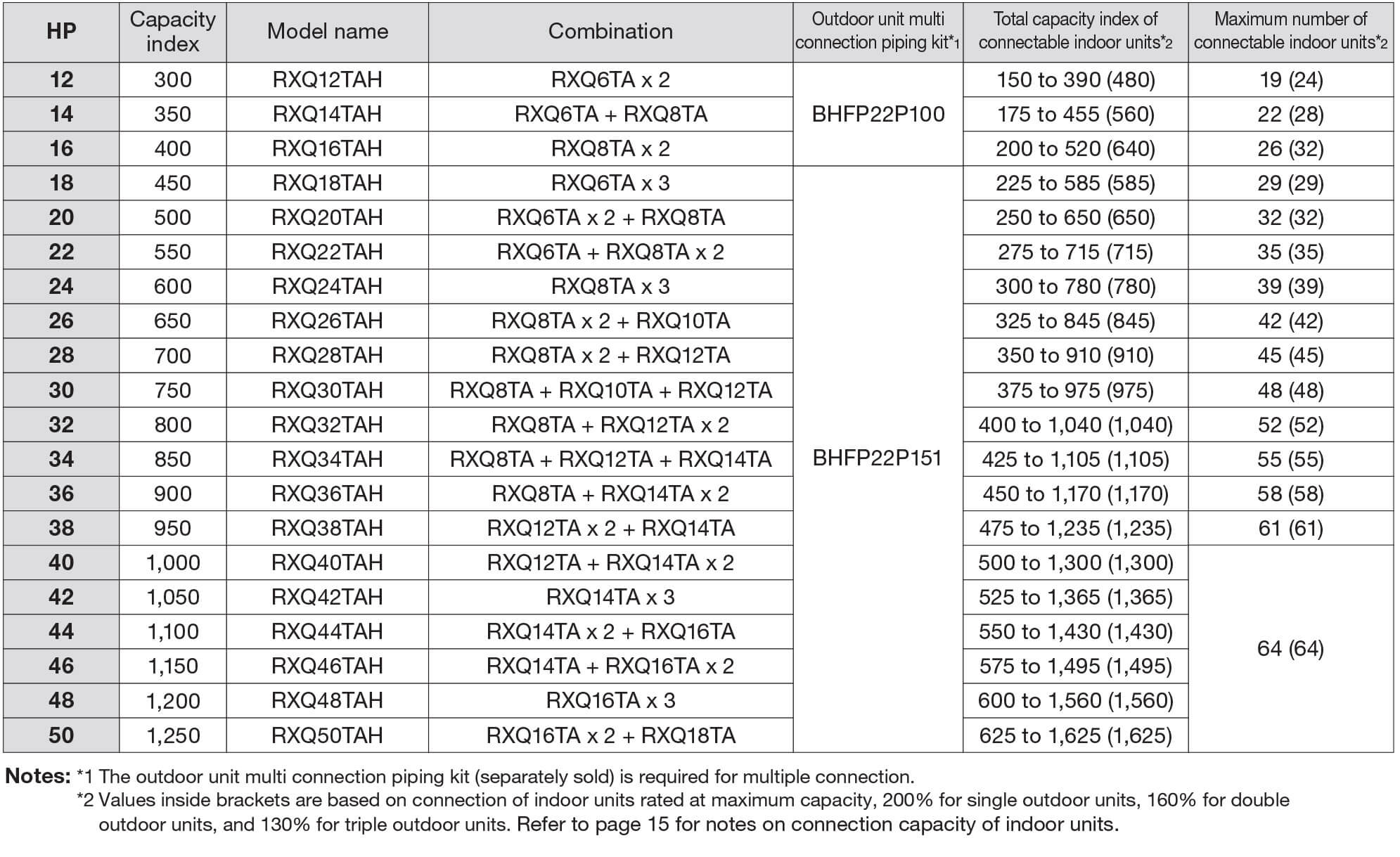 Standard Type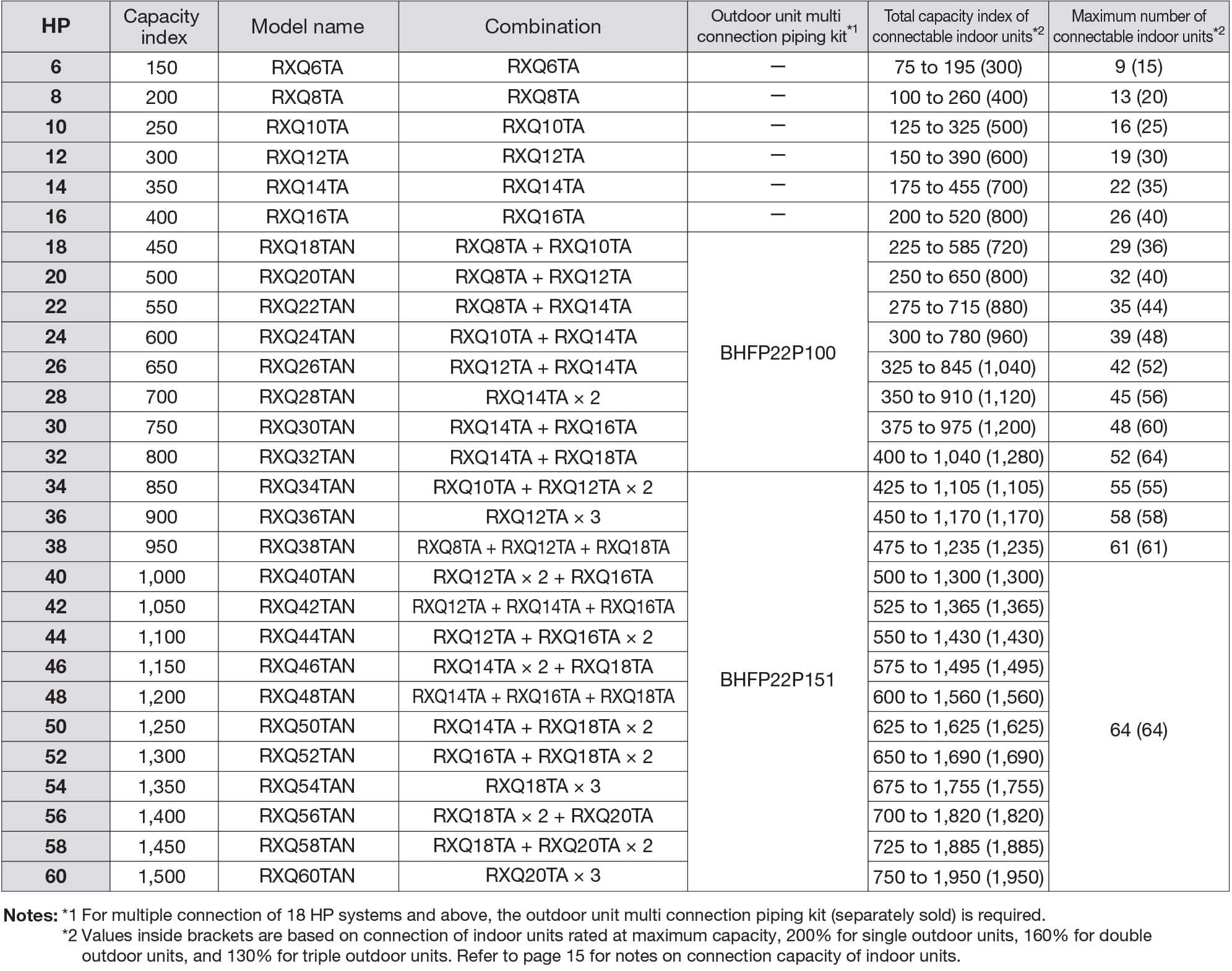 Space Saving Type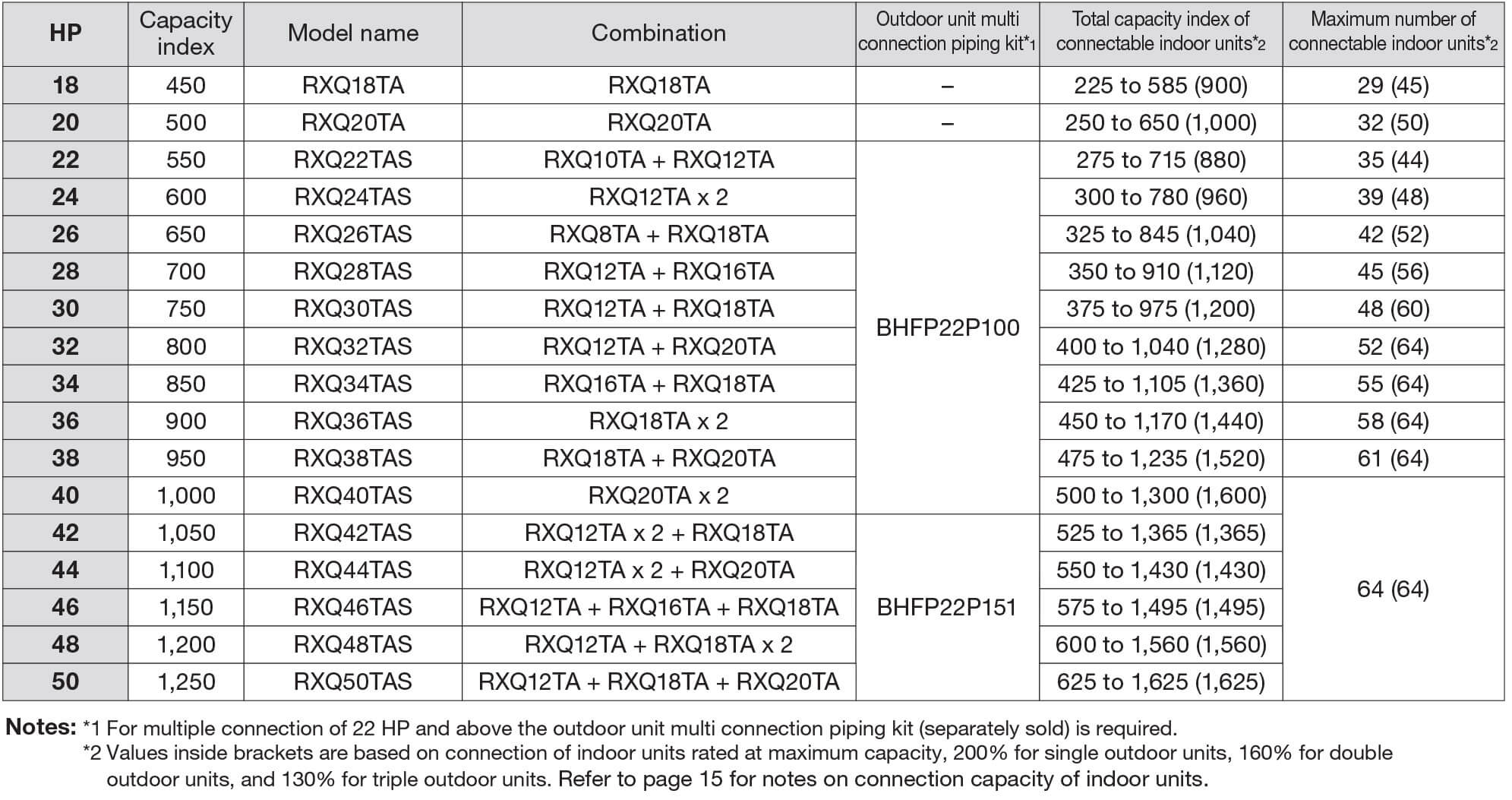 For mixed combination of VRV and residential indoor units or connection of residential indoor units only

---
Indoor Unit Lineup
Enhanced range of choices
A mixed combination of VRV indoor units and residential indoor units is enabled all in one system, opening the door to stylish and quiet indoor units.
VRV Indoor units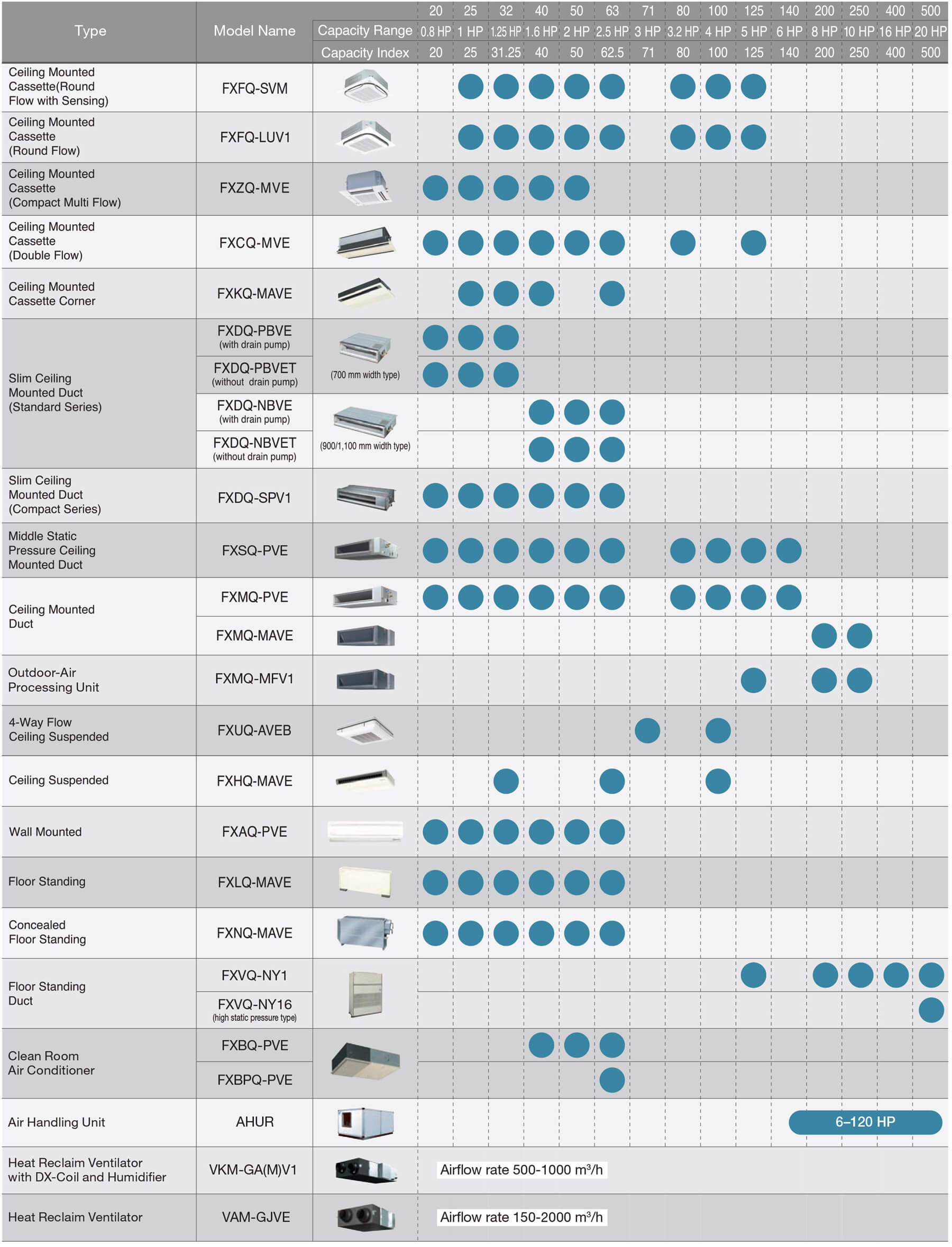 Residential indoor units with connection to BP units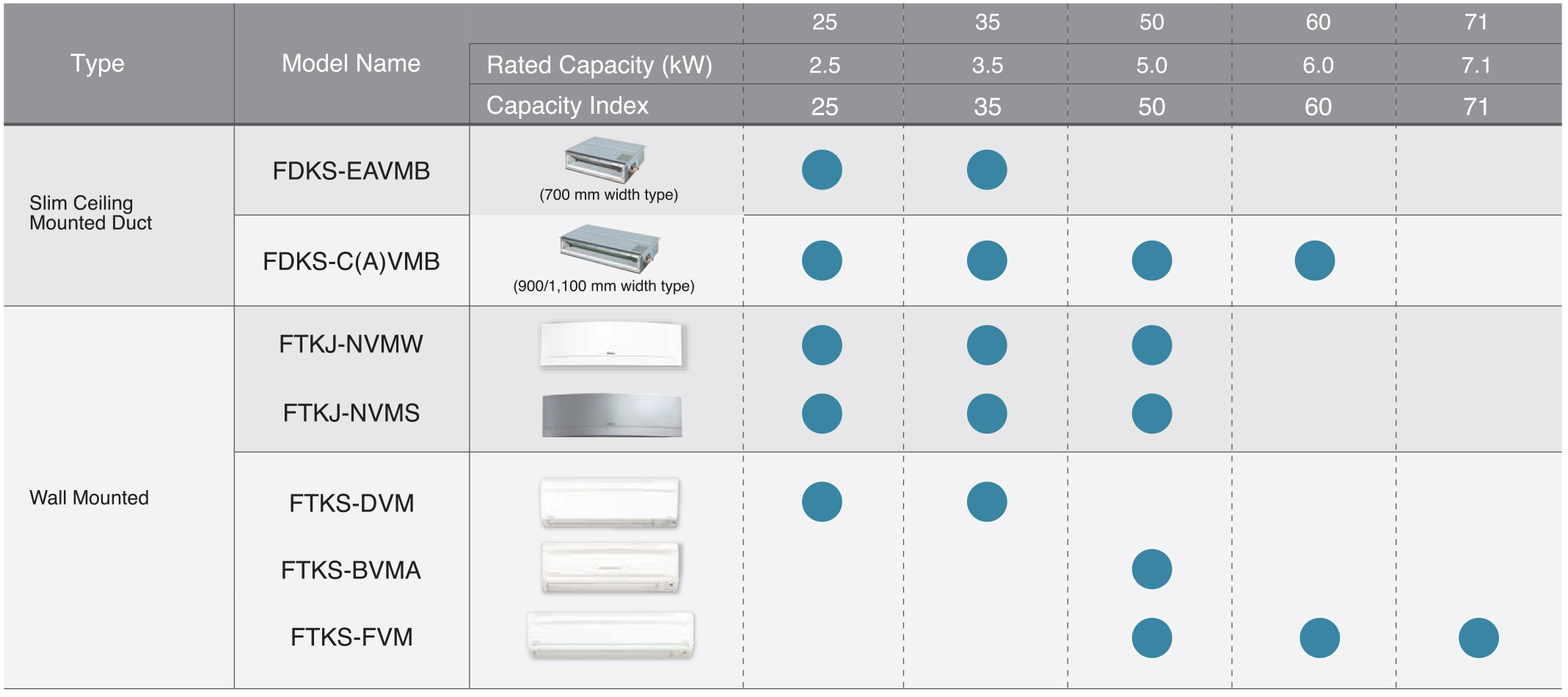 Note: BP units are necessary for residential indoor units. Only single outdoor unit (RXQ6-20TA) can be connected.
VRV indoor units combine with residential indoor units, all in one system.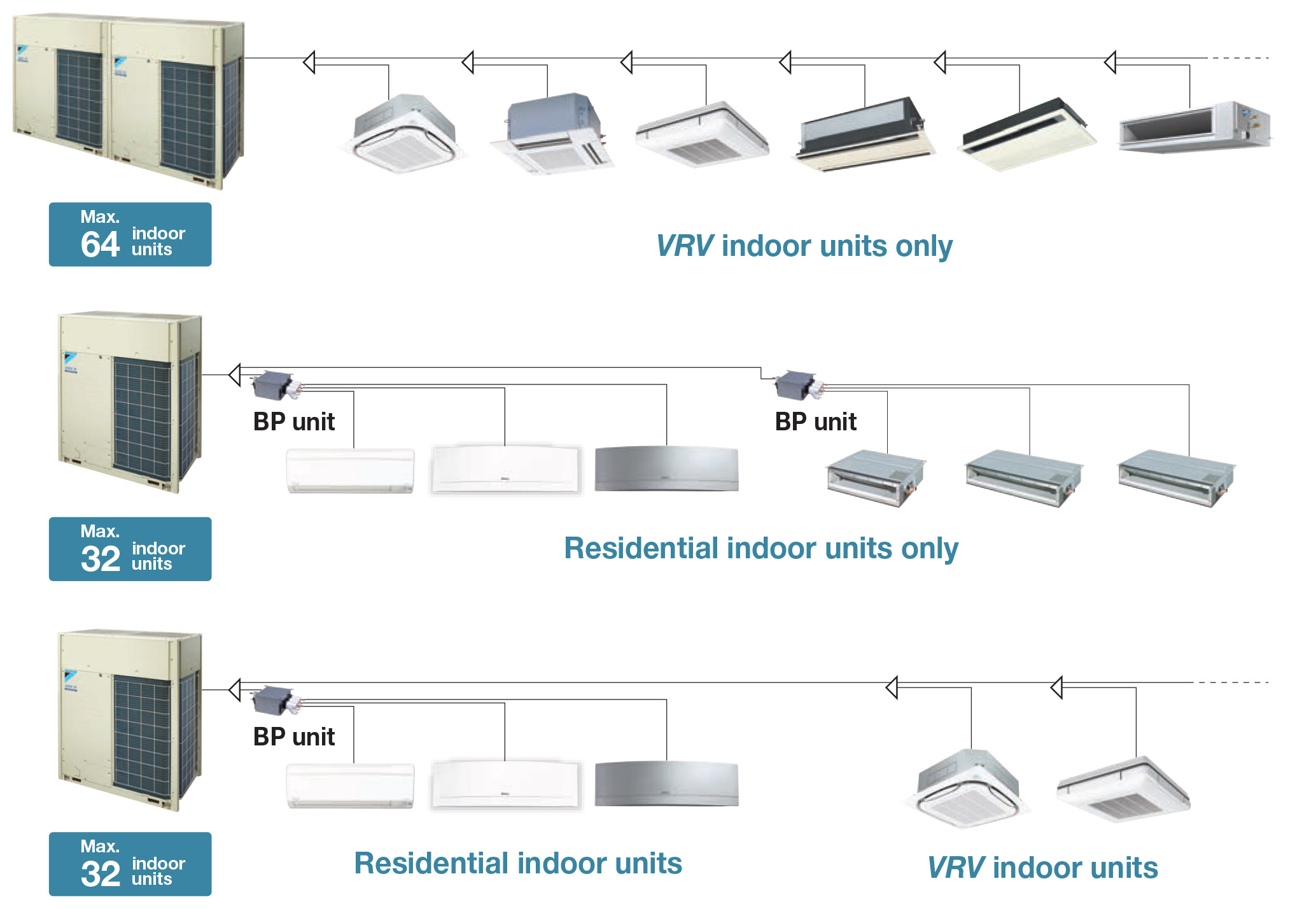 *Refer to page 23-24 for the maximum number of connectable indoor units.

Controller

Individual Control Systems for VRV Indoor Units
Navigation Remote Controller (Wired remote controller) (Option)

Simple operation

Energy Saving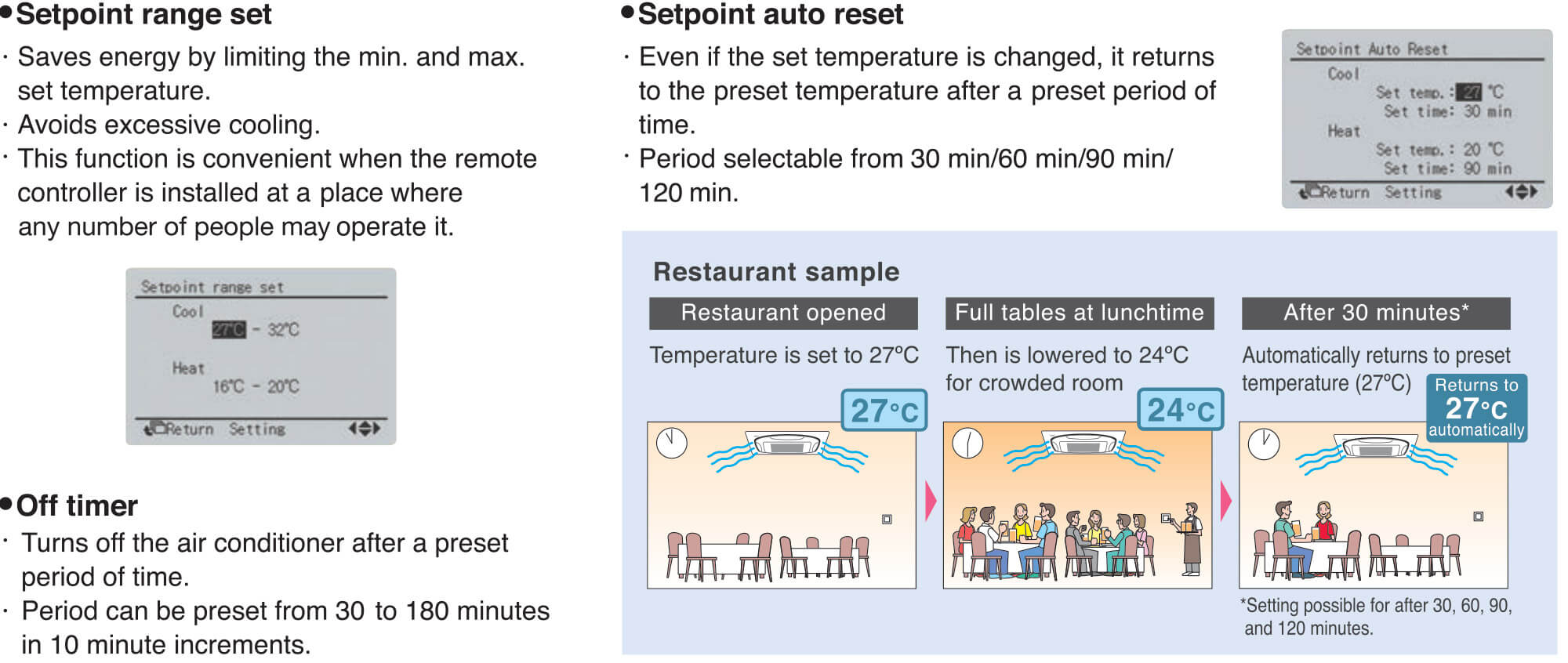 Convenience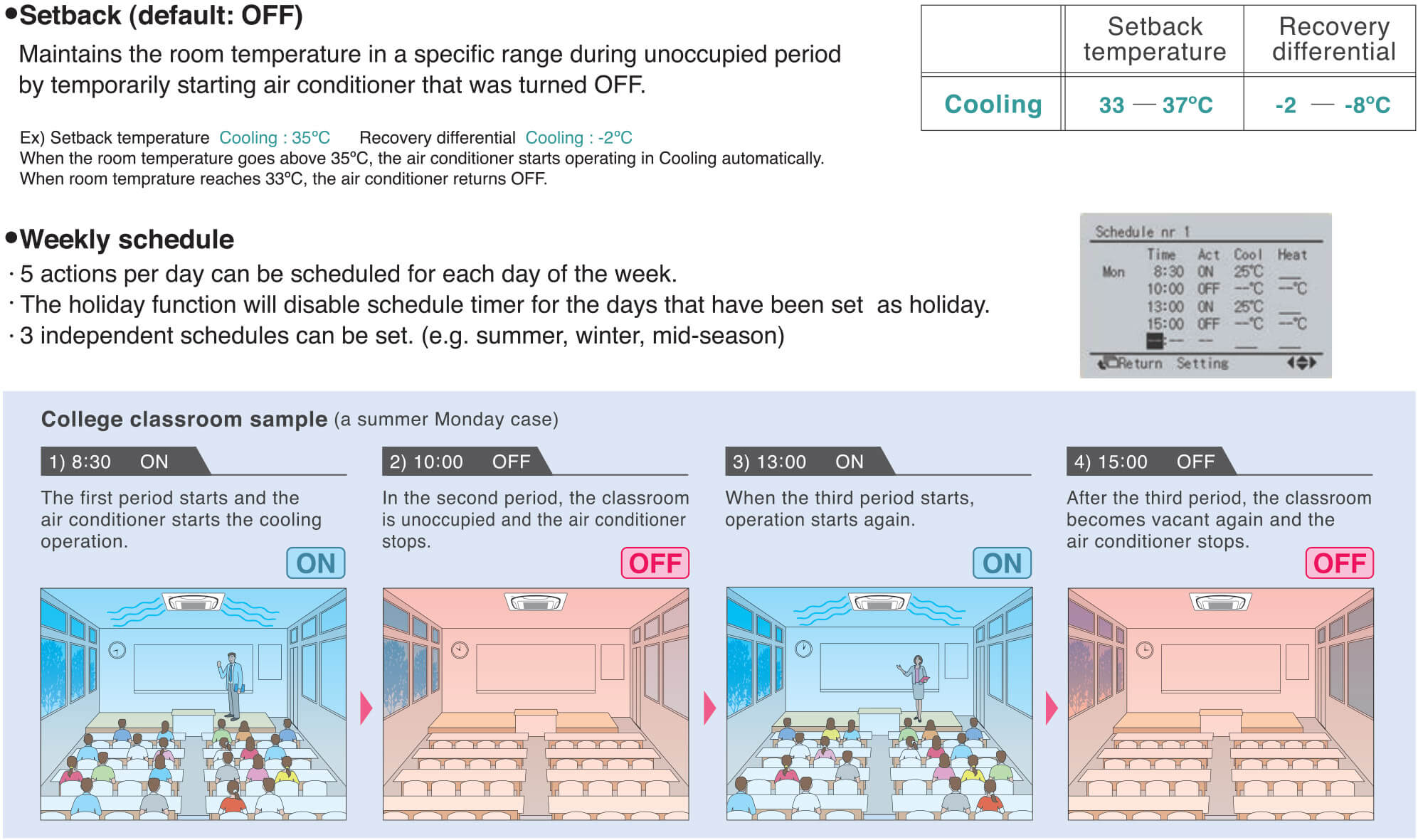 Comfort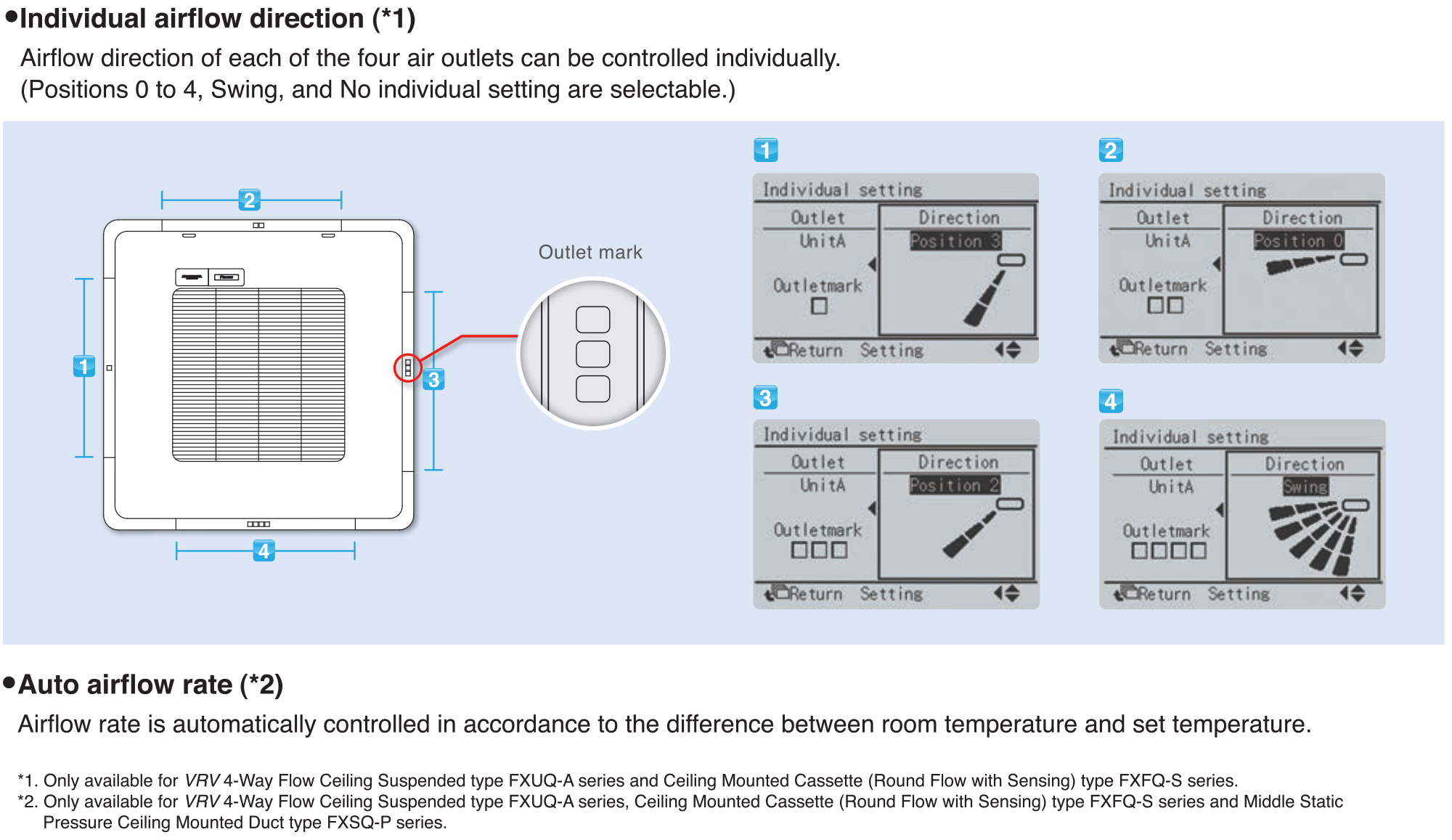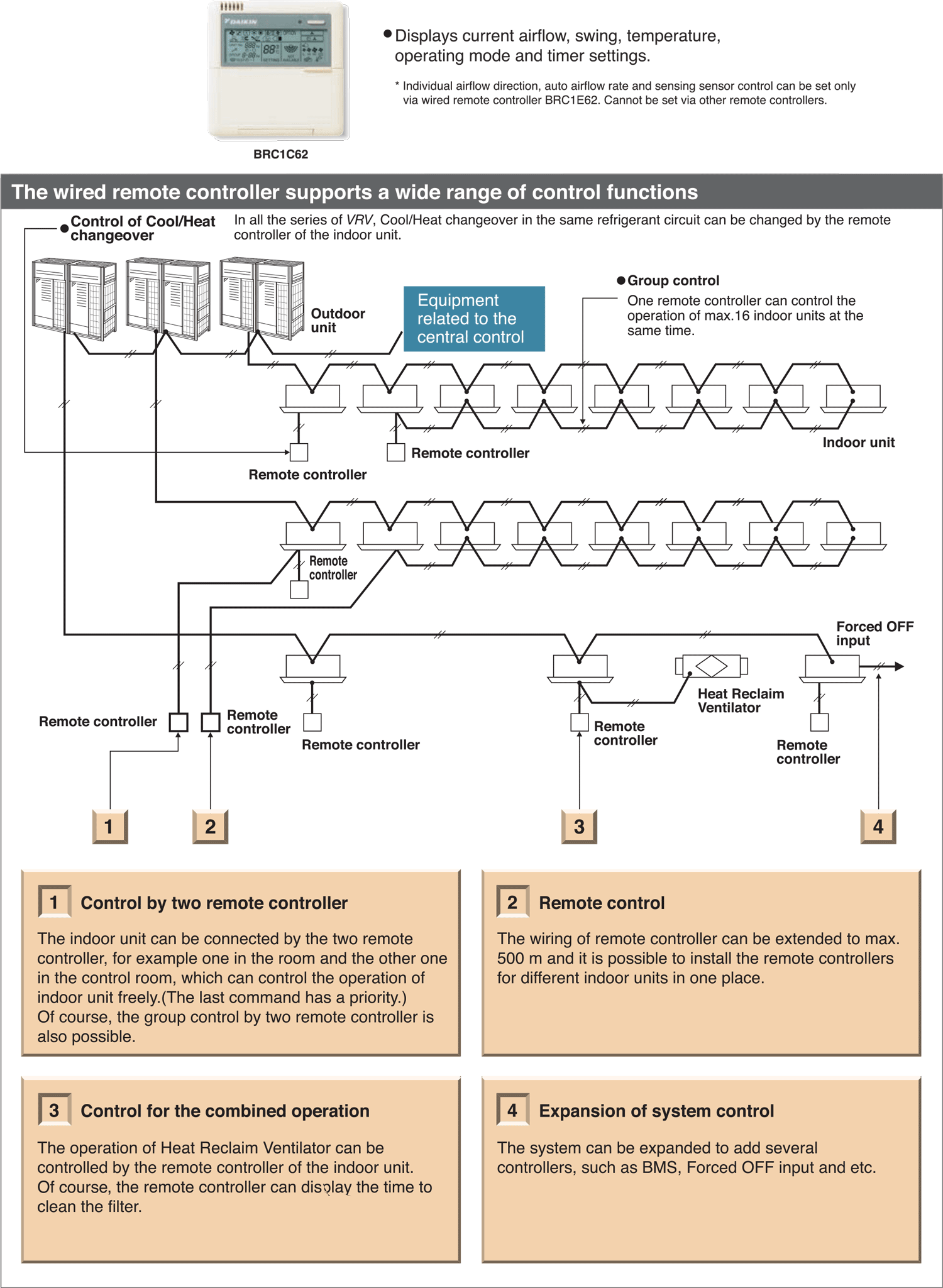 Wireless remote controller (Option)
Simplified remote controller (Option)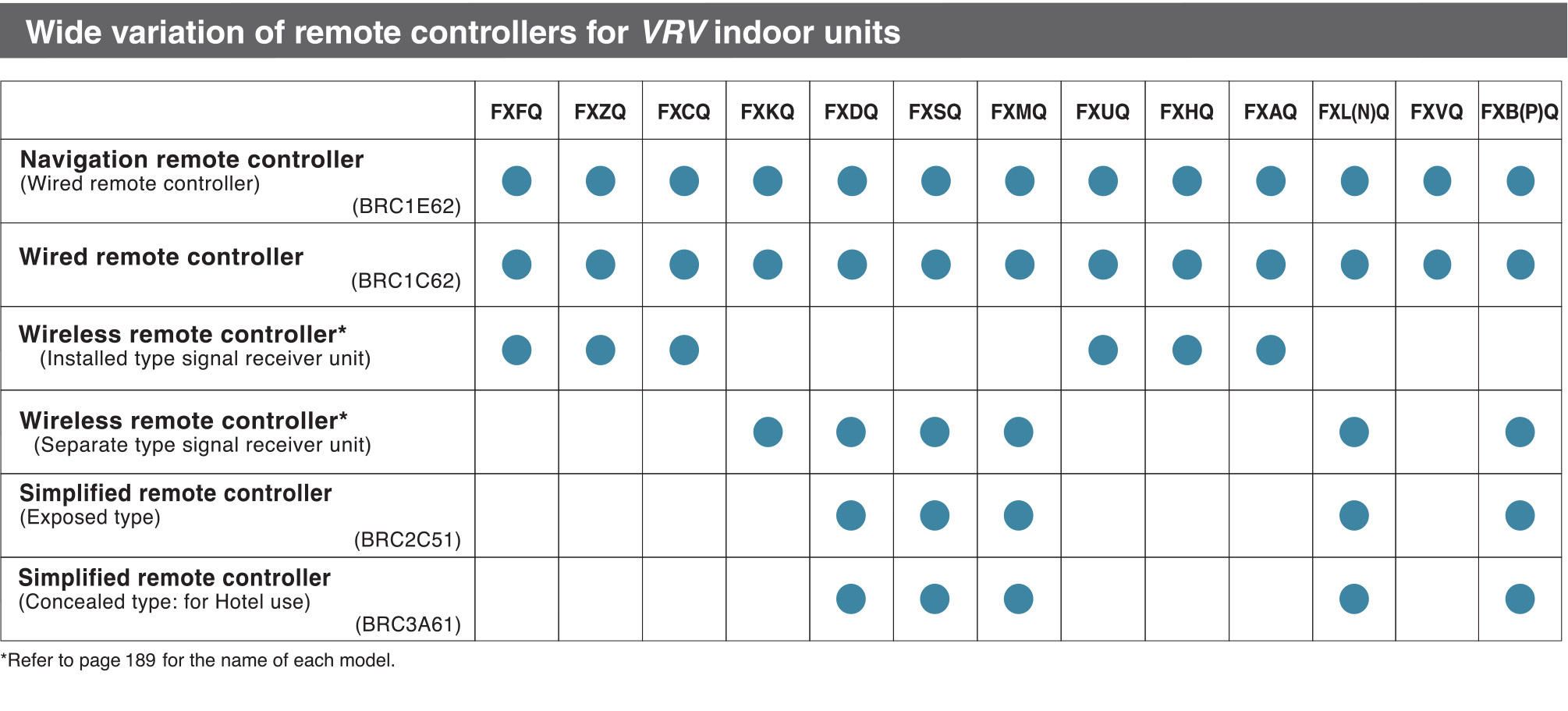 Integrated Building Monitoring System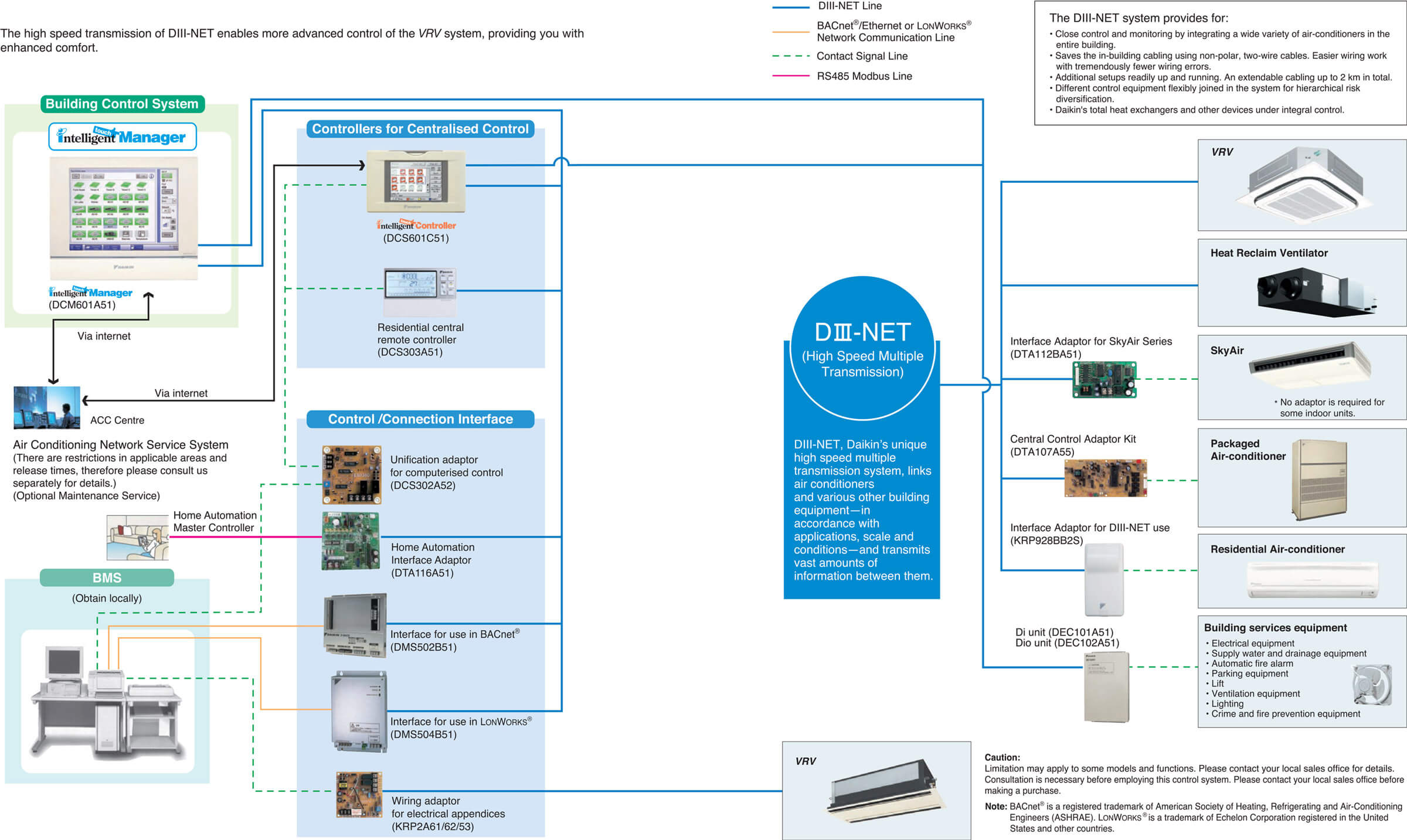 ---
Advanced Control Systems for VRV Indoor Units

One touch selection enables flexible control of equipment in a building.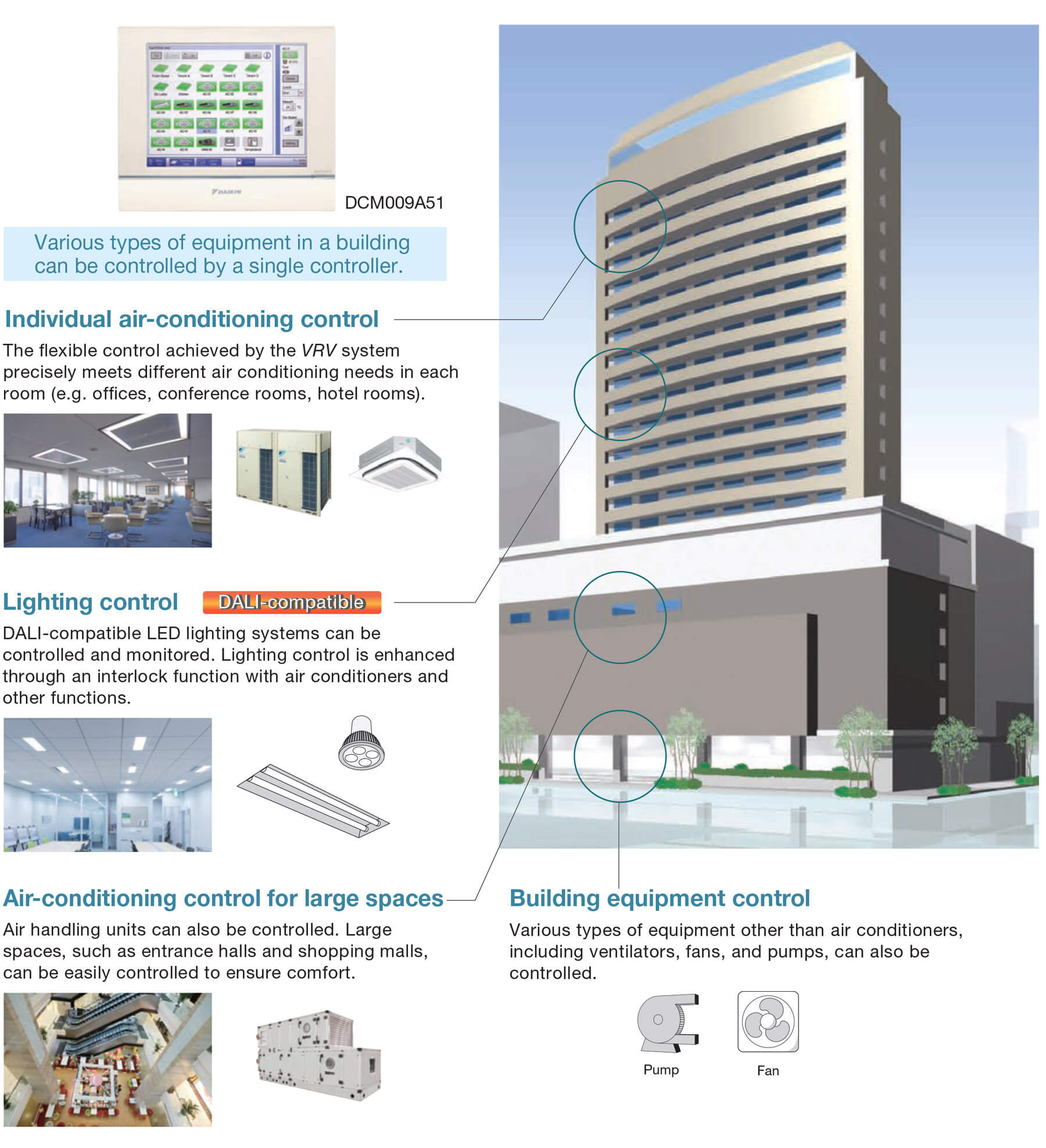 For Energy Saving & Comfort
intelligent Touch Manager maximises the advantages of VRV features
intelligent Touch Manager is an advanced multi-zone controller that provides the most cost-effective way to control and monitor the Daikin VRV system.
The 10.4" LCD touch screen is easy to use with three different screen views to include the floor plan layout view, icon view and list view and menus for system configurations.
It is also easy to use with standardized remote Web Access from your PC.
It can manage a total of 650 management points consisting of up to 512 Daikin indoor unit groups (up to 1024 indoor units) along with building equipment control / monitoring with Digital Inputs / Output (Di/Dio), Analog Inputs / Output (Ai/Ao) and Pulse input (Pi) optional devices.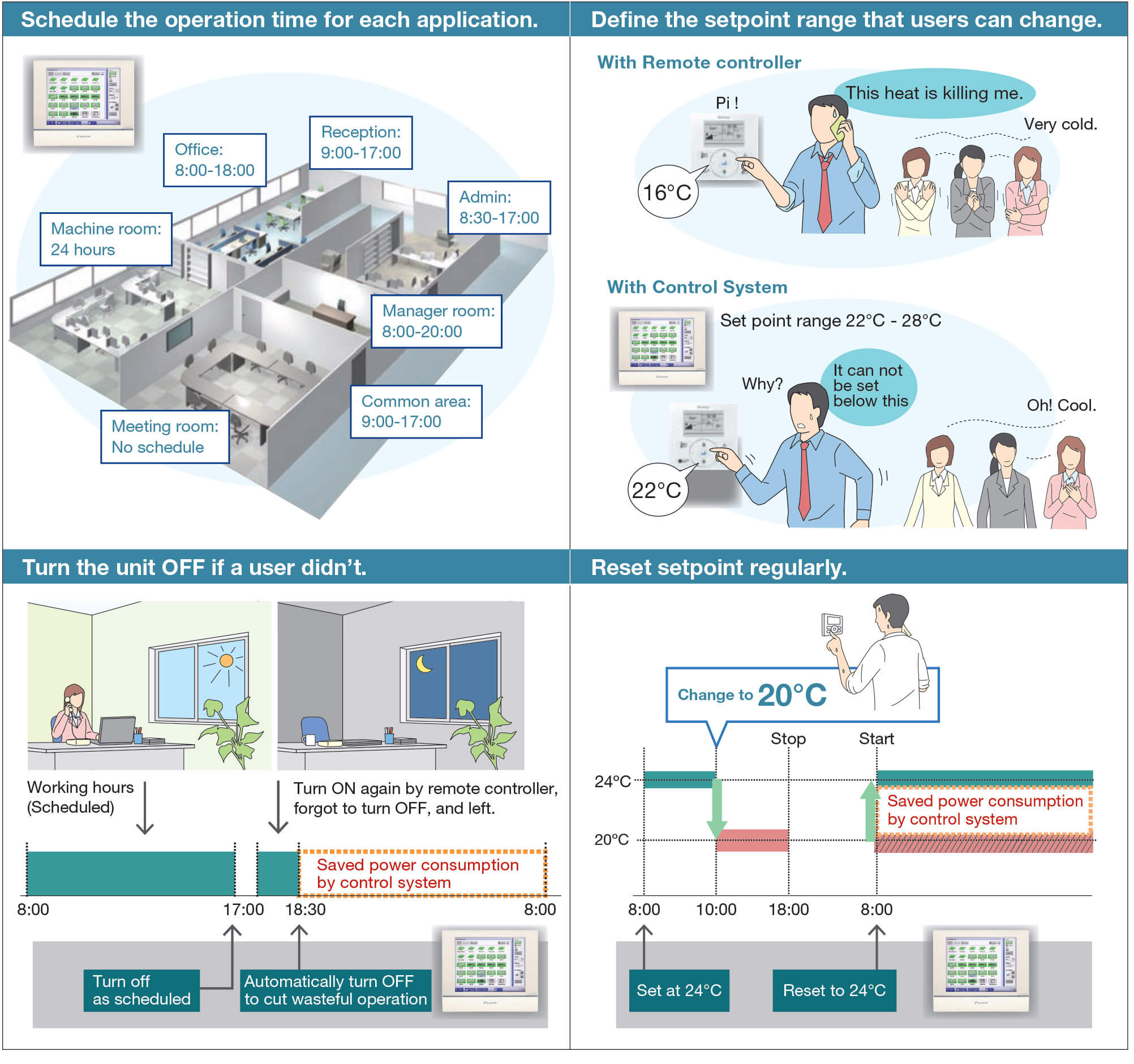 Specifications