07 Jun 2020 updated
APAC Business Headlines: Singapore's Most Innovative Company in Renewable Energy Award 2020
As climate change is becoming an ever-growing threat to the world, it has become imperative for businesses to integrate environmental efforts into their corporate strategy. Realizing this, few responsible companies are going great length to develop products with better environmental footprint and lower the carbon emission and energy wastage. They are reducing the environmental impact of every area of their operations and setting examples for others in their industries. One such exemplifying company is Daikin Airconditioning (Singapore) Pte Ltd, a leading innovator, and advanced air conditioning solution provider in Singapore. Incepted in 1968 as a subsidiary of Daikin Industries Ltd, the company has been constantly innovating and improving its products to ensure lower carbon emission and energy wastage. It also formulates initiatives in all aspects of its business operations, including product development, manufacturing, and sales to sustain and improve the environment and achieve a more environmentally healthy world. "As Daikin continues to develop our business operations in various fields, one of our missions is to proactively develop initiatives to respond to environmental issues," says Mr. Liu Shaw Jiun, the Managing Director of Daikin Airconditioning (Singapore) Pte Ltd.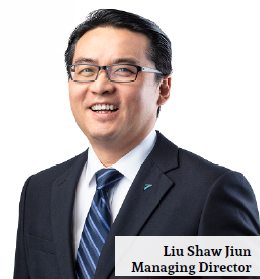 Providing a Comfortable and Sustainable Living Environments for Singaporeans
Since its inception, the company has been delivering premium,energy-efficient products to offer healthy, comfortableenvironments for Singaporeans while reducing the environmental impact of its products. Over the years, it hasgrown together with Singapore and achieved several milestonesalong the way. When the Housing and DevelopmentBoard (HDB) was paving the way to house Singaporeans of growing affluence, Daikin was the first to introduce the multi-split air-conditioning systems to HDB owners. It has also introduced the world's first super-efficient VRV Systems for commercial buildings. During all these endeavors,Daikin has always kept environmental sustainability at the forefront. To further contribute to the sustainable growth of the nation and address its quest for eco-friendly and energy-efficient products, Daikin popularized inverter technology and 5-ticks Highest Energy Efficiency label by The National Environment Agency (NEA). "For over 50 years, Daikin Singapore has been touching the lives of Singaporeans. One can say that Daikin's success has been intertwined with the nation-state," states Mr. Liu.

Mitigating Global Warming Impacts of Air Conditioners
Being a global market leader for air conditioning units, Daikin is aware of the fact that the emission from conventional
air conditioner refrigerants is one of the negative contributors to global warming. Thus, the environmentally conscious company uses refrigerant with low global warming
potential in its air conditioners to reduce its impact on the environment. It has recently launched the world's first residential- use air conditioning using R32, an environmentally friendlier refrigerant with superior energy efficiency, zero Ozone Depletion Potential (ODP), and lower Global Warming Potential (GWP). Aside from using environmentally friendlier refrigerants, Daikin has taken a step further to embark on using reclaimed refrigerants (R410A & R134a) in their processes. Reclaimed refrigerants go through a much more thorough and intensive filtration process that removes many impurities from the used refrigerant. It restores its purity level to meet the international standards level and thus makes it reusable and sustainable. Thus, developing and promoting such environmentally conscious products, Daikin contributes to solving environmental and energy problems throughout the world.

Delivering Products Targeted at Efficient Use of Energy
Besides environmental-friendly practices, Daikin also focuses on efficient utilization and conservation of energy. It offers a wide array of energy-efficient products including Super Multi Hot Water System and VRV IV Heat Recovery Hot Water System for residential and commercial premises. Designed to heat water by efficiently reusing discharged heat from the air conditioner, these smart solutions provide much better energy performance and lower power consumption. For a more connectable home and office, Daikin has also developed D'SmartHome and D'SmartOffice applications. These are customized solutions catered to individual needs where various appliances such as air conditioners, air purifiers, lights and security cameras can be integrated and controlled with a single interface. Besides providing more comfort and peace of mind, energy consumption can be monitored to enjoy savings by keeping track of the energy.
Adhering to Three Corporate Principles
The success of Daikin lies in its ability to offer a wide horizon of energy-efficient and environmentally friendly solutions. But what really differentiates the company is its customer centricity and commitment to stay adherent to its core philosophy. Daikin's corporate philosophy is hinged on three fundamental aspects: absolute credibility, enterprising management, and harmonious personal relations. Upholding a high standard of ethics and integrity in its business operations, the company is attaining a high degree of trust from its business partners. Meanwhile, it is also heavily focusing on motivating and encouraging its employees to express their views and skills to help them reach their maximum potential. While respecting diverse personal values and work ethics, the company strives to create a work environment that enables its employees to feel both pride and enthusiasm toward their work. "With our philosophy and values, we aim to thrive as a group that continuously evolves and adapts accordingly to environmental changes and ensure innovative ideas are generated with actions being taken through our product development, manufacturing, and sales," asserts Mr. Liu.

Aims to Make the World More Comfortable for All
Keeping its corporate philosophy as the cornerstone, Daikin plans to continue its efforts to bring greater eco-friendly
and energy-efficient products to its customers in the coming years. Recently, it has acquired BMS Engineering & Trading Pte Ltd to further ensure the smooth operation and optimization of smart technology. With this acquisition, the company aims to play a much bigger role in reducing the carbon footprint of Singapore while maximizing the energy efficiency of the buildings. With sustainable environment at the forefront in all the innovations and initiatives of the company, Daikin continues to expand its reach for greater impact in the world's quest for better living.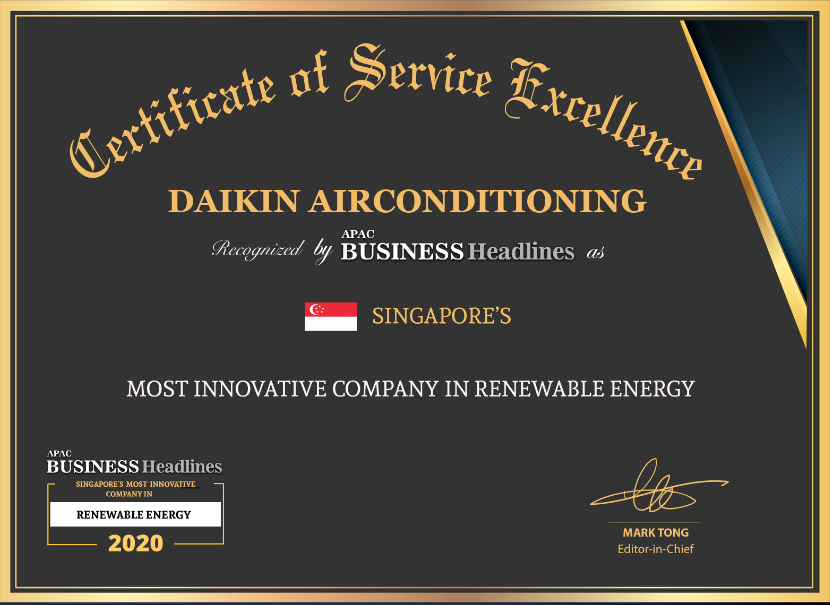 Check out APAC Business Headlines: Singapore's Most Innovative Company in Renewable Energy website and APAC Business Headlines Digital Magazine today!