Healthy Humans need Healthy Buildings.
This has never been so true with the current Covid 19 pandemic. With our unmatched experience as the Global No 1 in the airconditioning field and our drive in perfecting the air, we have the solutions (Steam cleaning, Duct cleaning and Green air solutions and products, such as Heat Reclaim Ventilation) to keep your buildings healthy.

Why The Need For Healthy Buildings?

With the Covid 19 pandemic, the roles and responsibilities for Facilities Management and Building Owners have evolved from basic upkeep of the building to include the well beings of tenants and occupiers.
Healthy Building can be seen as the evolution of green building that not only includes environmentally responsible and resource-efficient building concepts, but also integrates human well- being and performance. Facilities should not be only focusing on operating efficiently but also helping the occupiers and tenants to feel healthy, safe and welcome.
The benefits for having Healthy Building are obvious. It will reduce absenteeism, lowering health care costs and improving individual and organizational performance.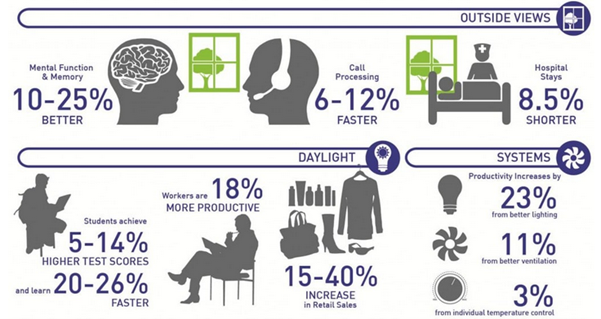 What Solutions Can Daikin Offer For Your Building?

Four key areas are considered when we provide solutions for Healthy Buildings: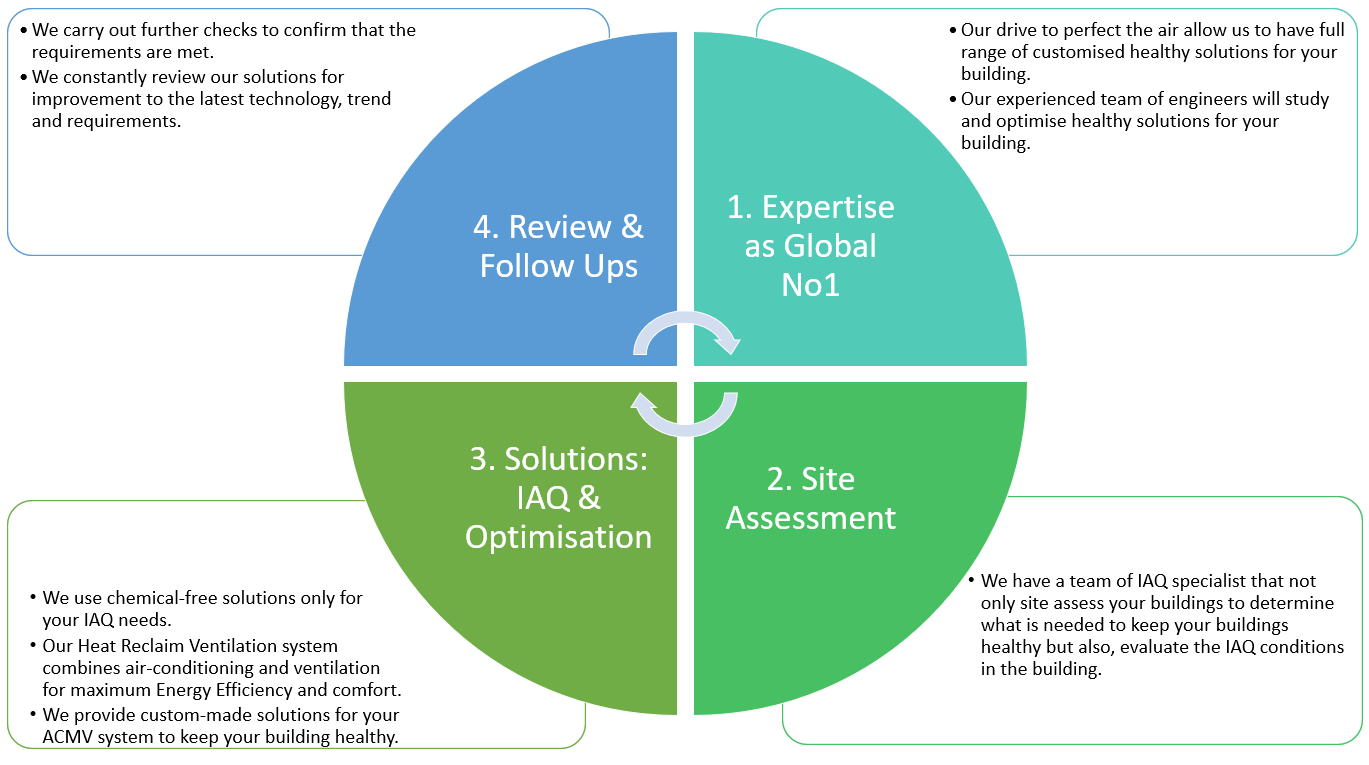 1. Expertise as Global No 1 in HVAC

We can tap on our wide pool of resources for your Healthy Building needs. We work with IAQ specialists and Market Leaders alike to provide for the best solution for your Healthy Building needs. Our commitment to excellent customer service and meeting your requirements is always our top priority.

2. Site Assessment

Upon receiving your interests in Healthy Building solutions, we will deploy our team to site survey your building. We have our in- house IAQ team to determine your building IAQ conditions though IAQ audit as well as Energy and Optimization experts to map out the best Healthy Building Solution together with you.

3. Solutions

A. Indoor Air Quality

Having good Indoor Air Quality (IAQ) is critical to keep your building healthy. Buildings with poor indoor air quality can contribute to chronic diseases and high level of absenteeism among the staff.

Our solutions for indoor air quality cover the 3 areas where there is air circulation in the HVAC system: evaporator coil, ducting and air. All our solutions are chemical free in compliance to the environmental- friendly and green concept that we strongly believe in. Our solutions range from Steam Cleaning, Duct Cleaning, UVGI lights, Air Filtration, Air Treatments and products, such as Heat Reclaim Ventilation are being carried out by a team of highly qualified technicians.

We also have the expertise in ventilation system which is another key aspect promoted by BCA for dilution of the indoor air to keep buildings healthy.

B. Building Optimization

We provide Energy Optimization System for both VRV systems and Chiller units.

Our Remote Monitoring System allows building owners to monitor, predict and earn maximum energy savings from out VRV units

For our Chiller system, Energy Optimisation is achieved through careful study of the existing chiller units and fine tuning the equipment operations and settings to achieve overall energy efficiency.

Through Optimization of the HVAC system, it is possible to achieve savings of up to 20% in the electricity consumption.

4. Review and Updates

The latest requirement by the authorities for buildings during the Covid-19 situation is as attached. All our solutions comply with the requirements given by the authorities.

We also update our solutions to the latest technology, trend and requirements to meet up with the demands of the customer.

Contact Us

OR