Daikin's Streamer Technology revolutionizes air purification.
This website provides information on the results of demonstration experiments conducted with various research institutions.

Patented Streamer Discharge Technology

What is the Streamer technology?
The Streamer technology developed by Daikin Industries is an epoch-making air purification technology that has succeeded in stably generating "high-speed electrons," which had been considered difficult up to that time.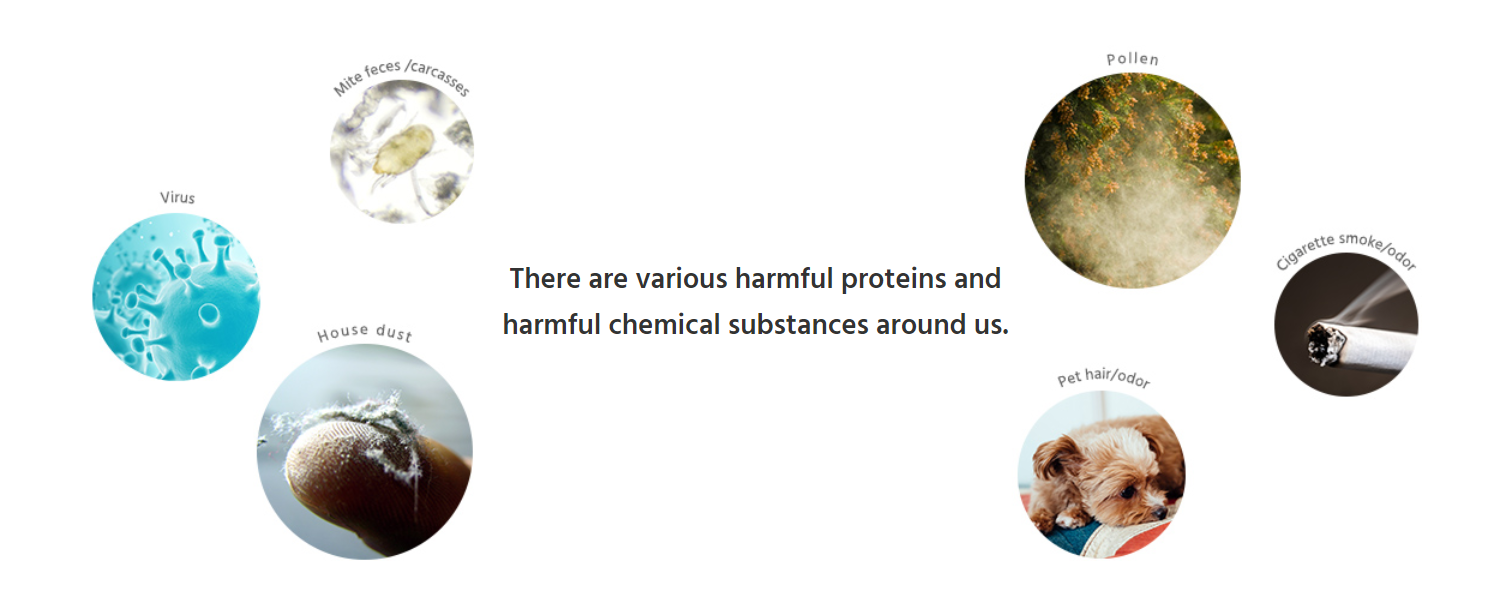 About Streamer Technology

The Streamer discharge is a type of plasma discharge that generates "high-speed electrons", which have high oxidative decomposition power in a three-dimensional and wide range, so the oxidative decomposition power is 1,000 times or more compared to general plasma discharge (glow discharge).

With this technology, high-speed electrons that combine with air components have a strong oxidative decomposition power, so they continuously act on odors, bacteria, and indoor pollutants such as formaldehyde.

So far, we have demonstrated in collaboration with universities and public research institutes that it acts on harmful substances such as influenza virus, norovirus, toxins and bacteria that cause food poisoning.

Daikin Streamer Discharge Technology Eliminates Harmful Substances

Viruses and bacteria that have been proven to be deactivated

Influenza virus (type A, H1N1)
Highly virulent avian influenza virus (type A, H5N1)
Bacillus coli, O-157
Norovirus
Staphylococcus aureus
Pseudomonas aeruginosa
Tuberculosis bacteria
Toxins (enterotaxins)

Allergens that have been proven to be decomposed

Fungal allergens: sooty modulds, aspergillus, eurotium, aspergillus niger, fusarium, penicillium
Pollen based allergens: cedar pollen, alder pollen, birch pollen, japanese cypress pollen, pencil cedar pollen, bald cypress pollen, mugwort pollen, archard grass pollen, ragwood pollen, sweet vernal grass pollen, timothy grass pollen, gleawort pollen, Japanese beech.
Allergens from animate beings: house dust mile (dermatophagoides pteronyssinus) (droppings and dead mites), house dust mite (dermatophagoides farinae) (droppings and dead mites), American cockroach (droppings), German cockroach (droppings), flea (droppings), dog epidermis (dander), cat epidermis (dander), hamster epidermis (dander).
Other: wheat flour

A CLEAN TECHNOLOGY THAT'S RECOGNISED BY PUBLIC INSTITUTION* IN JAPAN AND ABROAD.

Tests that prove the effectiveness of the Streamer Technology.

*Following experiments were practised by third parties based on Daikin Industries Ltd's request.

Hazardous Chemical Substances That Have Been Proved To Be Removed By Streamer Technology

Hazardous Chemical Substances Removed

Formaldehyde
Diesel exhaust particulates (DEP)
Hazardous chemical substances in exhaust gas: NOx, tetrachlorethylene, benzene, trichloroethylene, dichloroethane, dichloromethane, chloroform
VOC type hazardous chemical substances: iso-butanol, hexane, styrene, nonanoic acid, trimethl benzene, xylene, naphthalene, ethyl benzene, toluene, ethyl acetate

This product can be used to improve the quality of the air by removing airborne hazardous chemical substances, allergens, mould, bacteria, and virused, etc. However, this product is not intended for the creation of sterlle environments or for the prevention of pathogen infections.

This description relates to the Streamer Technology devised by Daikin, but not to this Air Purifier, Test results from use of the Streamer Technology are generated according to prescribed test methods conducted by daikin. Although the Streamer Technology is contained within this Air Purifier, this does not mean that precisely the same results will be experienced using this Air Purifier, Actual results may differ depending on the conditions of product installation and use of the actual product, etc.

This product is not a medical device, medical treatment device or a therapeutic good. This product is not intended to have any therapeutic use or to be used for the diagnosis treatment, relief or prevention of illness. If you have a health concern or are not feeling well, please consult a health care professional.

Experimental Results Of Daikin Streamer Technology

Viruses

Target of experiment
Testing organaization
Test Method
Report date
Norovirus
Kobe University Graduate School
ELISA method
12-Jan-2007
New strain of influenza virus
(Type A-H1N1)
Vietnam National Institute of Hygiene and Epidemiology
Dilution method
14-Sep-2009
Highly pathogenic avian influenza virus
(Type A-H5N1)
16-Apr-2009
Influenza virus (Type A-H1N1)
Kitasato Research Center for Environmental Science
CPE and TCID50
31-Jul-2009
Influenza virus (Type A-H3N2)
Shanghai City Center for Disease Control and Prevention, etc.
8-Feb-2010
RS virus
Wakayama Medical University
CPE and TCID50
13-Apr-2012
Adenovirus
Kitasato Research Center for Environmental Science
23-Jun-2017
Coxsackievirus
Enterovirus
Echovirus
Meals
Mouse Norovirus
The University of Tokyo Graduate School
11-Oct-2018
Mouse Hepatitis Virus A59 (MHV-A59)
Plaque method
28-Apr-2020
Novel Coronavirus (SARS-CoV-2)
Okayama University of Science
CPE and TCID50
8-Jul-2020

Bacteria

Target of experiment
Testing organaization
Test Method
Report date
Bacteria (Escherichia coli/O-157)
Japan Food Research Laboratories
Pour plate culture method
8-Apr-2004
Bacteria (Staphylococcus aureus)
Toxin (enterotoxin)
ELISA method
25-Aug-2004
Tubercle bacilli (ECG mutant)
Kitasato Research Center for Environmental Science
Plaque method
8-Mar-2010
Bacteria (tubercle bacilli/clinical strain)
The Jikei University School of Medicine
PCR method
15-Feb-2010
Bacteria (vancomycin-resistant enterococci/VRE)
Japan Food Research Laboratories
Pour plate culture method
19-Feb-2010
Bacteria (methicillin-resistant Staphylococcus aureus/MRSA)
Pseudomonas aeruginosa
12-Apr-2010
Bacillus, Serratia, and Arthrobacter
29-Sep-2010
Bacteria (Escherichia coli/ATCC)
10-Sep-2018
Moraxella bacteria
10-Jun-2019

Mold

| Test target | Testing organaization | Test Method | Report date |
| --- | --- | --- | --- |
| Mold (Black mold) | Japan Food Research laboratories | Pour plate culture method | 28-Sep-2004 |

Allergens

Hazardous Gas

Target of experiment
Testing organaization
Test Method
Report date
Adjuvant suppression effect (DEP)
Wakayama Medical University
National Institute for Environmental Studies
ELISA method
1-Nov-2005
Adjuvant (VOC)
Tohoku Bunka Gakuen University
Attenuation method
8-Dec-2006

* This result was obtained by using a Streamer discharge device for testing in lab conditions.
The effect of products equipped with Streamer technology or results in actual use environments may differ.

Experiments on Viruses & Bacteria

Demonstration of the inactivating effects against the novel Coronavirus (SARS- CoV-2) by Streamer Technology




Suppresses various viruses that cause summer colds and measles





Suppresses not only the viruses that cause colds and flu, but also the RS virus





Suppresses pathogenic E. coli O157 which causes food poisoning




Suppresses norovirus which causes winter food poisoning




Experiments on Allergens & Odor

Suppresses 16 types of pollen that are scattered all year round in Japan




Simultaneous decomposition of pollen + exhaust gas + PM 2.5 which worsens hay fever





Decomposes house dust (mite's feces and carcasses) that causes perennial allergic symptoms





Decomposes molds and mites (feces and carcasses). Suppresses the causes of allergies





Decomposes and suppresses the bacteria causing the unpleasant odor generated inside the air conditioner





Decomposes and suppresses Moraxella bacterium, which causes the laundry's damp odor




Press Release Information:
Daikin Confirms Effectiveness of Streamer Technology to Inactivate Coronaviruses (SARS-CoV-2) and Mouse hepatitis virus A59 (MHV-A59)