Air conditioners have become an important key infrastructure for supporting the global community with greater emphasis on indoor air quality (IAQ). Demand for air conditioning is expected to triple by 2050 from current demand with the economic development in emerging countries, as well as other factors. Under our Environmental Vision 2050 established in fiscal 2018, we are tackling challenges associated with the reduction of greenhouse gas emissions to net-zero. Through the development of products and services that contribute to energy conservation and the mitigation of global warming, we aim to reduce the world's greenhouse gas emissions while further developing our businesses.

Environmental Vision 2050

Daikin aims to reduce the greenhouse gas emissions generated throughout the entire lifecycle of our products.
Furthermore, we are committed to creating solutions that link society and customers as we work with stakeholders to reduce greenhouse gas emissions to net zero.
Using IoT and AI, and open innovation attempts, we will meet the world's needs for air solutions by providing safe and healthy air environments while at the same time contributing to solving global environmental problems.
Daikin is proud to be identified with a status of being Ready to Join in the global initiative of Race to Zero campaign - to rally leadership and support from businesses in achieving net zero carbon emissions by 2050.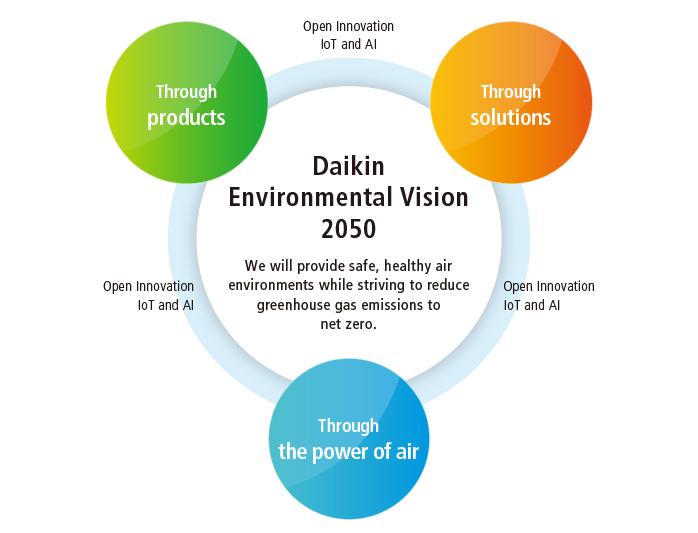 Daikin's Aims For Value Creation

We provide new value that makes people and space healthier and more comfortable while at the same time reducing environmental impact via Value Creation for Earth, Cities, and People.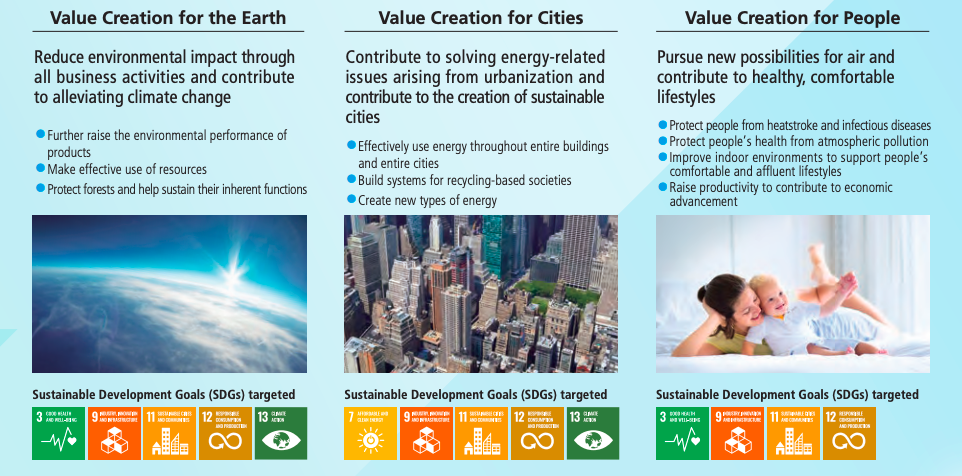 Fusion Strategic Management Plan

Constantly researching and analysing to find ways to provide added value for our indoor air quality, we aim to provide products and solutions that will help achieve net zero greenhouse gas emissions.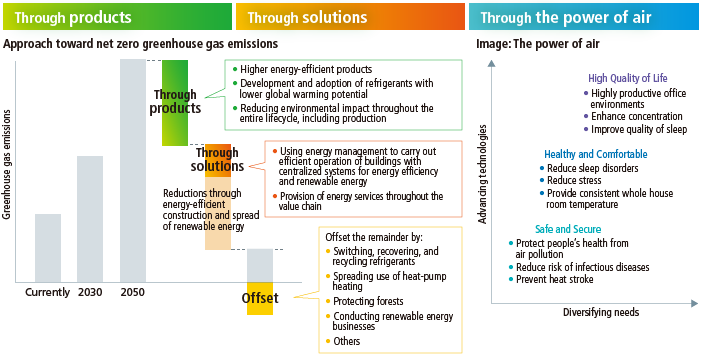 Mitigation of Global Warming with Energy-efficient Air Conditioners

We recognize that air conditioners consume a fair amount of electricity, and the use of refrigerants contributes to ozone depletion. To reduce our carbon footprint, we take conscious efforts to ensure our products' end-to-end is aligned with our green efforts.
We alleviate the harmful effects of air conditioners by promoting products with 5-ticks highest energy efficiency rating and adopt eco-friendlier refrigerants such as R-32, R-1233zd, and R-1234ze with lower global warming potential. To advocate zero waste and eliminate the production of new refrigerants, we recover, reclaim and recycle refrigerants. We also utilise non-brazed connection with DGT and Mechfit to minimize refrigerant/water leakage into the environment.

Digital Transformation to Optimise Energy Efficiency

IoT and analytics can substantially improve energy efficiency, thereby reducing energy costs and improving sustainability. Embedding sensors or other IoT devices into various applications allows the collection of data in real-time and provides a feedback loop to better control systems and measure efficiency. We have synergized our expertise to develop a wide array of smart solutions to monitor, optimize and reduce carbon footprint while providing a high level of comfort and convenience.

Eco-friendly Indoor Air Quality Solutions for Green Buildings

In line with the nation's vision of environmental sustainability, Daikin offers a one-stop solution to achieve healthy, clean air through 100% chemical-free services. High-pressure steam is used in Steam Cleaning and high-pressure air is used in Duct Cleaning, which are more environmental-friendly than conventional chemical services. We provide a full range of Indoor Air Quality (IAQ) Solutions catered to your commercial and industrial needs, supporting your Green Building initiatives. Our Green Air Solutions are in full compliance with ISO 14001 and have been proven to reduce or eliminate microorganisms such as bacteria, mould, and viruses.

Daikin Green Buildings

Daikin leads by greening our building and has been awarded with Green Mark Award (Platinum) by Building & Construction Authority (BCA).
We segregate our wastes to ensure waste such as wood, paper, metal scrap, aluminum cans are recycled. This prevent emissions of greenhouse gases and water pollutants and achieve energy saving in the process as well.
Throughout our Daikin Building such as offices, meeting rooms, and corridors, we have replaced all fluorescent lamps, halogens, and metal halide with LED lights to further reduce greenhouse gas emissions. We also ensure that all water fittings in our office premise are labelled 3 ticks WELS (Water Efficiency Labelling), which is the highest tick rating for denoting the water efficiency level.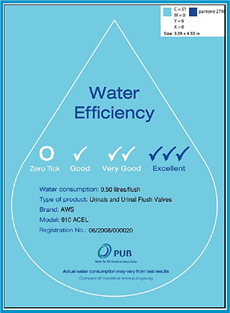 Creating Partnerships for Sustainability

Through strategic partnerships, we synergize our expertise and resources to create an enhanced value to the community and achieve greater sustainability.
To contribute positively to the national sustainability efforts, we are collaborating with Singapore Power Group to provide Singapore's first large-scale residential Centralised Cooling System (CCS) in Tengah. Efficiency gains from this Centralised Cooling technology is significant where it translates to about 30GWh of energy savings annually. This equates to powering up to 9,000 3-room HDB flats. Tengah residents will enjoy a saving of up to 30% in energy costs.
With our green sustainability commitment and pursuit of achieving net-zero energy building, we acquired BMS Engineering & Trading Pte Ltd in 2019. BMS Engineering (a subsidiary of Daikin Singapore) is the only System Integrator certified by Schneider Electric (SE) as MASTER EcoXpert in Singapore. We aim to work with building owners to maximise building energy efficiency, while in the process achieving BCA Green Mark Platinum Certifications.
To further accelerate our sustainability efforts, we continuously search for relevant partners to collaborate with. Recently, we signed a MOU with VEMAC (part of A-GAS) to work on environmentally conscious refrigerant lifecycle methods such recovering, reclaiming, and recycling of refrigerants.
For any sustainability partnerships, please contact us at marketing@daikin.com.sg.