Daikin's Refrigerant Eco-Cycle Initiative

Pledging Companies

We would like to express a big thank you to all our partners below who have made the pledge for our Refrigerant Eco-Cycle initiative, as of 2 Nov 2022:

And…
AKTIFF TG Enterprise
Can Can M&E Pte Ltd
Commercial Engineering Pte Ltd
Eng Choon Enterprise Pte Ltd

About Daikin's Refrigerant Eco-Cycle Initiative

Daikin has launched a new initiative during the Refrigerant Reclaiming and Recycling Workshop on 22nd September, organised in support of Climate Action Week 2022. The Refrigerant Eco-Cycle Pledge is where companies pledge to embark on a sustainable journey with Daikin on refrigerant recovery and management, via our Refrigerant Eco-Cycle initiative.

Daikin aims to reduce the greenhouse gas emissions generated throughout the entire lifecycle of products. This initiative advocates zero waste and eliminate the production of new refrigerants.

If you are a contractor or dealer, you can show your support by clicking below to join us and make the pledge!
For more inquiries, please email to marcom@daikin.com.sg


Case Studies


3 'R's in our Initiative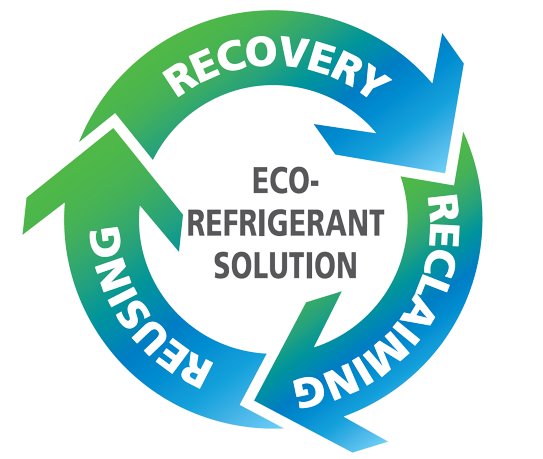 Suitable for green buildings and customers adopting the green policies, our eco-refrigerant solution harnesses the 3 'R's – namely below:

Stage 1: Recovery
Contractors collect used refrigerants into empty cylinders using a recovery machine, and drop off at Daikin Eco Corner.


Stage 2: Reclaiming
Daikin sends used refrigerant to reclamation facilities for purification and processing, ensuring it meets AHRI-700 standards.

Stage 3: Reusing
Contractors and dealers can reuse the reclaimed refrigerants on any air-conditioners without the need to produce new refrigerants.
Daikin Singapore encompasses recovery, reclamation, and reuse as a complete refrigerant solution. As part of green efforts, we have set up an Eco-Corner, to allow your servicing contractor / installer to send recovered refrigerant to Eco Corner for reclamation and treatment.
Our Eco-Corner presently is at our Spare Parts Center.
Operating Hours:
Monday – Friday: 9am – 5pm
Saturday, Sunday and Public Holiday: Closed
10 Ang Mo Kio Industrial Park 2
Singapore 569501

Benefits

Save costs for disposal and decomposition of the old refrigerant
Seen as a green advocate for your company
Be listed as our eco partner