Training News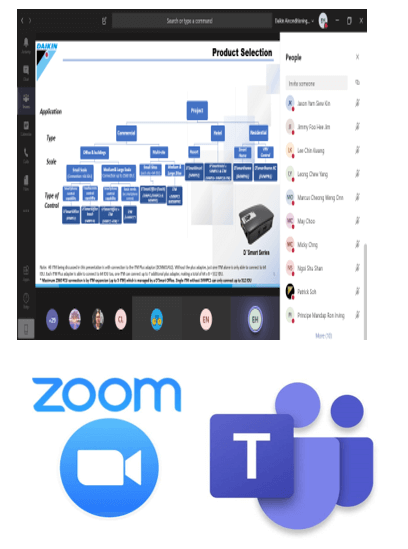 09 Jul 2020 updated
DAIKIN TRAINING ACADEMY
Online Technical Sharing Webinar: from Aug'20 onwards
Daikin Training Centre will be conducting regular Technical Sharing session through online webinar. Most importantly, its FREE! And you can join in the online session in the comfort of your office and home, via your Smart devices.
The topics shared during the session varies from new products to Smart solutions for different applications.
Topics includes but not limited to:
D'Smart Control Solutions
Mechfit & Toglit Fittings
DGT (Daikin Gas Tight) Joints
Air Purifier
IAQ
And more…..
Please refer to the Training Calendar for the latest schedule. You may also contact the following training staffs to check for more details.
Joanne: 6349 7173 (joanne.ong@daikin.com.sg)
George: 6349 7105 (george.ang@daikin.com.sg)
View Training Calendar.
---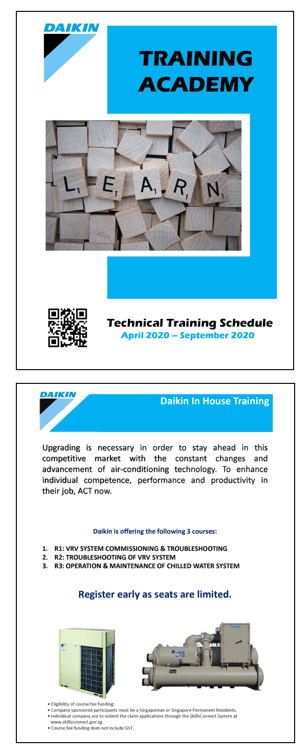 09 Jul 2020 updated
DAIKIN TRAINING ACADEMY
Daikin In-House Training: Apr'20 to Sep'20
Daikin Training Centre is offering 3 technical courses and are subsidized by SDF (Skill Development Fund). The SDF helps as an incentive to companies to mount training programmes for employees. (SDF is applicable to Singaporean and SPR)
Upgrading is necessary in order to stay ahead in this competitive market with constant changes and advancement in air-conditioning technology.
To enhance individual competence, performance and productivity in your job, ACT NOW!
For enquires on government funding, please visit: www.TPGateway.gov.sg (effective on 27-Jul-2020)
---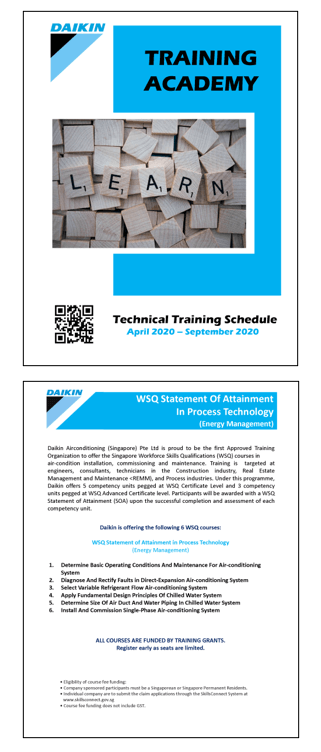 09 Jul 2020 updated
DAIKIN TRAINING ACADEMY
WSQ Statement of Attainment In Process Technology (Energy Management): Apr'20 to Sep'20
Daikin Airconditioning (Singapore) Pte Ltd is proud to be the first Approved Training Organization to offer the Singapore Workforce Skills Qualifications (WSQ) courses in air-condition installation, commissioning and maintenance.
Training is targeted at engineers, consultants, technicians in the Construction industry, Real Estate Management and Maintenance <REMM), and Process industries. Under this programme, Daikin offers 3 competency units pegged at WSQ Certificate Level and 3 competency units pegged at WSQ Advanced Certificate level.
Participants will be awarded with a WSQ Statement of Attainment (SOA) upon the successful completion and assessment of each competency unit.
For enquires on government funding, please visit: www.TPGateway.gov.sg (effective on 27-Jul-2020)