Training News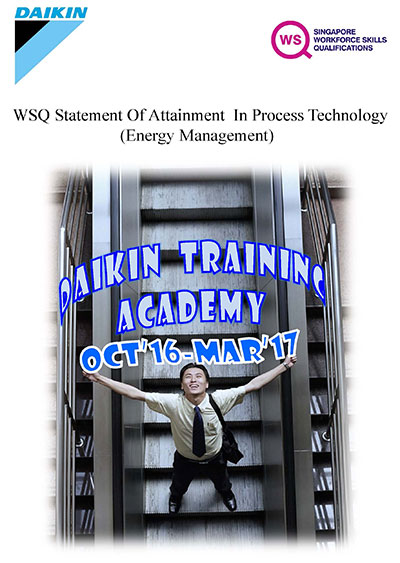 01 Aug 2016 updated
DAIKIN TRAINING ACADEMY
WSQ Statement of Attainment In Process Technology (Energy Management)
Daikin Airconditioning (Singapore) Pte. Ltd. is proud to be the first Approved Training Organization to offer Workforce Skills Qualifications (WSQ) courses in air-condition installation, commissioning and maintenance.
The target audience includes engineers, consultants, technicians in the construction industry, Real Estate Management and Maintenance (REMM), and process industries. Under this programme, Daikin are offering 5 competency units pegged at WSQ Certificate level & 3 competency units pegged at WSQ Advanced level.
Upon certified competent for each competency unit, individual will be awarded a Statement of Attainment (SOA) for the respective competency unit.
Funding:
Subsidized course fee (Nett Course Fee) are applicable for Singaporean or SPR who are company sponsored.
Companies can also enjoy 30% Cash Payout or 400% Tax Deduction/Allowance under the IRAS's PIC Scheme.
* For more details, please visit
http://iras.gov/irashome/PIcredit.aspx
---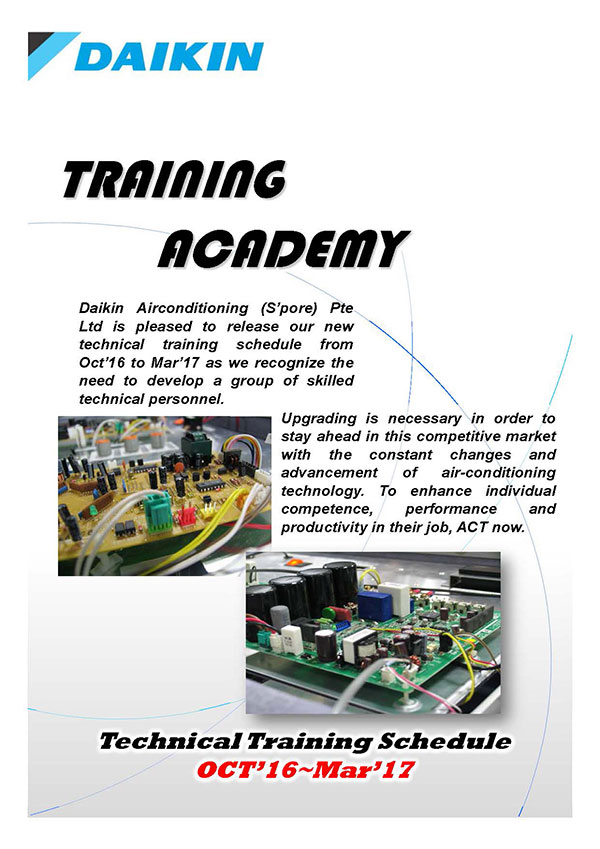 01 Aug 2016 updated
DAIKIN TRAINING ACADEMY
Technical Training Courses
Daikin Training Centre is offering 4 technical courses and all are subsidized by SDF (Skills Development Fund). The SDF provides assistance as an incentive to companies to mount training programmes for employees.
Upgrading is necessary in order to stay ahead in this competitive market with constant changes and advancement if air-conditioning technology.
To enhance individual competence, performance and productivity in your job, ACT now.
For enquiries on SDF and Skillsfuture credit related matters , please contact:
Singapore Workforce Development Agency
Tel: (65) 68835885 Fax: (65) 65121111