Singapore's first largescale centralised cooling system for HDB residential development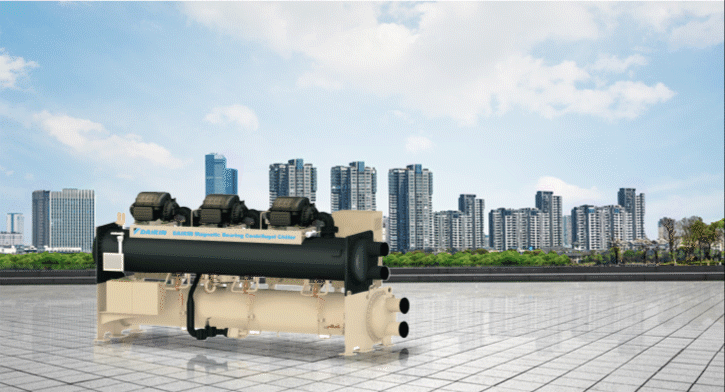 Future Tengah residents can look forward to a more cost-effective, energy efficient and eco-friendly cooling technology compared to conventional multi-split aircon systems. Tengah will be Singapore's and possibly the world's first public housing township to experience the benefits of centralised cooling, enabling residents to not just save money but also the planet by leading an eco-friendlier lifestyle.

What Makes Centralised Cooling Cool?

---
---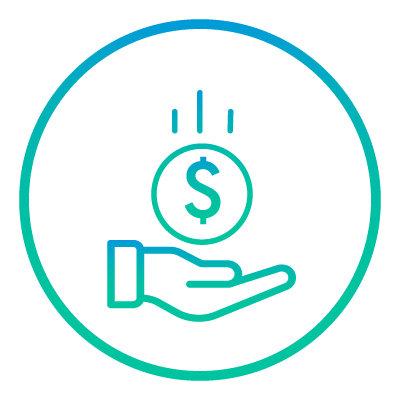 LIFE CYCLE COST SAVINGS & ENERGY EFFICIENT
Tengah's residents can look forward to enjoying air-conditioning with up to 30% energy savings compared to split-unit airconditioning systems.
---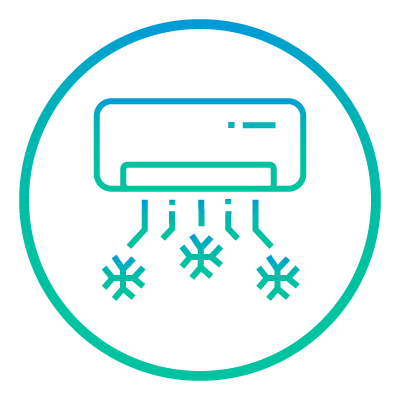 Chiller units are linked together to improve efficiency and to ensure uninterrupted chilled water supply even when one is under maintenance.
This same concept has been proven since 2006 by SP's district cooling system which provides cooling across the Marine Bay district such as the MBS Integrated Resort, One Raffles Quay and the Marina Bay Financial Centre.
---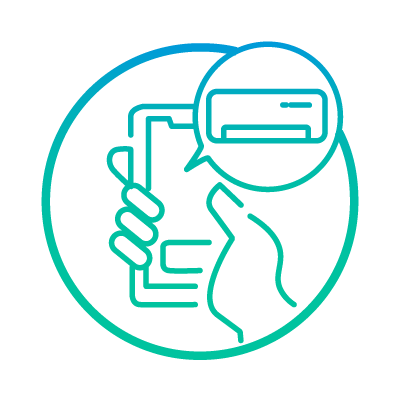 Control your aircon from anywhere – whether you're at the office or on-the-go – with the smart remote controller. More advanced than conventional remotes, you can pre-cool your home on hot days during your commute back.
With in-built smart features, you can remotely turn off the aircon via the SP Utilities App so there's no need to worry if you forgot to switch it off when you're away from home. The app also offers fuss-free smart monitoring for peace of mind. Receive alert notifications if your indoor unit needs maintenance and see performance data of your aircon over time.
---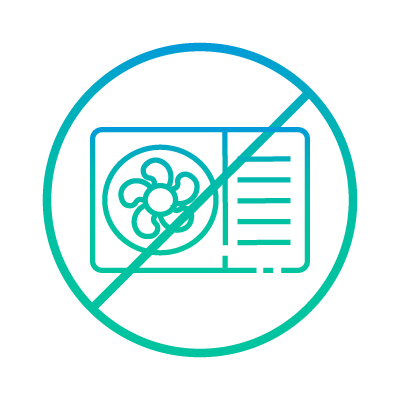 CONDENSER-FREE & HASSLE-FREE
What's inside your home will look no different from today, as Centralised Cooling indoor units have the same look and feel as conventional aircon units. Your rooms will be cooled by chilled water supplied from a chiller plant on the rooftop, eliminating the need for a condenser at each household unit.
This means less maintenance (Refilling of refrigerant gas is not required and no replacement needed for sensors, PCB Condenser , coil washing & compressor maintenance) for you, plus if you sign up now, we'll take care of the set up so you can enjoy it as soon as you move in.
---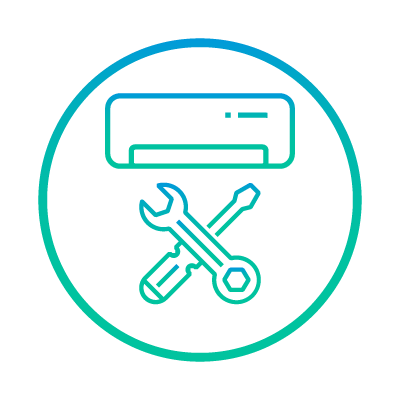 SP has established a partnership with Daikin, a leading brand synonymous with air conditioning quality and reliability for over 50 years in Singapore. Tengah Residents who subscribe to Centralised Cooling will be assured of a strong service and support network, backed by both SP and Daikin.
Tengah residents will benefit from best-in-class service and maintenance support packages offered by SP and Daikin for their indoor centralised cooling units.

Conventional v.s Centralised Cooling


CONVENTIONAL SPLIT-UNIT AIR CONDITIONING*
*Common models found in the market
Air cooled system requires more energy to cool down and condense refrigerant vapor into liquid
Higher maintenance & servicing costs
Increased need for raising gas pressure leading to lower efficiency
CENTRALISED COOLING
Water cooled system for higher energy savings and efficiency
Estimated operating efficiency is 0.65KW/RT
Lower maintenance & servicing costs
Cools home using a closed chilled water loop, instead of refrigerant gas
Built in control valve
Built in Smart Control

Wall Mounted Type: Indoor Unit Features and Specs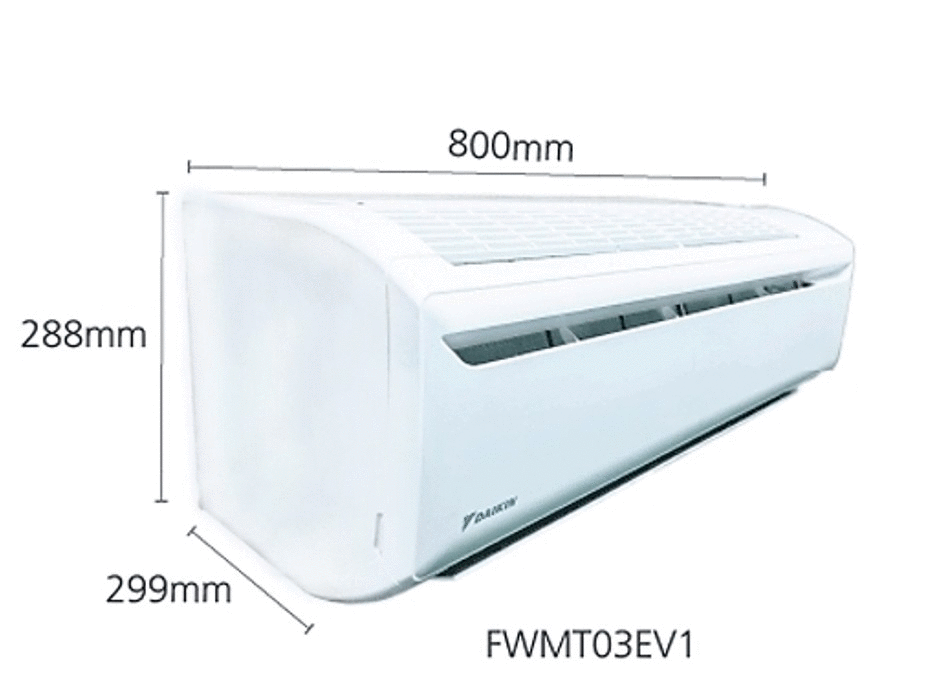 Fancoil Features

STANDARD FEATURES

COMFORT

Turbo Mode – Rapid cooling with highest fan speed for immediate comfort

Quiet Mode - Effective cooling with lower noise level

Dry Mode - Keeping the room dehumidified, while maintaining room temperature

Sleep Mode

LIFESTYLE CONVENIENCE

Built in Wireless LAN

Smart home upgradable (Optional)

CONTROLLER

With Wireless Remote Controller

AIR FLOW

Selectable Fan Speed - Different fan speed is available for comfort selection

Automatic Vertical Swing - Automatic movement of air discharge louver for uniform air distribution

Manual Horizontal Air Flow - Adjustable horizontal discharge grille for desired air flow direction

IAQ

Washable Saranet Filter - Removal of airborne dust particles through saranet filter ensures cleaner air supply

Fancoil Specifications

Installation Method

PIPE FITTINGS
MECHFIT Pipe Fittings are made tested and certified in Japan and it is also registered under Singapore Green Building Product, SGBC. The 'MECHFIT' system uses the best combination of new generation of metal and plastic materials: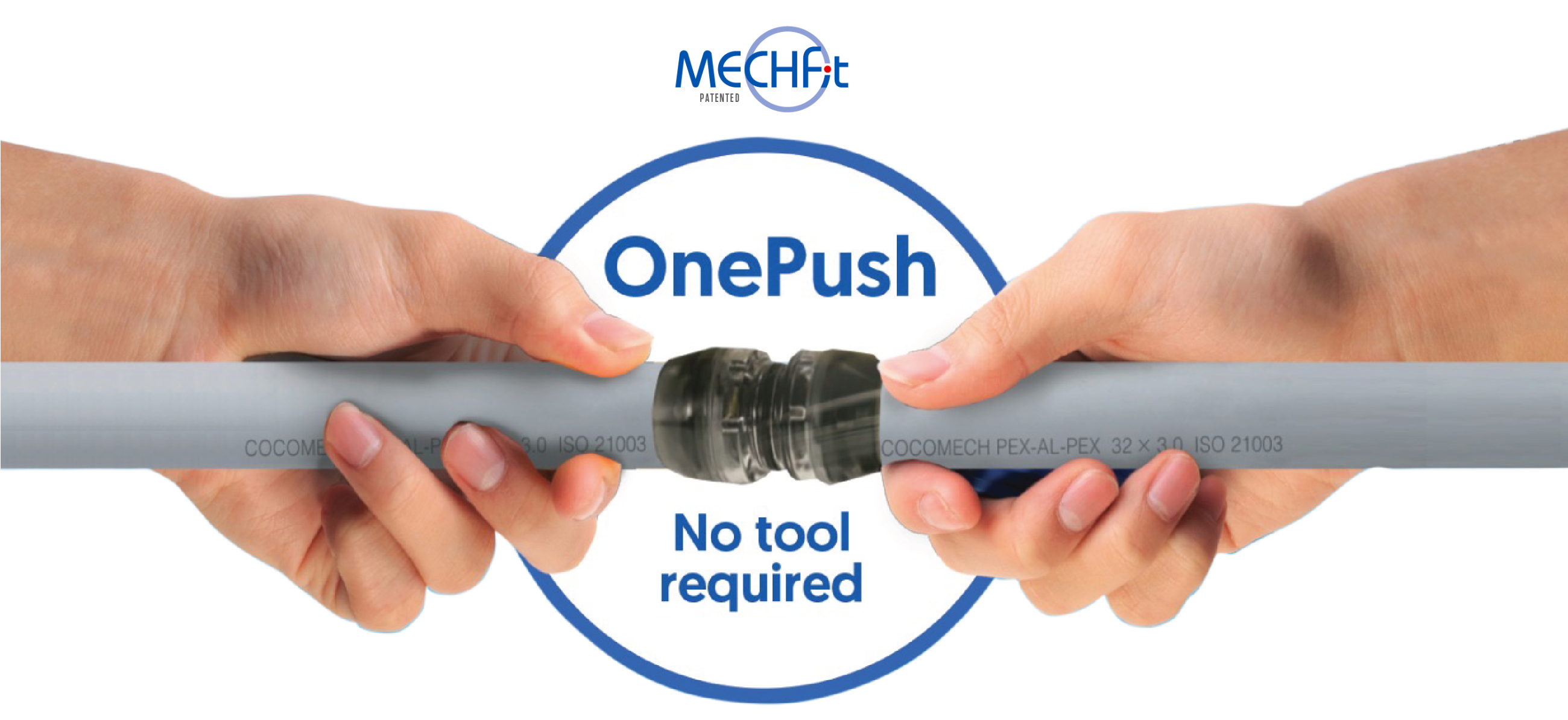 SIMPLE & RELIABLE
MECHfit is reliable, easy to install with a "snap sound" and is extremely safe and no hot work is involved.
TIME & COST SAVINGS
The efficient and hassle-free installation of MECHfit greatly reduces time and cost due to Mechfit lightweight material.
HIGH DURABILITY
When used with the polyethylene and aluminum PEX-AL-PEX pipe, the equipment is more durable as the PEX-AL-PEX pipe is corrosion resistant and hence, minimizes wear-off.
HIGH PRODUCTIVITY
Improved productivity for use in all kinds of sanitary, heating and chilled water [FCU System] installation due to its tool free, leak-free secure pipe fitting.
LONG-TERM WATER TIGHTNESS
Can withstand any water temperature ranging from 6°C - 30°C
Test Pressure up to 10 bar
Complying to ISO 21003 standard
TYPES OF PIPING
Chilled Water Supply And Return Pipes

System proposal of world-leading pipes + most advanced fitting

In the MyTengah project, GERMAN-made Cocomech Pex Pipes are being used for 2 types of pipings - the supply and return pipes of chilled water.

Introducing the PEX/AL/PEX pipe which meets the dimension and performance requirement ISO21003 (PEX/AL/PEX). Together with MECHFit, installation works are extremely easy, simple and reliable.

These pipes can be considered as one of the best pipe material for non-portable water & chilled water piping system in the world with the following benefits:

The flexibility of these lightweight coiled pipes improves workability in all processes of work.
Excellent Corrosion Resistance, Chlorine Resistance, Electrical Resistance, Pipe-Creep Resistance. etc.
Coverage of wide temperature and pressure range in use.
Safe from any toxic substance and promotes healthier water.

UPVC Drainage Pipe

DSP uPVC Drainage Pipe offers a range of unique characteristics that make them versatile in their field of application. The pipe is grey in colour and are commonly used as cable ducting, flush pipe and airconditioning water discharge outlet.

There is an ease in handling and installation due to the pipe's light weight property thus minimise operation and installation cost. The smooth bore provides greater hydraulic capacity and minimises deposit. The pipe can be readily joined by solvent welding. This provides the versatility in joining and minimise the flow of obstructions.

Contact Us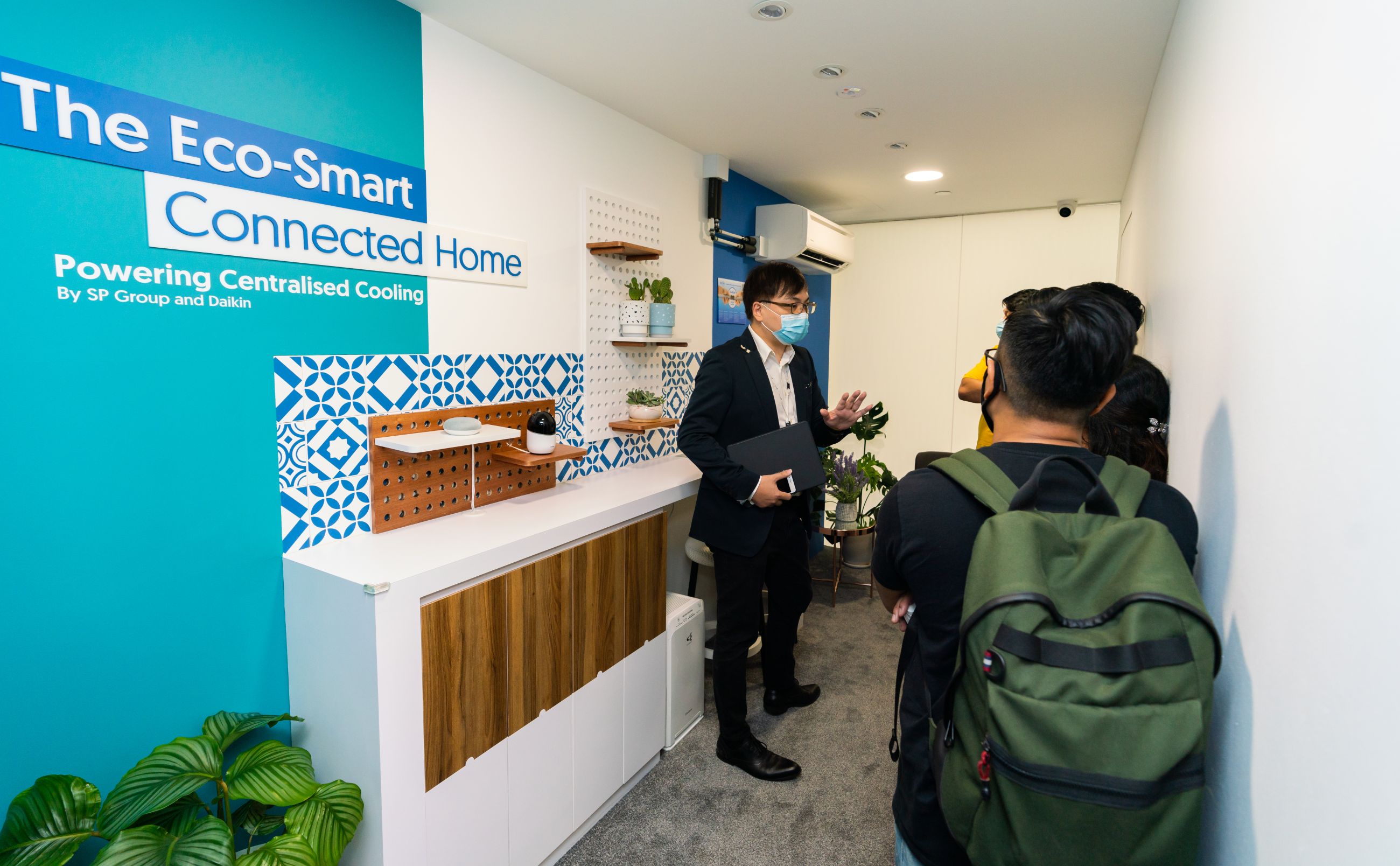 You may visit the Tengah Experience Centre (located at Toa Payoh HDB Hub, #02-08) to view the actual Centralised Cooling Indoor unit that will be installed for Tengah residents.
While CCS is only available to residents at Tengah, the TEC is open to anyone interested to find out more, because green residential housing is here to stay!
Simply register on mytengah.sg to make an appointment.