solution for chilled water fcu & plumbing applications: Mechfit, toglit & pex/al/pex pipe
MECHFit and Toglit fittings are hassle-free and weld-free connections in which chilled water pipes can be joined easily and quickly. PEX/AL/PEX pipe is a lightweight, corrosion resistant piping for sanitary and chilled water (FCU system). It is suitable for cold and hot water application ranging from minus 40 degree Celsius to 110 degree Celcius.

MECHFIT: INNOVATIVE & RELIABLE ONE PUSH PRESS-FITTING

Benefits
Enjoy hassle-free and efficient installation that saves time
Simple & Reliable
MECHfit is reliable, easy to install with a "snap sound" and is extremely safe
High Productivity
Improved productivity for use in all kinds of sanitary, heating and chilled water (FCU System) installations due to its tool-free, leak-free and secure pipe fitting
Time & Cost Savings
The efficient and hassle-free installation of MECHfit greatly reduces time and costs
How MECHFit Works?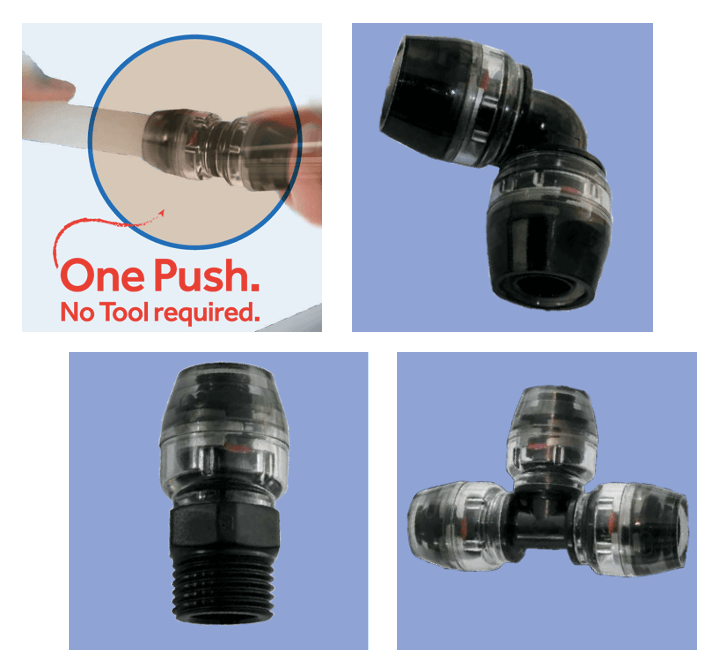 Patented MECHFit Clamp Ring
No tool required, only one push to tightly connect with PEX/AL/PEX pipes
Easy Connection Making A "Snap" Sound
A small red "jumping pin" is pushed out of the clamp ring
Long-term Water Tightness Connection
Any possible fluctuation in the pipe dimension could be absorbed unlike other push-fit type fittings
Video
PRODUCT LINEUP
Typical Chilled Water FCU Schematic
Singapore Green Building Product Certificate

TOGLIT: FIRST IN THE WORLD TOGGLE METHOD FITTING

Benefits

Quick & Easy Installation
No special tools are required, simply tighten the nut with a common wrench
Easy Checking of Complete Installation
The bolt and nut will automatically be removed after installation is complete
No Restrictions on Installation Place
Toglit is easy to install even in a tight and narrow working area. Installation from the front is also possible
Compact & Smooth Finish
Bulging is minimal after completion with cover
Prevention of Pipe Creep
Toglit clamps around the pipe with equal force all around, hence preventing any pipe creep or wrinkles
How does Toglit work?

The "Toggle method" for joints generates multipliable force by a small force allowing fast and reliable installation works
COMPONENTS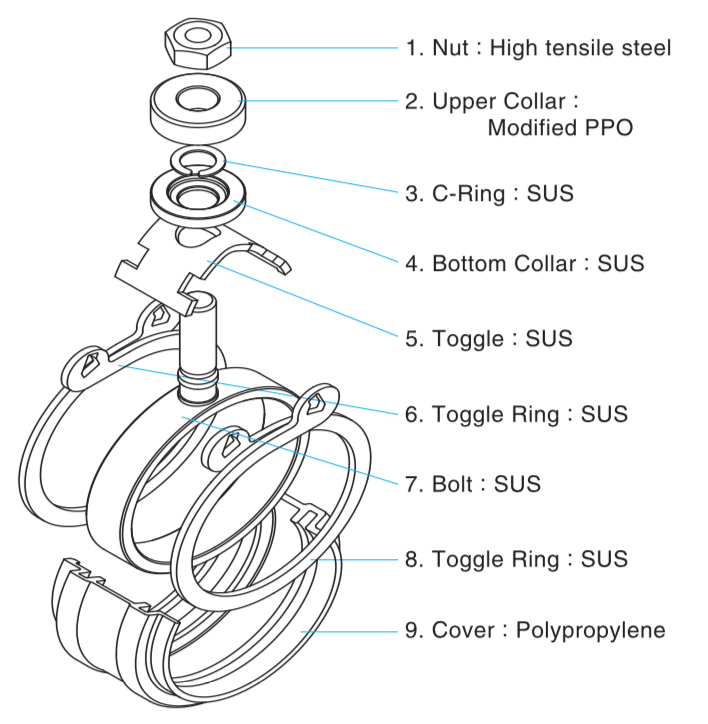 VIDEO
PRODUCT LINEUP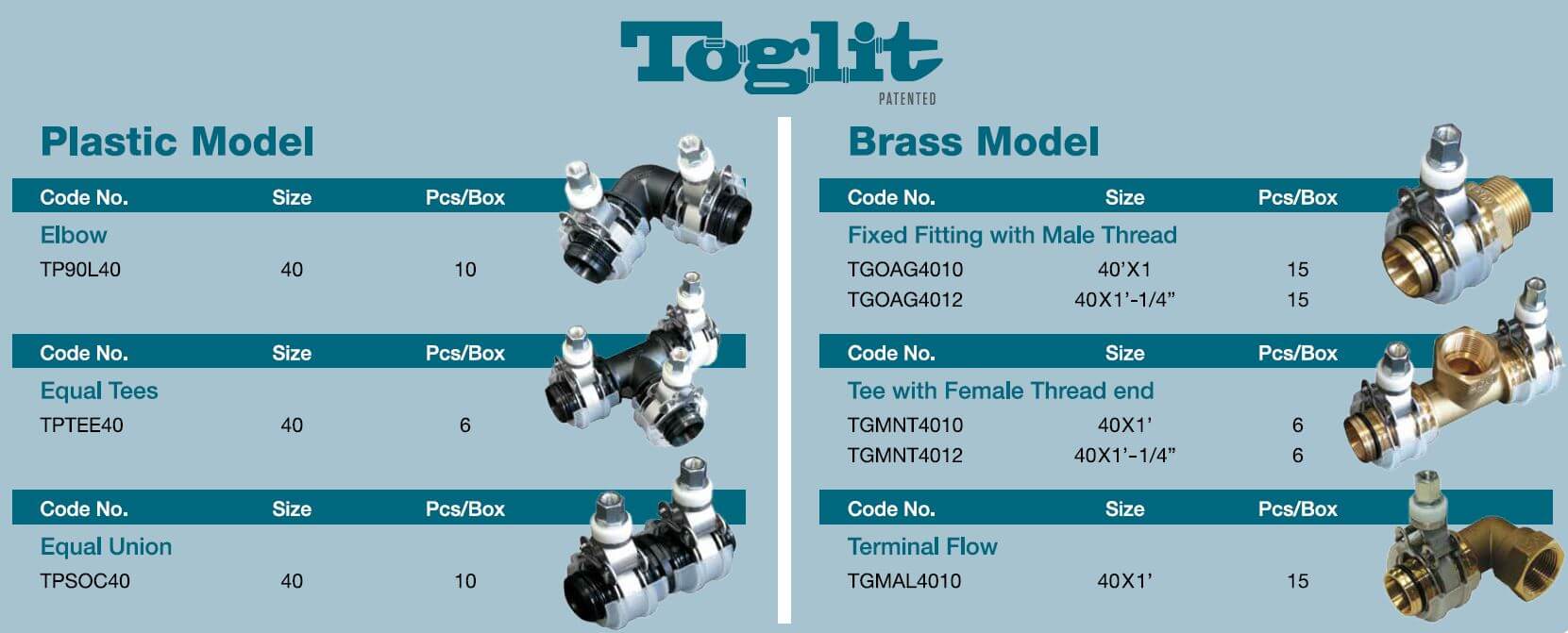 Singapore Green Building Product Certificate

WORLD-LEADING PIPES + MOST ADVANCED FITTING

PEX/AL/PEX PIPE

Together with MECHfit, installation works are extremely easy, simple and reliable
Benefits
Lightweight
The flexibility of these coiled pipes improves workability in all work processes
High Resistance
Excellent corrosion resistance, chlorine resistance, electrical resistance, pipe-creep resistance etc.
High Coverage
Coverage of wide temperature and pressure range in use
Safe
Safe from any toxic substance and promotes healthier water
PIPE DIMENSIONAL STANDARD

| CONNECTION TYPE | SIZE | O.D | I.D | THICKNESS | LENGTH(M) |
| --- | --- | --- | --- | --- | --- |
| MECHFit | D16 | 16.0 | 12.0 | 2.0 | 200 |
| MECHFit | D20 | 20.0 | 16.0 | 2.0 | 100 |
| MECHFit | D25 | 25.0 | 20.0 | 2.5 | 50 |
| MECHFit | D32 | 32.0 | 26.0 | 3.0 | 50 |
| Toglit | D40 | 40.0 | 33.0 | 3.5 | 5 |
PRODUCT LINEUP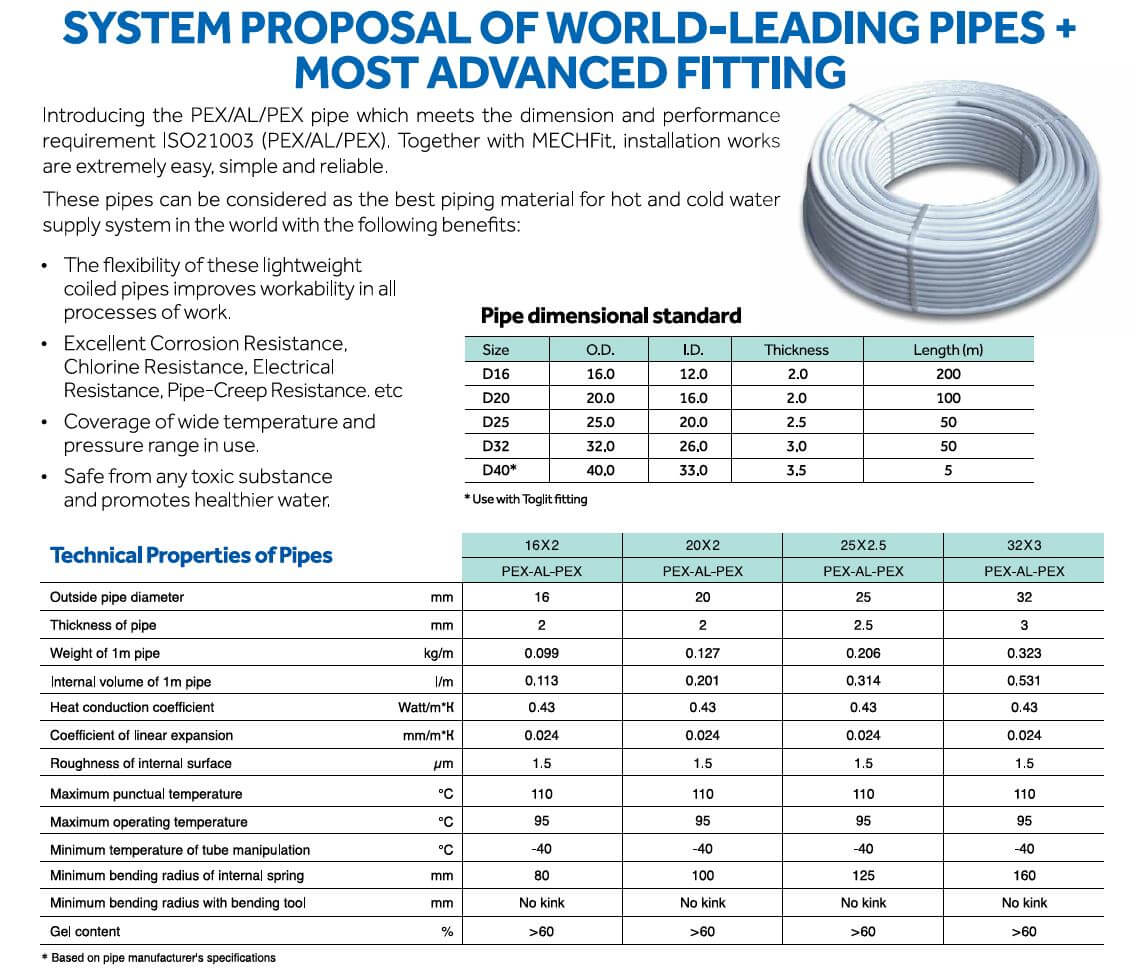 For more information, refer to our full product catalogue.

Contact Us

OR