Office and large building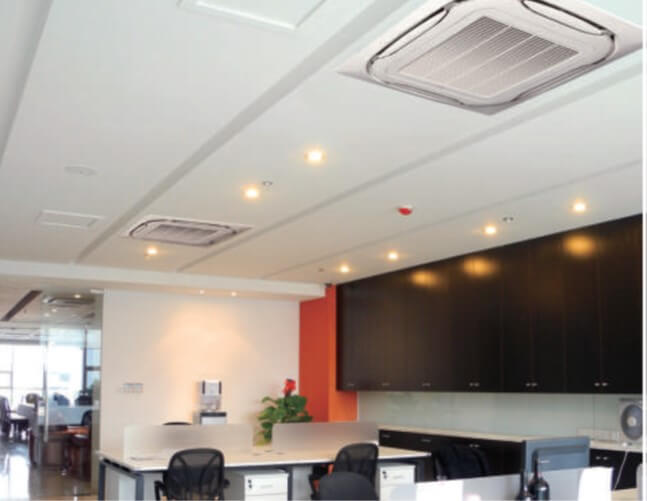 Cooling and Control Solution for your Office Building
Daikin provides comfort cooling solutions to meet your requirements for small to large office buildings. We offer energy efficient air-conditioning system with smart control solution in which we manage the building's energy consumption efficiently while optimizing the cooling comfort.

Complete Solution for your Office Building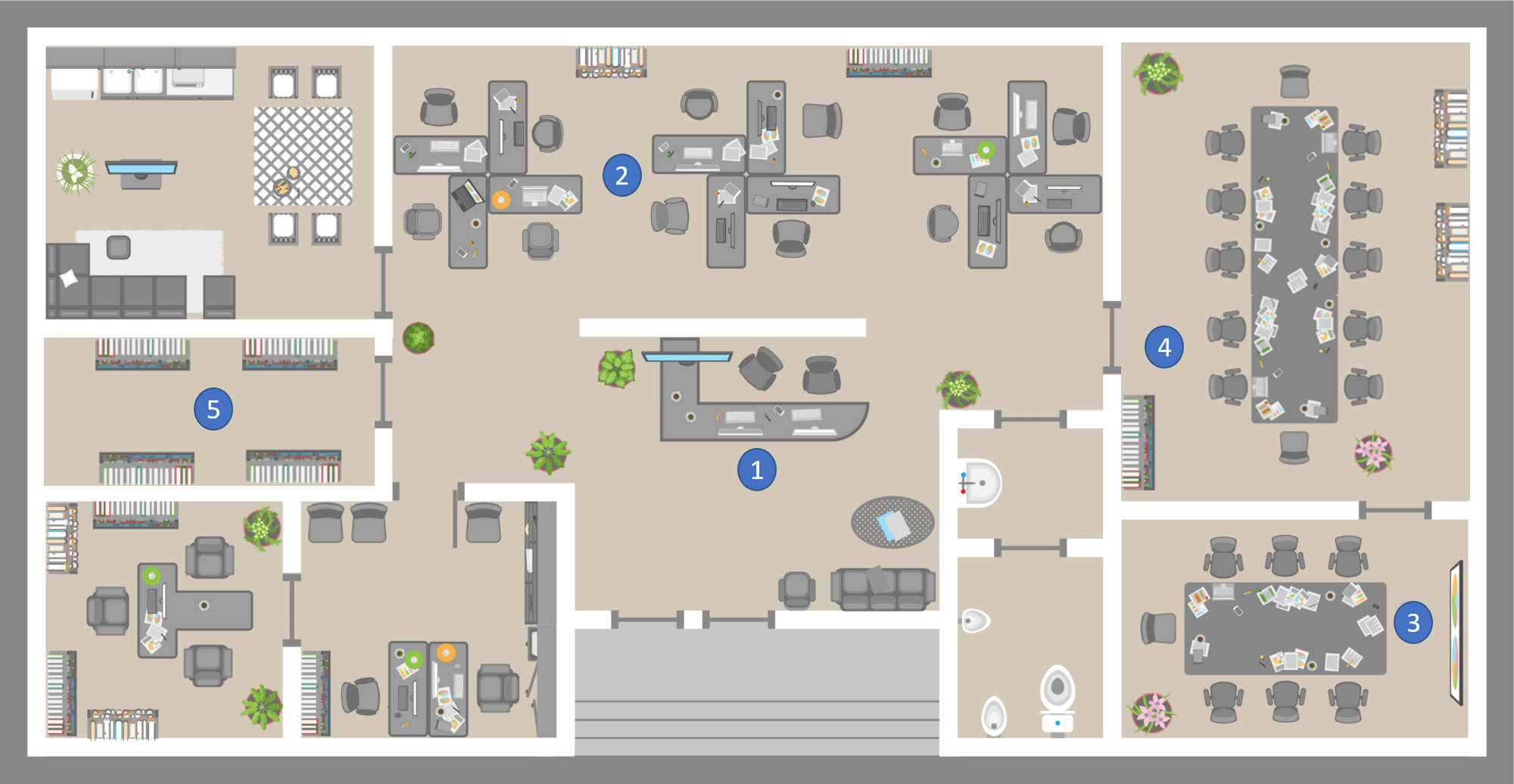 1. Reception
Save energy and improve operational productivity by managing your aircon and other building services through Daikin Smart Control Solution.
2. Office Space
Presence of people and floor temperature can be detected to provide comfort and energy savings by using Ceiling Cassette Round Flow with Sensing – 360 degrees airflow discharge (VRV Series).
3. Meeting Room
Take control of your meeting room with scene control on lighting, curtain and aircon through Daikin D'Smart office Touch.
4. Conference Room
With high ceiling, VRV Ducted Fan Coil Unit integrates nicely into the ceiling space and provide flexible air distribution through the ducting system.
5. Server Room
Reliable DSP drain pump that integrates with Wall Mounted Fan Coil Unit to provide smooth condensate water discharge.
With our BMS, we can

Manage standby indoor fan coil unit
Auto-switch over indoor fan coil unit (based on room temperature, scheduling, etc)
Trigger water leakage alarm

Find your Office Building Needs


Building Management System

Embarking on building automation can be rather overwhelming despite the attractive benefits. At BMS Engineering (A Subsidiary of Daikin Singapore), we provide a one stop Building Management System (BMS) solution that aims to improve your building operations. Our solution is customizable to your specific needs and we are committed to helping you through this journey.

Configuration

With our BMS Engineering (a subsidiary of Daikin Singapore), we ensure high quality services and easy configuration to improve user interface and experience.
Our configuration provides:
Any pre-configured or ad hoc criteria including date range, cost, consumption and CO2 emissions
Viewable through WorkStation or WebStation
Simplify user experience while providing an additional level of control to help improve operational and energy efficiency

User Interface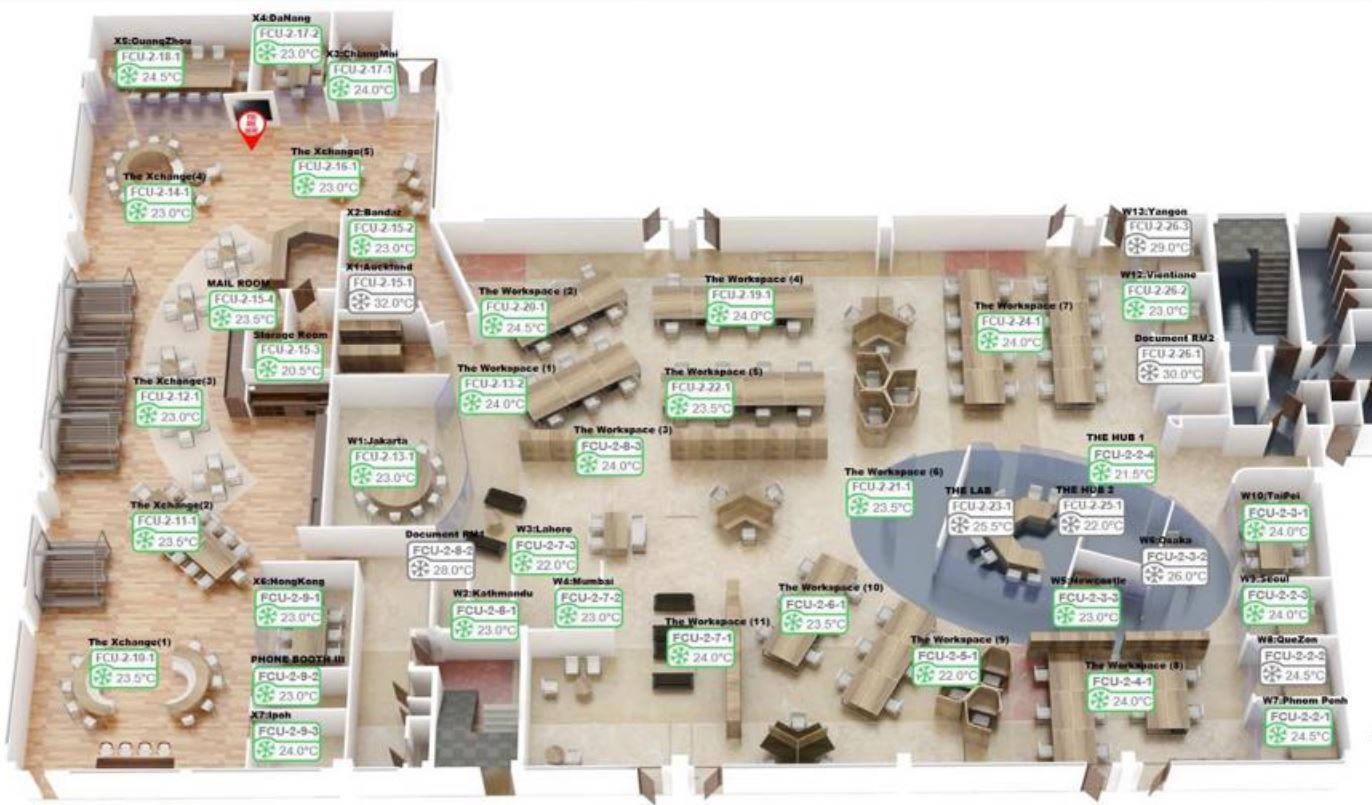 Empower your control over the building operations with:
24/7 access to building information
Manage your facility on the go with intuitive mobile user apps
A full-function, browser-based WebStation user interface
Allow users to personalize their workspace
Organize interface by individual users to suit assorted needs an roles
Simplify day-to-day operations with user-friendly functionality
Optimize building operations with drag-and-drop trending,
One-click reporting, interactive graphics, calendar-like
Scheduling and easy-to-use alarms
Visualize analytics and data management
Web Services for integration with existing and emerging technologies and third party systems
Moves communication beyond industry-specific devices and systems and toward service-oriented architecture, such as:

Power management (electrical distribution)
EcoStruxure
Easy Installation
Support High and Low Interfacing:
Lighting control (also depending on ambient lighting when exposure sensor is present)
Shading control according to weather station or exposure sensors
Heating control with speed selection FCU or automatic
Continuous cooling control 0-100%, not just on / off
Timing and manual air handling control
Selection of VRF settings for indoor and outdoor units (direction, top / cool)
Alarm Console - Used to register errors. Possibility to use for facility management

Reporting & Analysing

Improving building efficiency through analysing the reports is a crucial advantage of BMS. Here, we provide a range of customizable reports so that you can analyse and deduce trends to further decision making.
Reporting
Our powerful graphical reporting tool shows:
Fully Customisable report
Energy consumption reports
Alarms and trends comparison
Information on Airconditioning System Efficiency
Reporting, Trends and User Interfaces
Trends
Based on historical data, you can have an overview of:
Business performance data based on history, people, locations, etc.
Internal, External, Implicit, Meter Logs, Export logs
Variety of standard reporting formats including .csv and .xml Flexible
Data presentation in table or chart view
Create an ad hoc trend chart from any point
Drag and drop points onto trend chart
Roll over to highlight values