Features

Compact
Throughout the cooling season, Daikin's new inverter models reduce energy consumption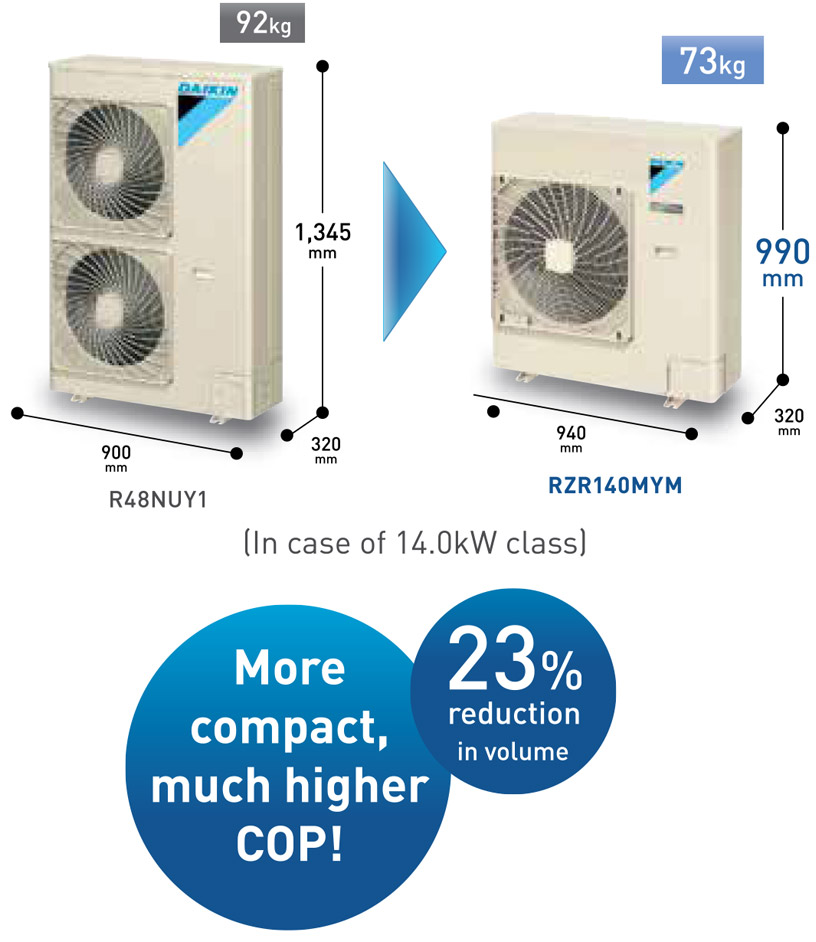 Comfort
Faster cooling and dehumidification: New inverter control technology brings quick comfort
Quick cooling start function
Quickly and easily make space comfortable before the arrival of office workers or shop customers. As well as quick cooling at max. capacity, new inverter control rapidly removes indoor humidity. More than simple temperature reduction, this twin reduction provides greater comfort (within 30 minutes max.).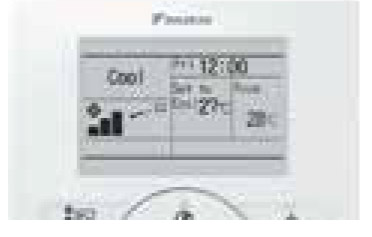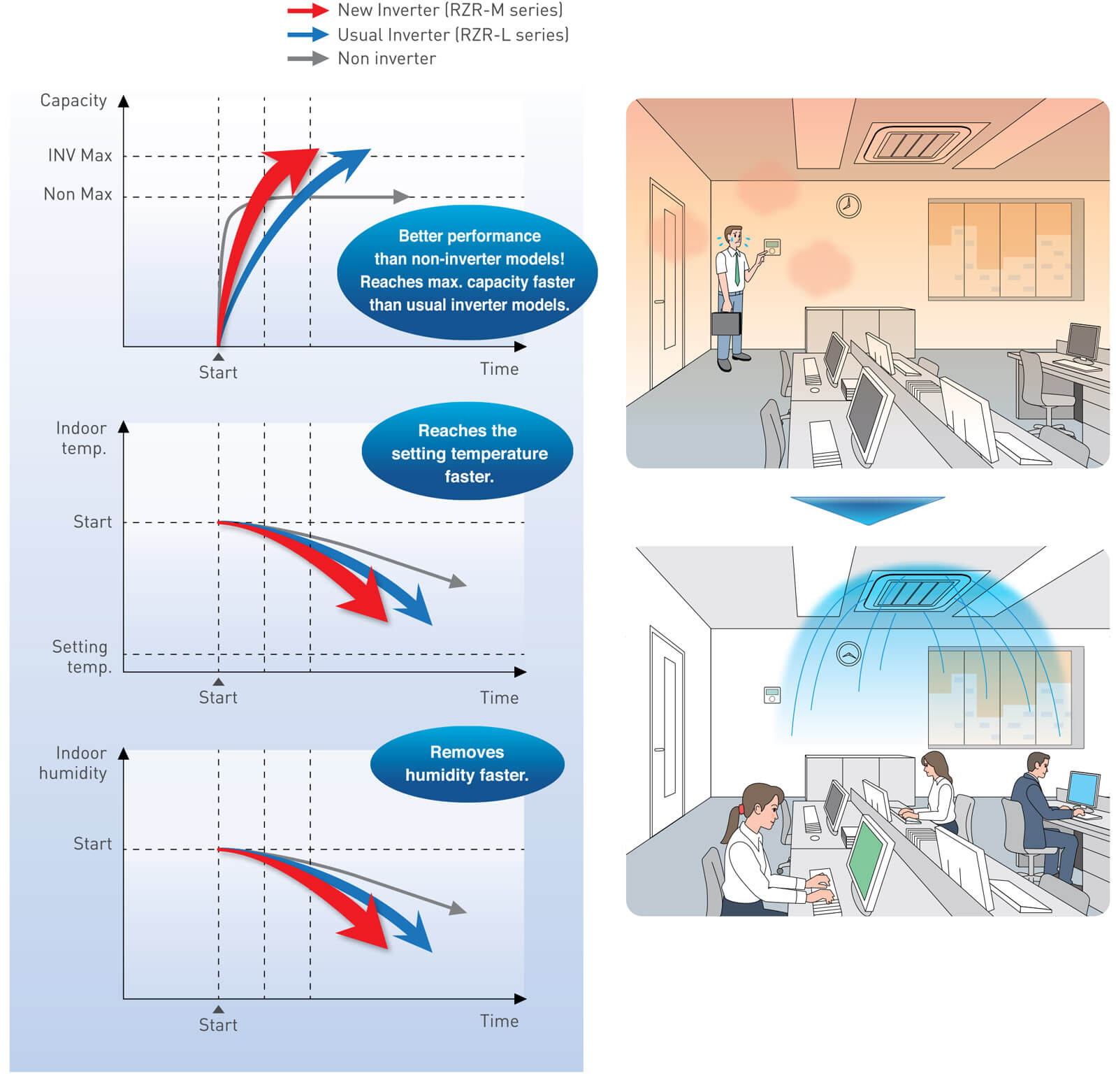 ---
Durability
Automatic protection against Low voltage
In AM and PM peak electricity consumption periods, supply may fluctuate. Built-in low-voltage protection will automatically cut operations. When normal voltage is restored, operation will resume as before.
Outdoor unit installation is possible even with limited space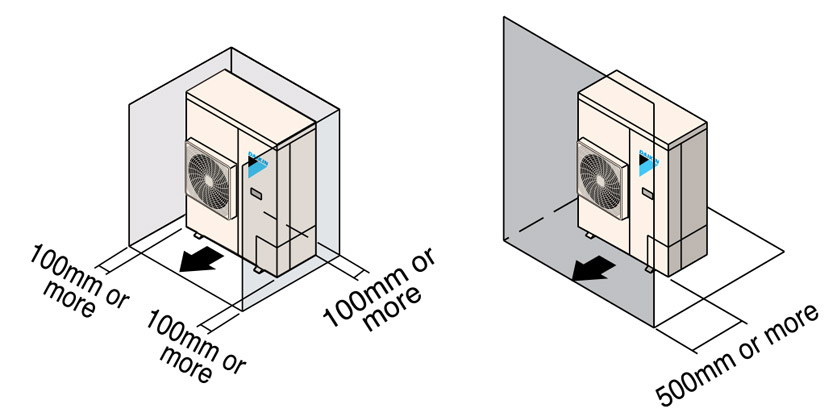 Coated printed circuit boards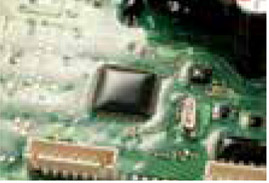 Coated circuit boards prevent problems caused by humidity and airborne dust.

Self-diagnosis functions enable prompt maintenance response
An error message appears on the LCD of the remote controller and an LED lights up on the unit. When the BRC1 E62 is installed, the error code appears showing contact information and model name. Contact your Daikin dealer and provide the error code and model name. br>

---
More economy or comfort in special situations
High sensible cooling enables even greater power savings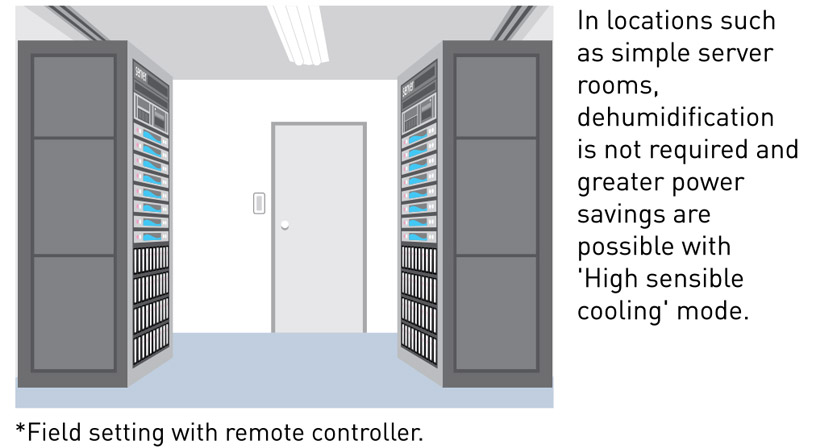 High dehumidification cooling provides even greater comfort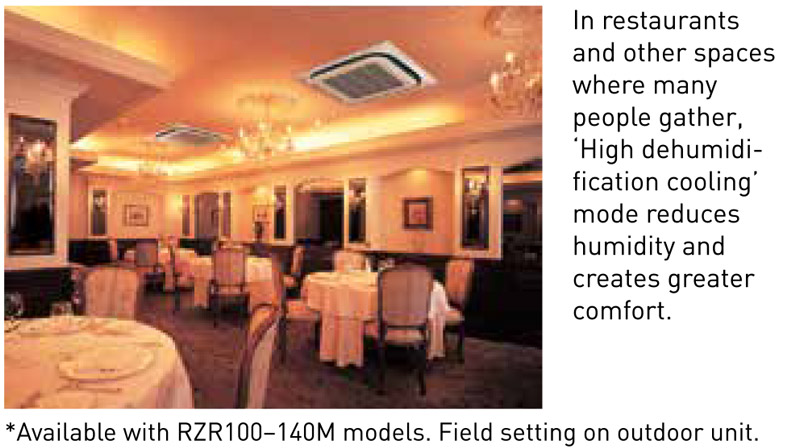 ---
Convenient functions
Navigation remote controller BRC1E62 includes various convenient functions



---
Reuse of existing piping
Benefit 1 - Simplified installation reduces replacement time and cost

Benefit 2 - You can increase cooling capacity and achieve higher energy efficiency
Upgrade to an air conditioner with the latest technology for greater comfort and energy efficiency.

Technology
Advanced technology including the use of corrosion resistant electronic expans reliability enables the re-use of existing piping* without the need of pipe flushing for a simplified replacement process.

---
Design flexibility
Possible to force On-Off operation using external command
(Available in duct connection middle static pressure type and wall mounted type)
*Field setting with remote controller
Off-operation never overlooked if linked to use of hotel keycard: enables overall power savings.

All indoor units comply with DBI -Net standards (connected to RZR series units)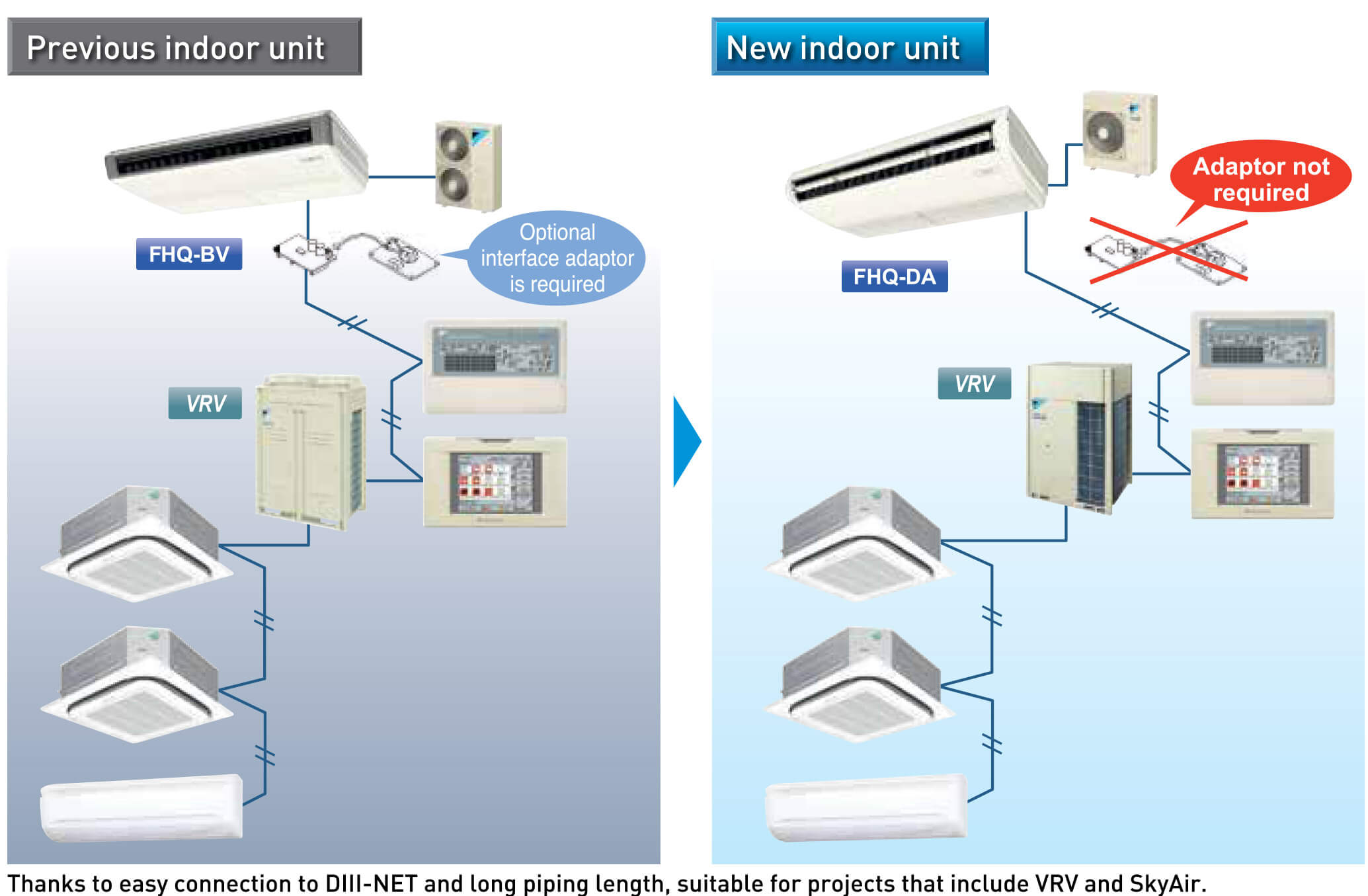 ---
related services

Product Lineup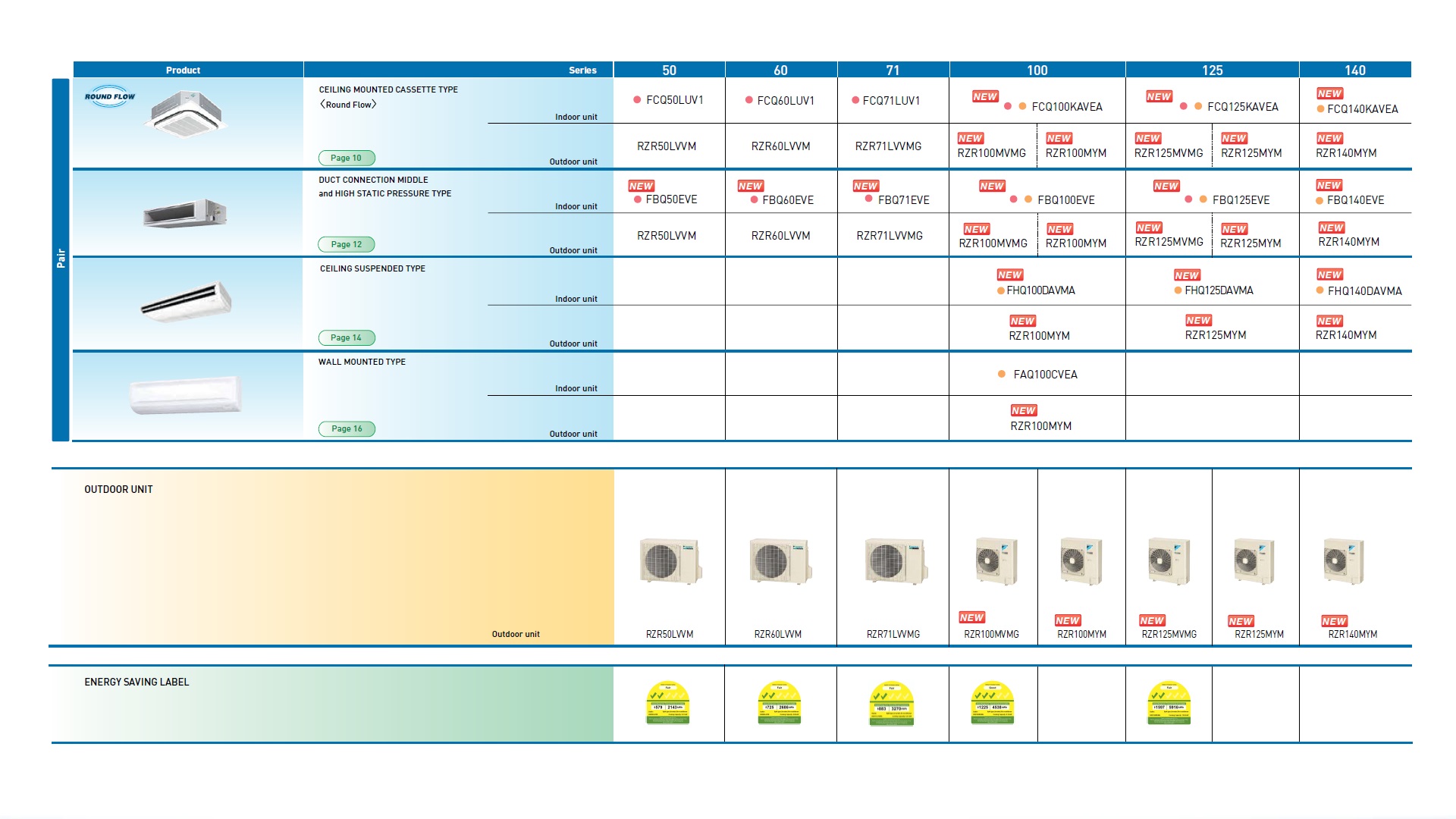 Specifications

CEILING MOUNTED CASSETTE TYPE (Round Flow)

DUCT CONNECTION MIDDLE STATIC PRESSURE TYPE

CEILING SUSPENDED TYPE

WALL MOUNTED TYPE