18 May 2020 updated
Reader's Digest Trusted Brand 2020: Gold Award (Category: Air Conditioner)
For more than 50 years, Daikin has been improving the lives of Singaporeans with high-quality and energy-efficient air conditioners, and superior after-sales service.
Established in Singapore in 1968, Daikin has grown with the country to achieve many milestones. Daikin was the first to introduce multi-spilt air-conditioning systems when the Housing and Development Board (HDB) was paving the way to house Singaporeans of growing affluence. In line with Singapore's green movement, Daikin was also the first to introduce eco-friendlier multi spilt air conditioner using R32 refrigerant, which has zero impact on ozone layer depletion and lower global warming potential than the conventional R410A refrigerant.
"We are proud to be the No. 1 air conditioner brand in Singapore and are thankful for the support and trust customers have in us, while we continue to dedicate our time and effort to improving products and services," says Mr Liu Shaw Jiun, Managing Director of Daikin Singapore.
"We have popularised inverter technology and National Environment Agency (NEA) energy rating system on 5-tick. Our highly efficient and quiet 5-tick iSmile series not only allows great energy savings, it has built-in Smart Control. Besides setting the temperature, fan speed and airflow direction from your mobile device, you can schedule settings weekly. With increasing market demand for smarter homes, you can choose to upgrade to D'SmartHome solution for a more connectable and comfortable home," he says.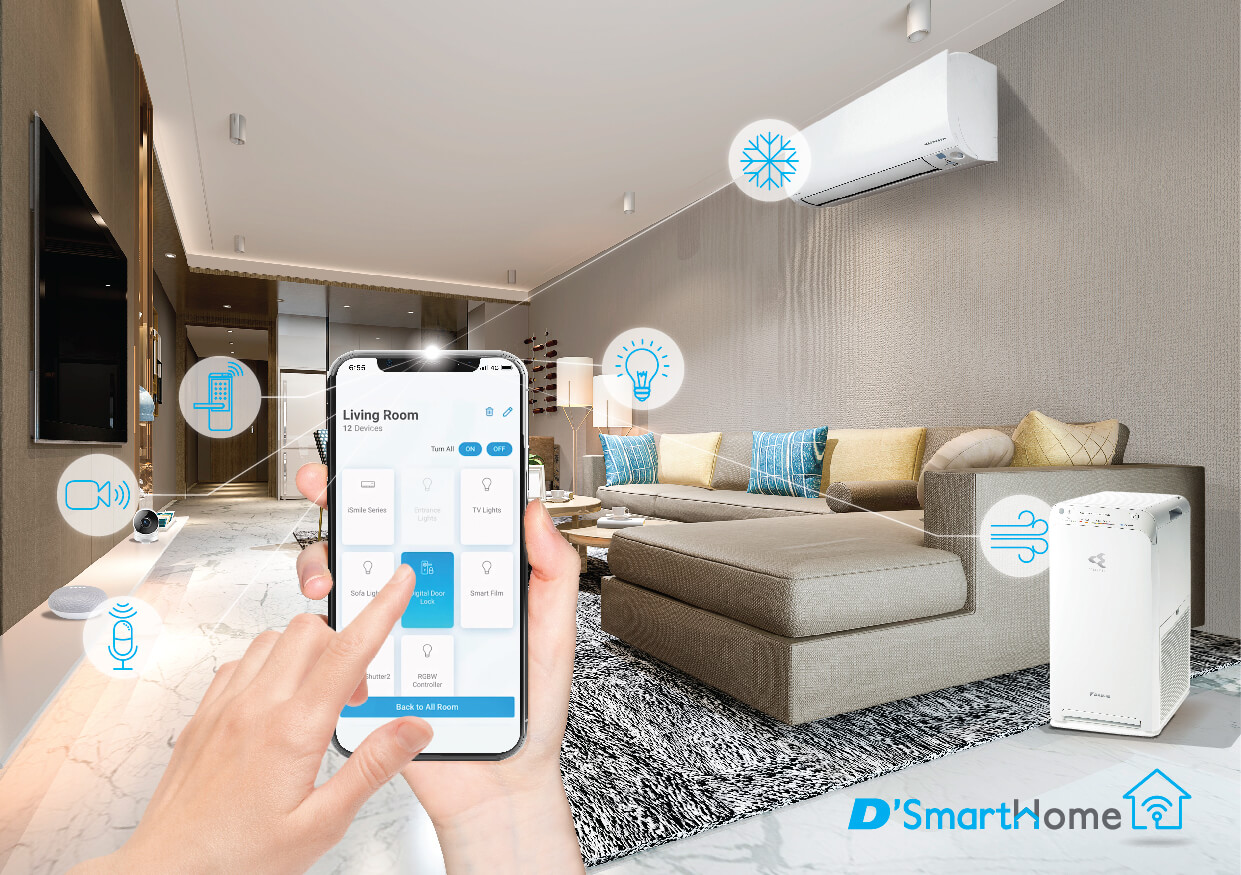 Daikin D'SmartHome technology promises to provide your living space
To increase accessibility to Daikin products, there are now seven Daikin one-stop specialist Proshops island-wide. Offering a complete range of services, customers enjoy an array of benefits, such as professional consultation, well-trained services, and free warranty extension up to six months. Daikin has also launched an online store.
Visit our E-Proshop to find out more about our products today!
Check out Reader's Digest Trusted Brand 2020 page.