Built-in Smart Control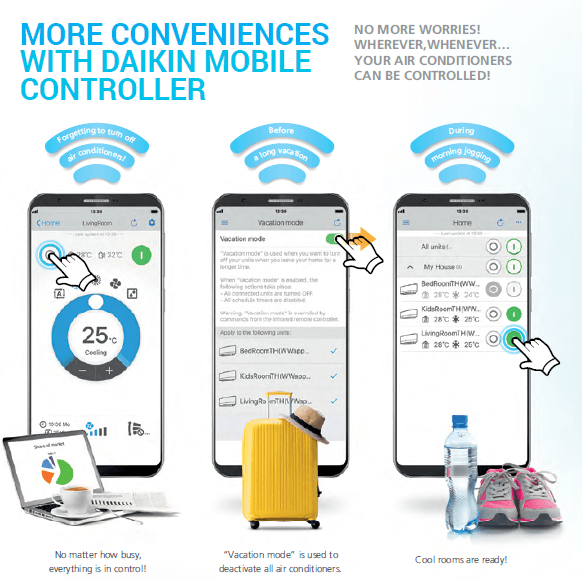 Superb Air Quality (PM 2.5 Filter)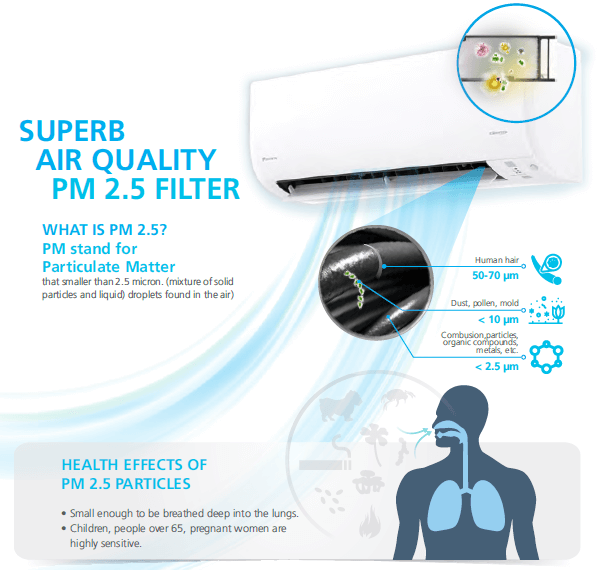 IN PURSUIT OF BETTER AIR THROUGH TECHNOLOGIES OF AIR CONDITIONING AND FILTER
With the prevalence of air contaminants such as PM2.5, bacteria, viruses, and allergens, air environments are having
significant impacts on people's health, and society looks to technology to improve indoor and outdoor air environments.
People spend more than 90% of their time indoor, the risks to heath increased due to exposure to air pollution indoors.
We believe that it will become increasingly important to develop technologies that improve indoor air environments by
removing pollutants, preventing their emission, blocking out polluted air.
With the newly added Dust collection PM2.5 Filter in this ismile series, quality of indoor air can be improved significantly
and helps to keep home cleaner and healthier, improving the quality of sleep.

Upgradeable to D'Smarthome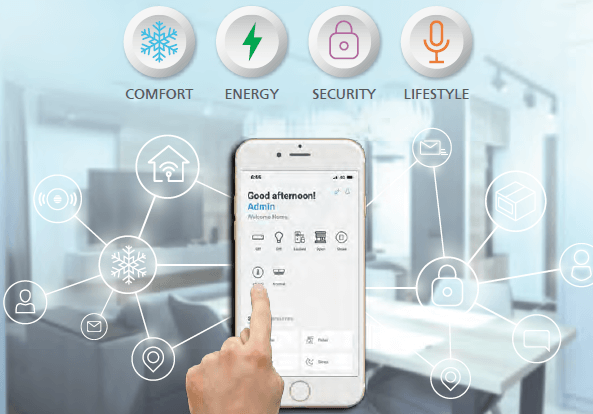 Communicating with your home
Smart home technology promises to provide your living with an enhanced lifestyle of comfort, convenience, home ecosystems and security. With a smart home system, a variety of electronic devices and appliances can be connected to communicate with each other as well as with you.
Whether you're at work or on vacation, you can seamlessly control your air-conditioners, air purifier, lightings and even security systems from your smartphone.

Specifications


FAQ

What is PM (Particulate Matter) 2.5 filter?

It is a dust collector filter which are capable to trap unwanted particles such as dust, ash or haze particles up to 2.5 microns in size.

Can the PM 2.5 filter be clean, and do I need to replace it?

The PM 2.5 filter cannot be cleaned. It is recommended to be replaced every 6 months.

Can iSmile series operated without linking to the smart control?

Yes you can still operate your air-conditioner normally using the wireless remote controller. The only difference is that iSmile has an additional option to link to wifi.

What is the difference between Smile series and iSmile Series?

Ismile series has a wider range of cooling capacity and comes with built in smart control.

Do I need to install any App before I set up the wi-fi ?

Download Daikin Mobile Controller App via Appstore / Google Playstore.

How do I setup the wi-fi after installing the iSmile series?

You can click here to follow the steps on how to set up.

What functions do the Daikin Mobile Controller App have?

Control your aircon when you are out of home and schedule function and Vacation mode.

Can I still setup the wi-fi to the iSmile series aircon if my wi-fi signal is weak?

It is recommended to have strong wifi signal at the area that the Indoor unit will be install as weak signal will delay or may not be able to send the data to the Daikin Mobile receiver.

My router does not come with WPS button, how do I set up the wi-fi?

Kindly call DAIKIN Call Centre 64840083 for assistance.

How often should the iSmile series be serviced?

Servicing should be carried out at least once every 3 months if the aircon is in use for almost every day. Or at least twice a year.

What is the difference between Daikin Mobile Controller App and Daikin D'SmartHome App?

Daikin Mobile Controller App allow you only to control the air-conditioner. Daikin D'SmartHome App brings to you full home automation solutionsthat allows you to achieve smart management of your home appliances at the ease of your Smart Phone / Google Home.