Daikin's Reclaimed Refrigerant (R410a & R134a)
Daikin recognizes our vital role in protecting the environment and reducing our carbon footprints. We lead green initiatives by providing and ensuring that our products' end-to-end is aligned with our green efforts. This led us to partnering with different organisations to achieve an environmentally conscious refrigerant lifecycle – Recovery, Reclamation and Recycling.
Reclaimed Refrigerants is a sustainable method of recycling used refrigerant from the end-of-life refrigeration equipment. It goes through thorough and intensive filtration process that removes impurities from used refrigerant and restores its purity level to meet international standards level (AHRI 700).
It is a sustainable alternative that greatly reduces the generation of harmful gases from the production of new refrigerants.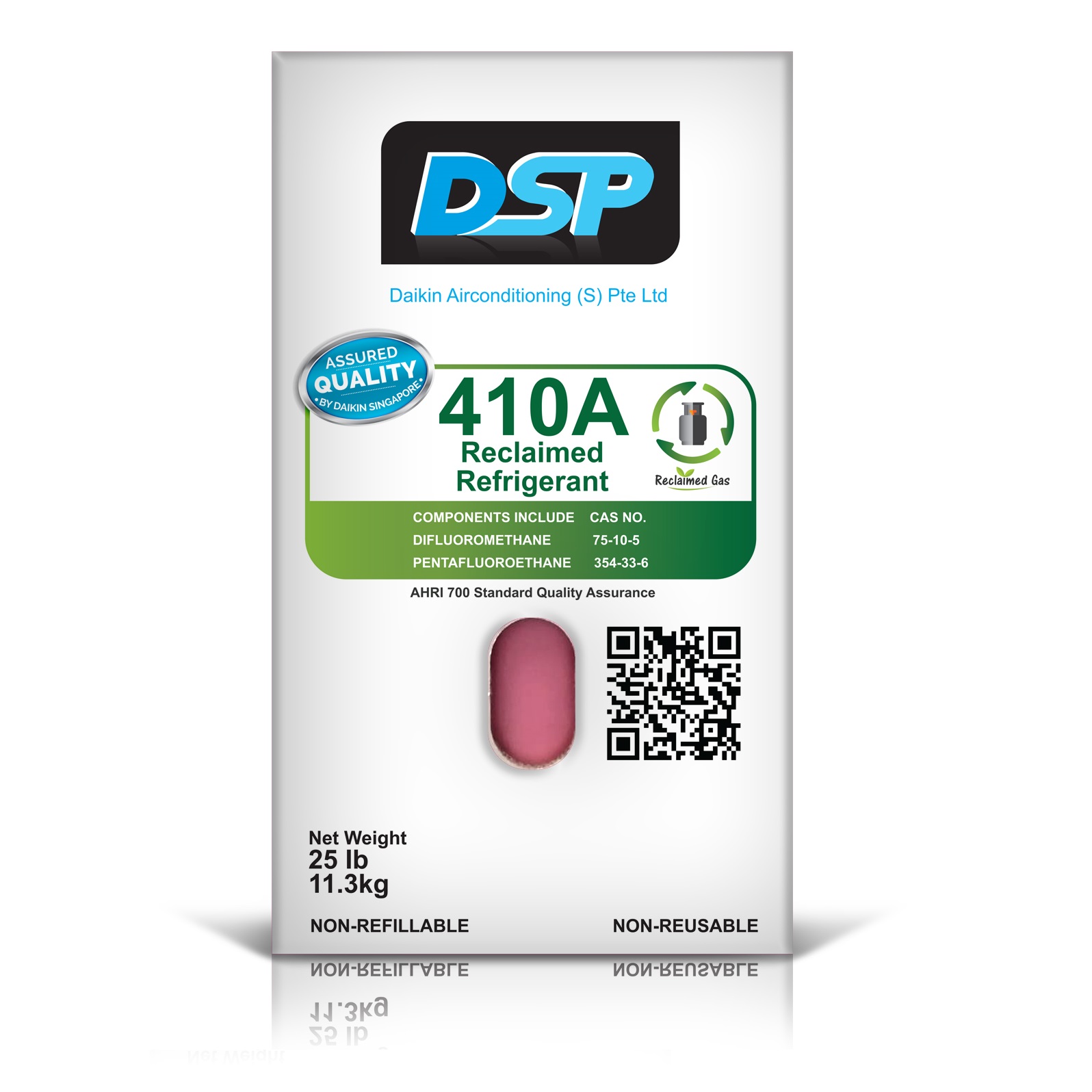 SGBC Certified



Benefits

Avoids the release of zone depleting & global warming gases
Eliminates production of new refrigerants
Reclaimed refrigerant ensures optimum equipment performance
Prolongs equipment lifespan
Reduces equipment downtime

How it is done



FAQ

Q: What are Reclaimed Refrigerants?

A: They are used refrigerants cleaned by means of filtration, distillation, separation or other mechanical processes. As a result, our finished product meets the same standards as newly produced refrigerant.

Q: Is Reclaimed Refrigerants a Green product?

A: Yes. It is endorsed by Singapore Green Building Council [SGBC] and it is green mark certified.

Q: What is the difference between reclaimed refrigerant and new refrigerant?

A: There is virtually no difference. On the contrary, a reclaimed refrigerant is also an environmentally friendly product.

Q: Will the reclaimed refrigerant damage my equipment?

A: Reclaimed refrigerant that meet or exceed AHRI-700 standard will not cause any damage to your equipment. Reclaimed refrigerant is unlike recycled refrigerant. Recycling process is to simply remove and reduce contaminants, while reclamation process is to process the refrigerant to meet or exceed the standard of AHRI-700 standard (International Virgin Refrigerant Standard).

Q: Which types of reclaimed refrigerant are available?

A: R410A and R134A.

Q: Can I purchase reclaimed refrigerants from Daikin?

A: Yes, you can purchase from our spare parts centre. However, we have limited amount of stocks as recovered refrigerants are low locally. We hope to encourage more refrigerant recovery as an environmental effort instead of releasing into the atmosphere.

Contact Us

OR