COVID-19 Solutions for Buildings
Following the Guidance Note and Infographics by BCA/NEA/MOH on improving ventilation and Indoor Air Quality in Buildings amidst the Covid-19 situation, Daikin has the adequate solutions, complying with the requirements, to keep your premises healthy.

1. Measures for air-conditioned premises with mechanical ventilation provision

BCA Guidance Note Section 2.1.d:
ACMV systems have to be maintained regularly.
Daikin offers the following solutions to comply with the requirements:
Clean & disinfect cooling coil

Inspect, clean & disinfect the airducts, air diffusers and exhaust grilles
BCA Guidance Note Section 2.2 & 2.4:
Maximise outdoor air intake and minimise indoor air recirculation. Use high-efficiency filters in AHUs to treat recirculated air is recommended. The use of air-cleaning technologies such as ultraviolet germicidal irradiation (UVGI) and air-cleaning devices would be helpful.
Daikin offers the following solutions:

2. Measures for enclosed air-conditioned premises without mechanical ventilation provision

BCA Guidance Note Section 3.3:
In enclosed spaces with high risk of disease transmission, the use of air cleaners, with high-efficiency air filters such as HEPA filters, is encouraged as an interim measure as it is effective at removing virus aerosols. Regular surface cleaning and disinfection are also encouraged.
Daikin offers the following solutions:
1a. Air Purifiers (Residential and Commercial)
1b. Air Purifiers (Industrial)
2. Surface Disinfection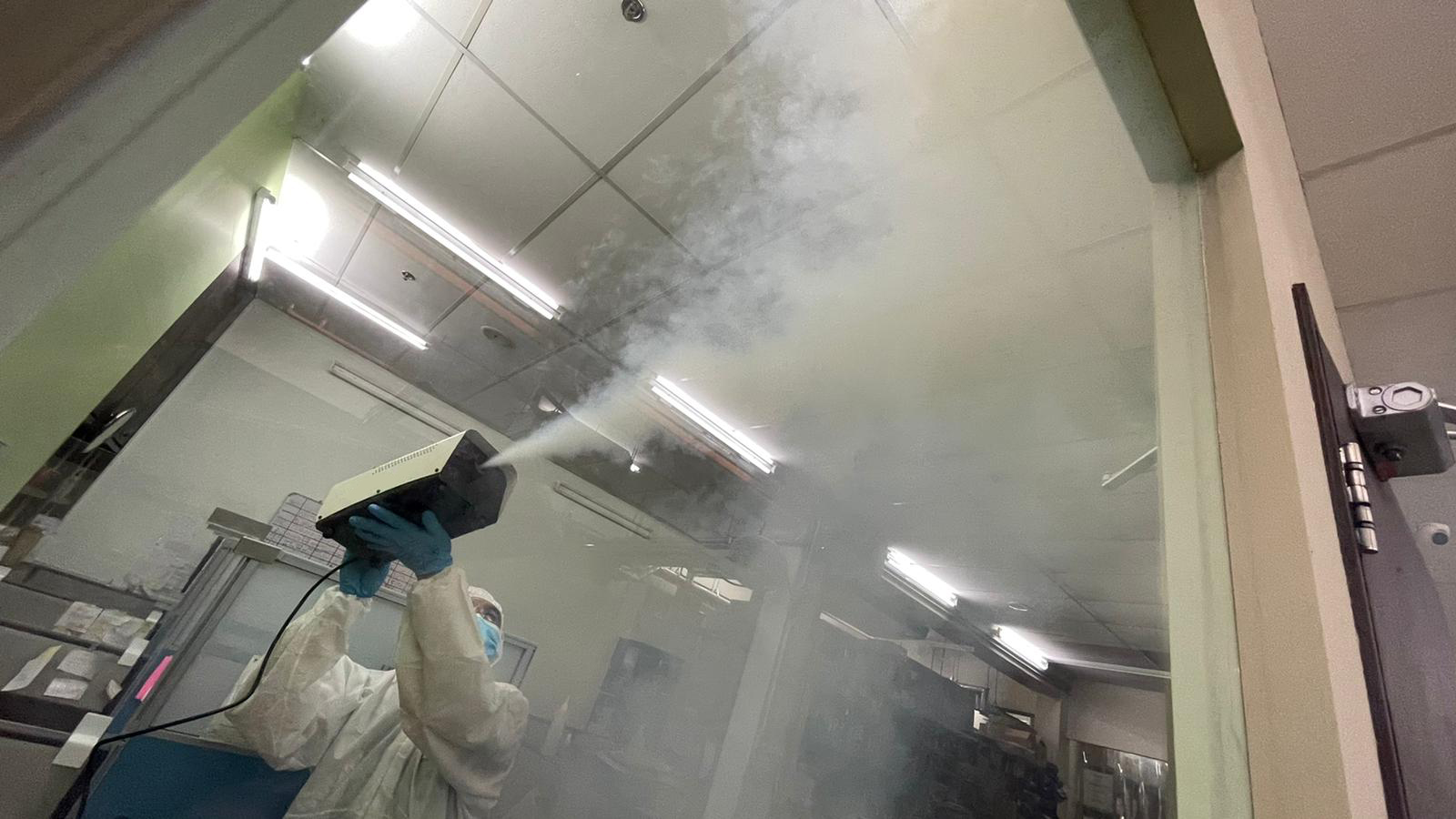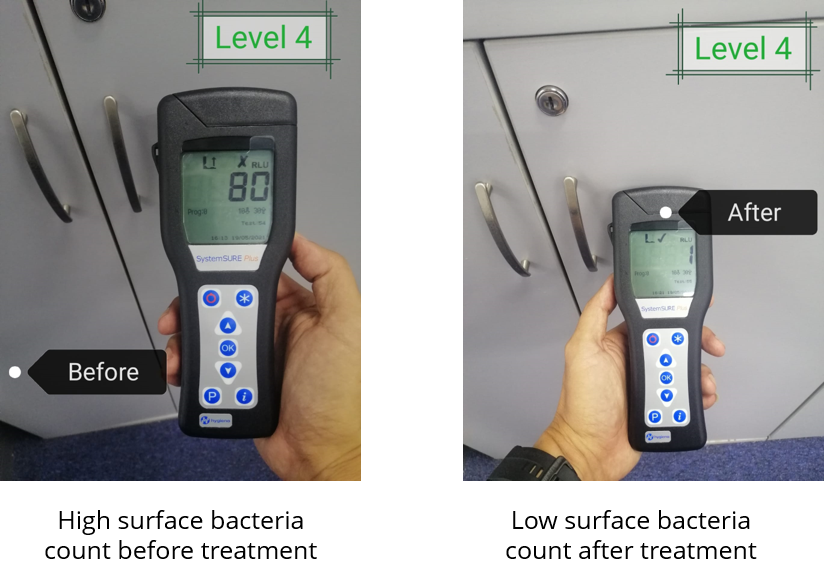 We also provide surface disinfection services (through NEA registered specialists) which keep high touch areas free of viruses for 90 days.

3. Covid-19 safety measures undertaken by our technicians at your premise

Air conditioning upkeep and maintenance are even more important during this period of Covid-19 where the virus is deemed air borne.
Your safety is our utmost priority while we are onsite to service your air-conditioning systems.
Our technicians will follow the following protocols for your safety:
Health status of all our technicians is monitored daily with temperature taking carried out every morning.
Before entering your premises, our team will thoroughly sanitise their hands and will stick to 2 persons per premise' visit.
Our technicians will use only clean cloth during servicing in your premises.
Our technicians will use all the personal protective devices (e.g. gloves, N95 mask, goggles, etc.) as required by the authorities to service your aircon.
Daikin thoroughly disinfect all tools and vans for all our Service Teams through registered NEA disinfection specialist.

4. Frequently Asked Questions

What are the recommended ways to keep the buildings safe?

Upkeeping and Increasing Ventilation
Purging before Occupancy
Maximise outdoor air intake and minimise indoor air recirculation if the system can accommodate
Use high efficiency filters (MERV14) in AHUs/Ducted FCUs to treat recirculated air
Use of air cleaners
Air Cleaning technologies such as UVGI
Surface Disinfection

How do you purge a building?

If the building is designed with a purging system, this should be carried out when the air con is off with no occupancy (e.g. activate at 5am for 2-hours before office starts at 7.00am).

If the building is without purging system, open operable windows and doors as frequently as possible, unless outdoor/outside air quality is poor.

Is there any concern when introducing increasing outdoor fresh air inside the building?

A few items to take note:

There will be possible introduction of humid hot air from the outside. As such, possible mould growth can result.
The design of the ACMV system normally will not have catered to cool down the extra fresh air coming in. This will cause the air con to work harder and energy consumption to be higher. Cooling will be affected.

To avoid mould growth caused by introduction of excessive humid outdoor air, outdoor air may be treated by a dedicated outdoor air processing system. The outdoor air system is designed with high-efficiency (MERV 14) filters, fitted when is necessary. MERV14 filter is useful during 'Haze period' when outdoor air quality is poor.

What are the possible solutions that Daikin can propose to keep my building safe?

Through our Engineering expertise, we are able to design ventilation systems that fit the requirements set. The ventilation system can come fitted with dedicated outdoor air processing unit to treat the air.

In existing buildings though, there can be a lot of limitations due to space constraints and may not be feasible to do.

The other option is to consider solutions that are ready for implementations.

Upkeeping and Increasing Ventilation

Daikin can make the necessary adjustment on the settings of the ventilation system where possible.

We can also upkeep the ACMV system with Duct Cleaning and Steam Cleaning as per requirement with our technicians taking the necessary measures.

Use of high efficiency filters

Besides being able to provide a wide range of filters, we also have our Anti Bio filters (effective against virus and bacteria) and Anti Mould filters (effective against mould)

Use of Air Cleaners

Our Air Cleaners meet the CADR requirements by NEA. We also have extensive range of Air Cleaners ranging from residential units to Industrial units. The residential units come with HEPA filters and the unique Streamer Technology that is highly effective against virus and bacteria whereas the industrial units come with additional option of UVGI.

Air Cleaning technologies such as UVGI

Daikin can install highly effective UVGI in the ACMV system. We also provide Titanium Dioxide coatings on the Fan Coil Units to further increase killing of bacteria and virus.Both solutions also reduce the need for servicing on the fan coil units.

Surface Disinfection of high touch areas

Daikin provides disinfection services by approved NEA specialists to disinfect your buildings. We follow strict protocols to minimise risk of disease transmission.

Contact Us

OR