Corporate Social Responsibility
01 May 2022 updated
Design a Green Tee Contest
We want your design! Go green with creativity, go eco with originality!
From now till 28 May 2022, submit your design together with a short write up about the inspiration behind the design. The top 3 winning designs wins $1000 cash each!
(Update: This competition has ended)
#DAIKINDESIGNATEE #MEDIACORP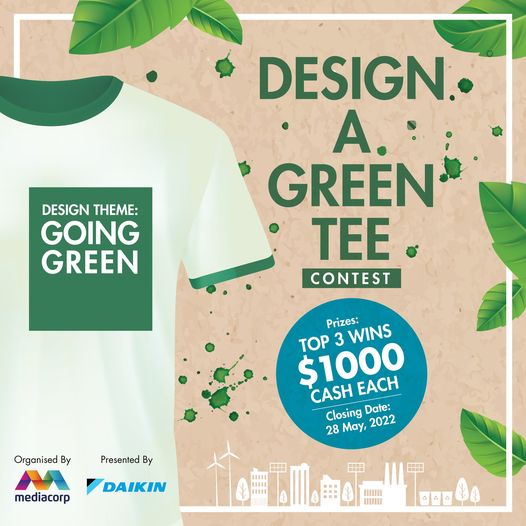 Congratulations to our top 3 winners!
Athena Tong
Inspiration behind design:
It has become a norm for us to use plastic bags and other disposable products in our daily lives. However, all these trash imposes negative impacts to earth, from humans to our flora and faunas on this planet. It is vital for all of us to take on preventive measures to preserve Mother Earth. As an individual, we can actively carry out the 3Rs — Reduce, Reuse and Recycle as well as 2 additional Rs — Renew and Redesign, to minimise the amount of trash and the emission of greenhouse gases from burning trash. We should not think that our efforts do not have much of an impact on the world. In fact, if everyone work together, the impact would be extraordinary. As the saying goes, "One small step for man, one giant leap for mankind." The earth belongs to everyone. We should all play our part in slowing down climate change, and create a more sustainable environment so that our future generations can enjoy what we have now. The world is ours, we should take action now!
Toh Pei Qi


Inspiration behind design:
There are only 5 million of us living in this small little red dot, and this means that every Singaporean carries an equally heavy responsibility to make a difference for our future. This piece of work encourages different individuals regardless of race, language, or religion to come together as one to build a greener world. The more Singaporeans get involved in this effort, the greater the positive impact on our country. The front design of the t-shirt shows a diversity of faces coming together to form a circle, representing the earth. The back of the t-shirt boasts a bigger graphic, showing the people coming together for the good of the world.


Yvonne Lee
Inspiration behind design:
Are you ready to go green with us? The illustration demonstrates the importance of the phrase "Every action matters." If each individual is willing to put in the effort to contribute their small part in going green, we will form a strong team that will make a significant difference in protecting a common goal, Our Home'.
The idea for a '24/7 operating' Gachapon machine demonstrates how 'going green' begins with the activities we do every day. Bringing our own bag, recycling, taking public transportation, riding a bike to our destination, turning off unused electricity, and so on are all examples of ways we can help. Every Gachapon ball has these green actions written on it. Now that you have a Green Coin, the decision is on you! I have already started this journey with our adorable friends here, and I hope you'll join us in protecting our home by going green!
SUBMISSION*
Submit your design together with a short write up via the following methods:

Upload your design in the form provided below.
Submitting on Instagram.
Submitting on Facebook.

For submissions via Instagram or Facebook, participants must:

Set your Instagram and/or Facebook account to "Public";
Include both the hashtags #DAIKINDESIGNATEE AND #MEDIACORP within; and
Ensure that submissions via Instagram or Facebook are native posts; submissions via InstaStory or Facebook Stories will not be accepted.
JUDGING CRITERIA*
The story it tells.
Creativity and originality of the depicted theme.
Quality of artistic composition and overall design based on the theme.
Overall impression of the art.
How complete or well written is submission materials.
WINNING CRITERIA*
Winners are determined by public voting and judges scoring.
We look forward to organising and participating in more of these meaningful initiatives to give back to the society.