26 Nov 2019 updated
Daikin Singapore's Acquisition of BMS Engineering & Trading Pte Ltd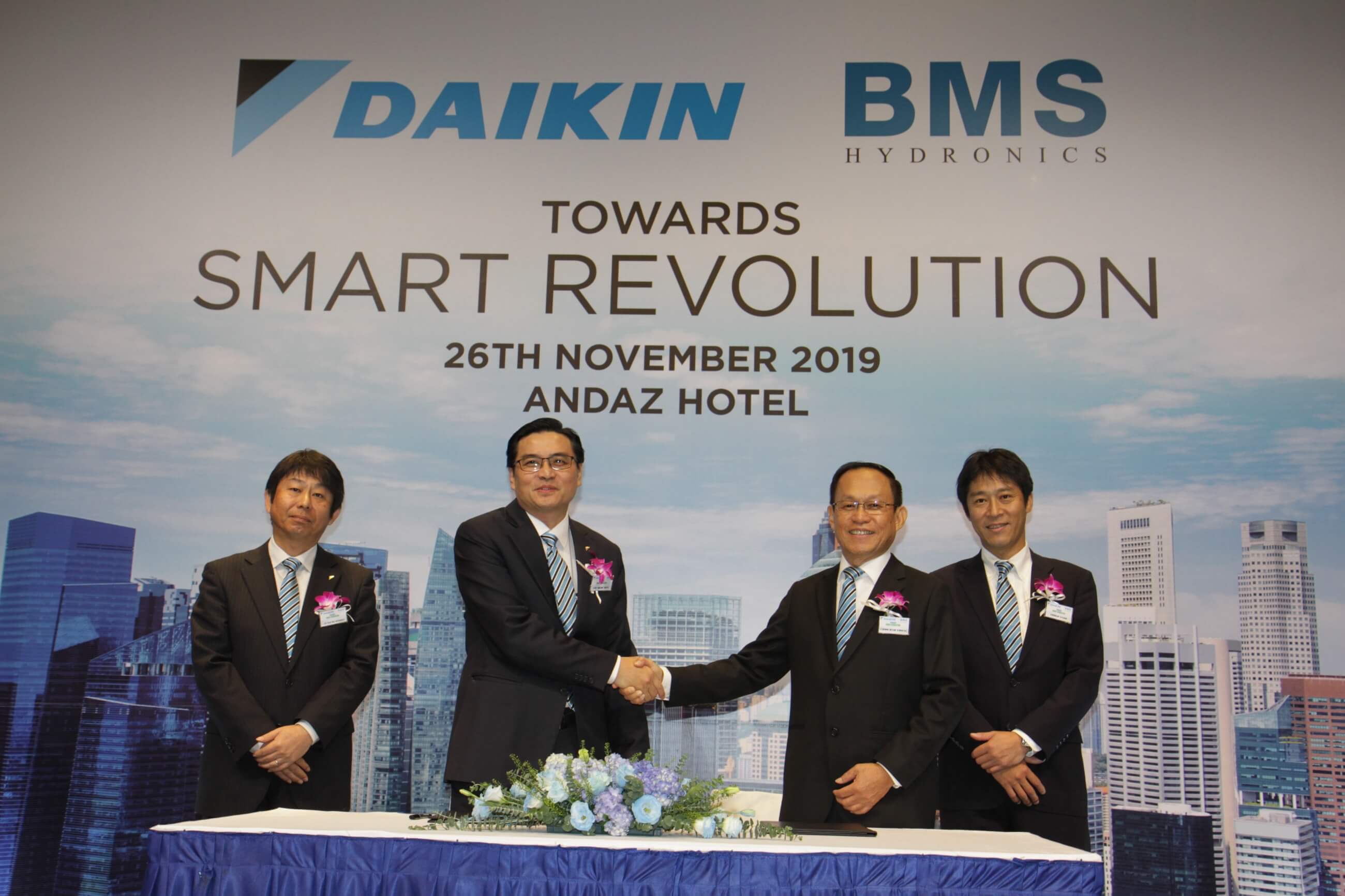 The Ventilation and Air Conditioning market in Singapore is deeply saturated. Nevertheless, with the introduction of compulsory green building implementation and the advancement of green building requirements, this highly competitive market is set to grow further still. As part of the government's objectives to reduce its carbon footprint and transform Singapore into a Smart City, the Building and Construction Authority (BCA) has set a target for 80% (7,000) of all buildings in Singapore to be green by 2030.
Daikin fully supports this direction and now needs to be able to monitor not just air conditioning (AC) equipment but also including the entire building facilities utilising Building Management System (BMS), fine tuning its operations to provide routine maintenance and ensure all equipment runs smoothly and efficiently. In addition, Daikin recognises the need to meet the new trend of predictive service and maintenance, and utilise data analysis and value-added proposals on data as well as meet the building owners' demands for suppliers that can offer comprehensive proposals for building-wide facilities and contracting services focused on cost reduction and service quality improvement. To expand its services to meet this demand, Daikin Singapore has recently acquired its strategic BMS partner, BMS Engineering and Trading Pte Ltd (BMS Engineering) for more than SGD$10Mil. Joining the forces of the two entities will allow Daikin to play a much bigger role in helping to reduce Singapore's carbon footprint and maximising the energy efficiency of its buildings.
Prior to the acquisition of BMS Engineering, Daikin Singapore has placed its strategic focus on HDB, building a stronger sales channel by developing Daikin Proshop and thereby differentiating itself from its competitors. With 50 years of history in Singapore, Daikin also drove expansion by launching differentiated products such as Remote Monitoring System (RMS), which provides energy optimization and predictive analytics. In Applied Product equipment (AP), which is mainly used in commercial or industrial sector, it expanded sales by focusing on highly efficient products like magnetic-chiller products and airside using EC motors. Its services business was solely related to the repair and supply of spare parts and moving forward, the company will now focus on Indoor Air Quality (IAQ) and Eco-Friendly Maintenance, where it aims to support green building projects through its acquisition of BMS Engineering. Daikin will then optimise AC equipment and other building equipment implementation before moving towards providing a full suite of services by adding Energy Management to its portfolio to manage equipment for the whole building.
Founded in 2006, BMS Engineering is a System Integrator and Controls company that supplies and installs Integrated Building Management System (IBMS) and BMS Control System services to buildings island-wide. Based in Singapore, the company also has a branch in Brunei. It has an impressive history of having integrated chiller plant optimization system (CPOS) and BMS solutions deployment to help building owners achieve BCA Green Mark Platinum or Gold Plus certifications. The company has also been certified by Schneider Electric Singapore as one of the four BMS Master EcoXpert companies in Asia. Staff are fully trained by Schneider Electric and capable of providing system hardware and software sales, BMS and Energy Management System installations, building BMS maintenance services, and Chiller Plant Energy Management that helps to collect and analyse chiller plant trend log data and provide Operating System Efficiency (OSE) reports. The acquisition of BMS Engineering by Daikin Singapore will be a great opportunity for both companies to leverage on each other's strength to provide Total Solutions for building clients on local and regional levels.
Daikin now has its sights set firmly on penetrating the smart building market and strengthening its equipment and control systems proposals. It will now be able to expand its services to include Building and Control as well as Data-driven solutions. This includes managing building energy usage, routine maintenance of BMS systems and sensors, data analytics and service by demand using data as a preventive and predictive solution to minimise maintenance and repair downtime. Daikin will be the ultimate one-stop provider for a full suite of smart control solutions offered to customers.