WMTC with HFO Refrigerant: R-1233zd(E)

Introduction

Daikin has perfectly combined the most advanced technology with water cooled chillers to provide excellent performance. Introducing the next generation Oil Free Magnetic Bearing Chiller with HFO Refrigerant, R-1233zd (E), which has an extremely low global warming potential (GWP). This refrigerant reflects our commitment to providing industrial-leading green products that protect our environment by keeping carbon dioxide emission at minimal level.

Features

Oil free system that results in eliminating oil contamination in refrigerant and heat transfer surfaces to achieve outstanding efficiency.
R-1233zd(E) is the next generation green HFO refrigerant with extremely low Global Warming Potential (GWP) value. According to ASHRAE Standard 34, it is classified as an "A1" refrigerant.
a. Magnetic bearing drive system design does not require lubrication
b. Installation of high accuracy sensors to detect shaft position on high frequency basis
c. Run in generator mode in an unlikely event of a power outage
d. Extra backup bearings
Magnetic Bearing Driveline
Minimise energy cost by leveraging on the two-stage compressor.
Certified by Air Conditioning, Heating, and Refrigeration Institute (.AHRI) with AHRI Standard 550/590 (I-P) and AHRI Standard 551, 591 (SI)

System Design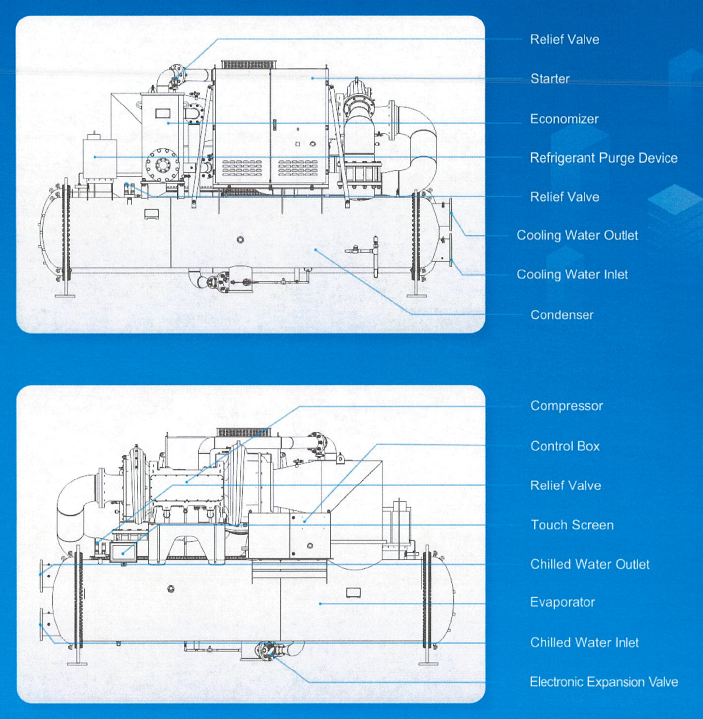 Specifications

Dimensions

Dimensions, Connection and Foundation Drawing Sizes
Model
Dimensions (mm)
Locating Size of Evaporator Connection (mm)
Locating Size of Condenser Connection (mm)
A
B
C
D
E
F
L
H
OD
J
K
G
OD
WMTC*/F3914/C3314
5055
2533
2884
4432
2237
558
810
248
273
458
788
215
273
WMTC*/F4214/C3314
5055
2533
2884
4432
2237
558
810
295
273
458
788
215
273

Notes:

a: Condenser outlet; b: Condenser inlet; c: Evaporator inlet; d: Evaporator outlet; e: Relief value NPT1
A, B, C dimension deviation +- 13mm
Above dimension base on 2 pass water flow, Please contact your Daikin representative for other passes
The dimension include 20mm insulation for the evaporator
OD means the outside diameter of water connection pipe

Options

| | | |
| --- | --- | --- |
| Items | Standard | Options |
| Vessel Code | GB | ASME |
| Water Connection | Victaulic Groove | ANSI Flange |
| Water Box | Compact Water Cover (1.0MPa) | Marine Water Box |
| Insulation | 20mm Insulation on Evaporator and Cold Surface | 40mm Insulation on Evaporator |
| Flow Switch | Thermal Flow Switch | Pressure Differential/Paddle Type |
| Anti-vibration | Rubber Cushion | Spring Isolator |
| Warranty Extension | None | 1 to 10 Year |
| Test | Factory Test | 1-10 Point Witness Test/1-5 Point Certified Test |
| Harmonic Distortion Filter | None | Active Power Filter/Passive Filter |

Notes

1. Insulation:

a. Ambient temperature lower than 30'C :

- Humidity lower than 70%. use single layer insulation (20mm); humidity higher than 70% (include). use double layer insulalion (40mm).

b. Ambient temperaiure higher than 30'C (include) :

- Humidity lower than 65%, use single layer insulation (20mm); humidity higher than 65% (include), use double layer insulation (40mm)

c. Double layer of insulalon (40mm) must be used when chiller leaving water temperalure lower than 5'C ( include )

d. 40mm lnsulation on evaporator shell and 20mm on water head cap

2. Factory Testing:

To provide safe and reliable products to custumers, all Daikin applied chillers are factory tested before shipment. Operating and salety controls are checked for correct settings and operation. This testing helps reduce start-up issues and maintain critical construction schedules.

3. Active power filter is unit mounted. Passive filter is free standing. The standard harmonic distortion of WMT chiller is less than 35%. Harmonic distortion filter is an optional solution to lower the total harmonic distortion imposed on power grid.

4. Options

'Extended Warranty' is valid only when the field service is provided by Daikin sales affiliates. Any third-party organisation outside of Daikin is not recognised.