28 Mar 2019 updated
2 Cool To Be True!
Promotion Period: 28th March 2019 – 30th June 2019
Follow these steps to REDEEM FREE DYSON FAN! While stocks last.
Step 1:
Purchase Daikin Smile Series System 4 and above (only MKS80QVMG or MKS90QVMG, with minimum 4 fancoils) by 30th June 2019.
Locate our authorised Daikin Proshops.
Step 2:
Valid only for registered warranty cards with Promo Code of "DL12", with complete installation by 30th September 2019.
For Online Warranty Registration, submit here.
Step 3:
Click and submit the form for gift redemption, limited to 1 submission per installation address.
*Note – For purchases at Daikin Proshops, please directly approach the retail stores for your redemption.

Step 4:
Daikin would notify customers on redemption status within 10 working days from submission.
Redemption letter would be sent to customers based on email address submitted.
Step 5:
Collection of Dyson Fan @ Daikin office (10 Ang Mo Kio Industrial Park 2 Singapore 569501), not available on Sundays and Public Holidays.
Weekday (Monday – Friday) at Logistics Office Level 1 ONLY: 9am - 12noon & 2pm - 5pm
Weekend (Saturday only) at Spare Parts Office Level 1 ONLY: 9am – 12noon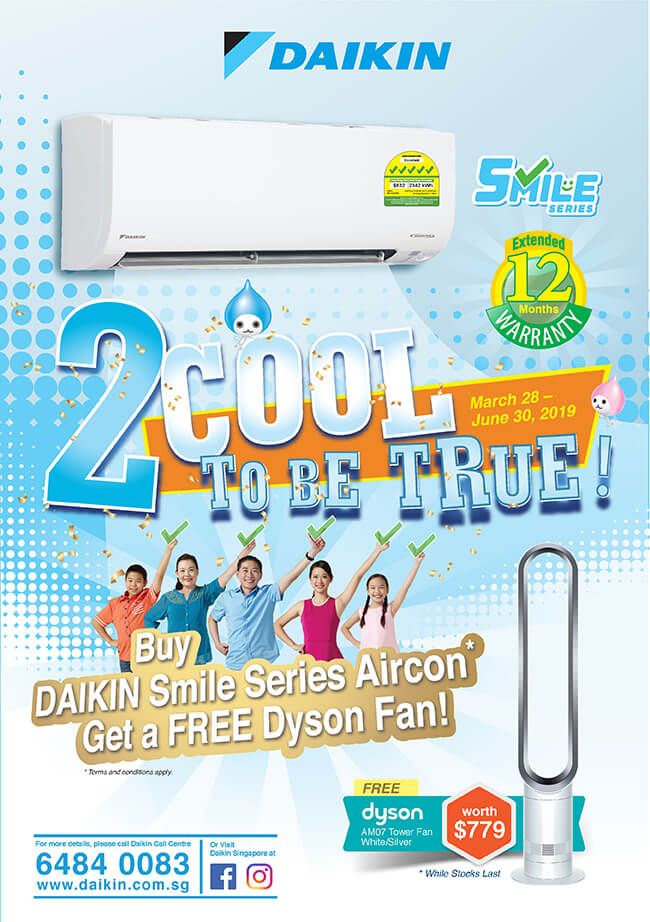 Terms & Conditions:
Promotion is applicable for purchase of Daikin Smile Series Multi Split System only.
Purchase to be made from 28th March to 30th June 2019. Installation by 30th September 2019 and warranty registration by 14th October 2019.
Redemption of extended general warranty is applicable to purchase of any Daikin Smile Series System 2 and above, on While Stocks Last Basis. Warranty cards have to be indicated with promo code "DL12".
Redemption of Dyson Fan AM07 is applicable to purchase of full set Daikin Smile Series System 4 and above (only MKS80QVMG or MKS90QVMG with any 4 fancoils), on While Stocks Last Basis.
Customers are to visit http://www.daikin.com.sg/promotion/2-cool-to-be-true/ to register for Dyson Fan Redemption (after the airconditioners have been installed and warranty have been registered successfully) by 25th October 2019. Submission of Warranty Certificate will be required. Redemption letter and collection details will be sent via email within 10 working days after verification.
Only White/ Silver colour option will be available for Dyson Fan AM07 redemption.
There will be no gift replacement once gifts are fully redeemed. Announcement will be made on Daikin Facebook Page within 3 working days upon full redemption.
Only limited to 1 claim of Dyson Fan per installed address.
Daikin reserves the right to reject any claims due to inadequate submission of information.
Promotion is not valid with other promotions or discounted prices
Daikin Singapore reserves the right to change the Terms & Conditions at any time.