High Energy Savings

Featuring the Reluctance DC motor for compressor and DC motor for fan. This hi-tec energy saving package is completed by Daikin's advance swing compressor and PAM control.
If you think you have to choose between energy savings and personal comfort, try DC Inverter. Thanks to their variable operating capacities, these units raise comfort levels and at the same time increase energy savings with high COP of 4.63 in the 2.5kW class. Enjoy more comfort with less energy!

Sophisticated Appearance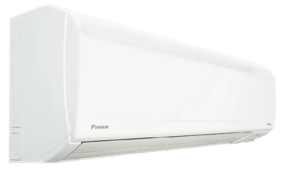 Daikin has always focused on creating sleek, modern air conditioners that coordinate smoothly with any type of interior décor. The grilleless flat panel can be cleaned instantly with a single wipe.

Quiet Operations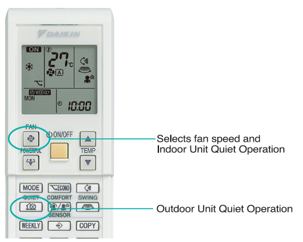 This series gives you the choice of 5-step, Quiet or Automatic settings for the fan speed. The Quiet setting selects Indoor Unit Quite Operation. This function decreases the operation sound level by 3db(A) below the Low setting.
This wide range of settings allows you to precisely control the fan speed according to your requirements.

Advance Photocatalytic Air Purifying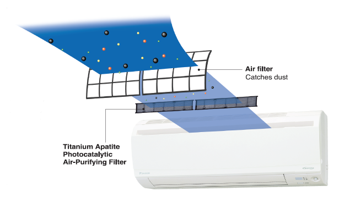 Titanium apatite is a new photocatalytic material with advance adsorption power. While the filter's micron-level fibres trap dust, this photocatalyst effectively adsorbs and decomposes bacteria.
The photocatalyst is activated simply by exposure to light. The filter delivers consistent performance for approximately 3 years if washing with water is performed once in 6 months.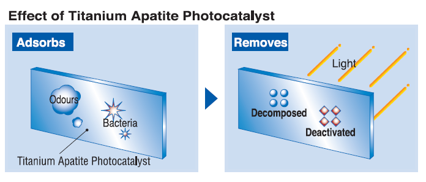 Apatite adsorbs bacteria and at the same time, the photocatalyst oxidises odour components , breaking them down.

Specifications