The Best Office Companion for Phase 3: A Daikin CleAir Air Purifier
Back to List
With the announcement of Phase 3 of Circuit Breaker starting on December 28, 2020, it is only a matter of time before everybody will be allowed to go back to their usual job settings.
Feeling iffy about the idea? Yes, you may rightly be, especially if your coworkers are in the habit of taking off their masks in the office, or if your office has a hotdesking arrangement in place. Even before the pandemic, you might have noticed how quickly even an innocuous cough or cold could be spread to everyone working in the same enclosed air-conditioned environment. Everyone would take turn taking MC from work as they got hit by whatever virus was circulating in the office at the time.
As management staff, you would want to ensure that everybody in your office is safe from viruses. After all, general productivity would increase when your employees take fewer sick days. If so, you might want to consider investing in a Daikin air purifier. Here are the reasons why.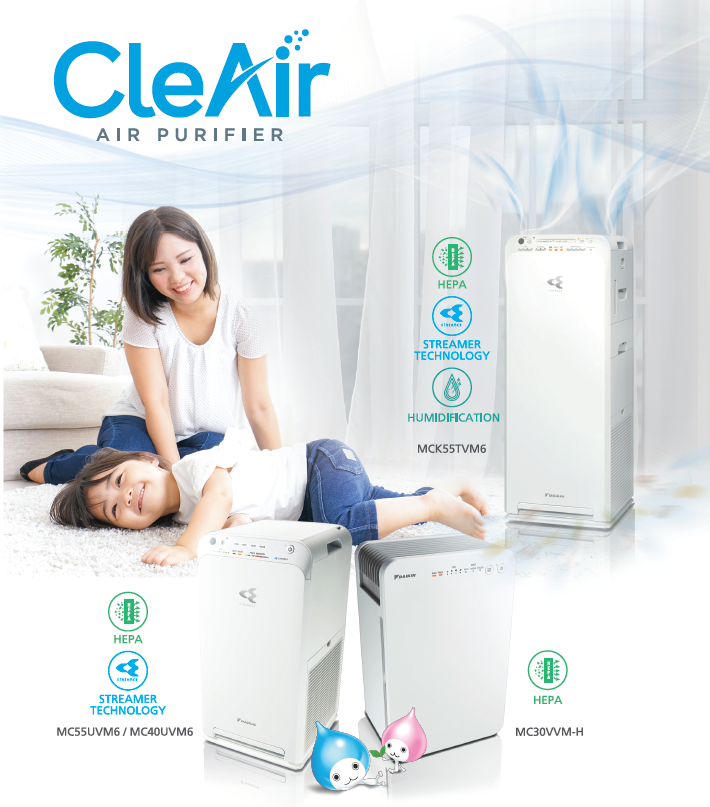 1. Daikin air purifiers can eliminate up to 99% of bacteria and viruses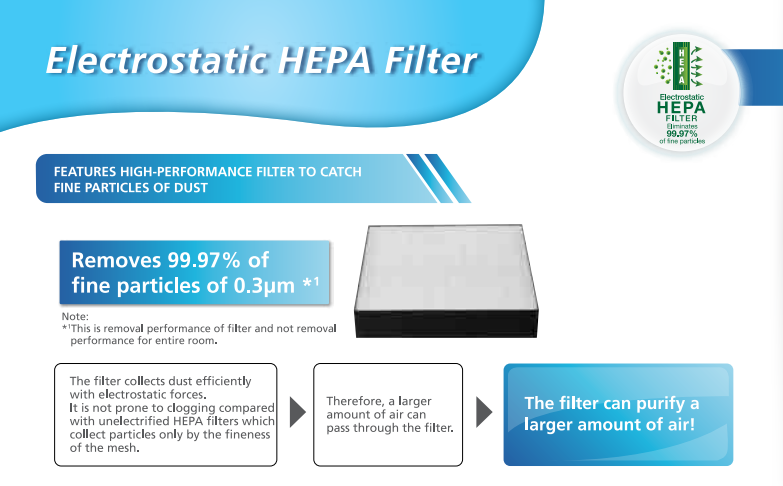 Daikin's air purifiers can eliminate bacteria and viruses and put your mind at ease during this period of transition. Thanks to Daikin's streamer discharging technology, our air purifiers can remove viruses, bacteria, odours, and allergens.
The deodorising filter, on the other hand, absorbs odour and decomposes it to keep the air smelling clean. Models excluding MC30VVM-H utilize streamer to decompose these bacteria on the filter. It is recommended to change the filter after 10 years*.
Daikin's CleAir Streamer Air Purifier (MC40UVM6 / MC55UVM6, MCK55TVM6) with streamer technology also effectively remove bacteria from the dust collection filter, humidifying filter, and humidifying water. The Japan Food Research Laboratories tested Daikin's dust collection filter and humidifying filter by placing test pieces with bacteria into the air filter. After five hours, they came to find that the bacteria were reduced by over 99% in 5 hours in both filters. They did the same by placing mould and bacteria in the humidifying tray, which were reduced by over 99% in 24 hours.
All of Daikin's CleAir air purifiers also come with a high-performance electrostatic HEPA filter that can efficiently catch and remove 99.97% of fine dust particles in a room to allow more purified air to pass through.
The filter works by efficiently collecting dust with electrostatic forces. An unelectrified HEPA filter only collects particles by the fineness of the mesh, so it tends to get clogged easily. The filter fiber on Daikin's electrostatic HEPA filter, on the other hand, is charged with static electricity so it can collect particles more efficiently. Due to low pressure loss, it doesn't clog easily and lets more amount of air to pass through. This results in the filter purifying more air. This would be especially helpful for people with asthma or allergies.
Since you can never be 100% sure if everybody at your office is practicing proper hygiene and following the necessary safety protocols, it wouldn't hurt to invest in an air purifier to put everybody's minds at ease. This would be especially important to consider if you work with someone who is at high risk of contracting the virus.
Daikin's Streamer CleAir Air Purifier with Humidifying function (MCK55TVM6) would be a great option to put your mind at ease as it offers powerful humidification that can protect you against air dryness and viruses. It also eliminates bacteria on the humidifying filter and reduces bacteria in humidifying water.
This model also has various operation modes, including an auto fan mode, an energy-saving "econo" mode, an "anti-pollen" mode, and a "moist" mode which automatically adjusts the humidity to be more gentle on the skin and throat.
2. Daikin air purifiers are ultra quiet
Made with a new and innovative structure, Daikin's CleAir Air Purifiers are ultra quiet so they will not disrupt anybody at work. Daikin has successfully reduced the operation sound of its air purifiers by adopting a wide air outlet and placing the fan under the filters for a soundproofing effect. Placing the fan below the filters has ensured that the fan is farthest away from people's ears, so its overall operation sound will not disturb anybody.
Daikin's most quiet air purifier at the moment is the MC30VVM-H. On Turbo mode, its sound pressure level is at only 44dB, which is as soft as a whisper; while on Quiet Mode, its sound pressure level is at only 19dB, which is even quieter than the rustling of leaves.
3. Daikin's air purifiers are sleek and compact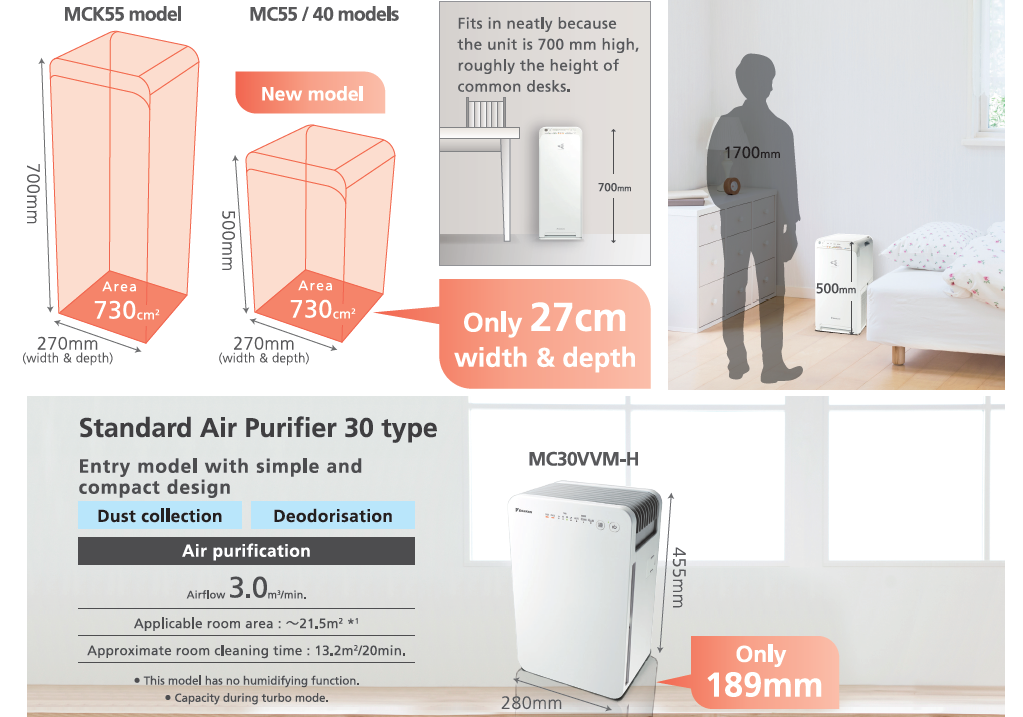 Daikin's air purifiers are stylish and compact so they will look good in any part of your office and are easy to position. Daikin CleAir Air Purifier MC30VVM-H is only 28cm in width and 45.5cm in height. The Streamer Air Purifier (MC40UVM6) and the Streamer Air Purifier (MC55UVM6), for example, are only 27cm in width and depth. They are also only 50cm high - roughly the same height as common desks – so they will fit neatly into any nook in the office.
Daikin's Streamer Air Purifier (MCK55TVM6) also has roll-away casters, making it easier to move around so you can clean the floor with ease.
4. Daikin air purifiers are low maintenance
The filters of Daikin's air purifiers are easy to clean as you won't have to open them up to clean them. Just vacuum the fins of the filter from the outside.
It should be noted that most air purifiers are most effective in small confined rooms, though. So, if your office has an open floor or high ceilings, you might need to place more than one air purifier at different spots. You should also make sure to have other safety protocols in place at work, like wearing masks, practicing social distancing, and regularly disinfecting surfaces. An air purifier should just be a part of your plan.
With Singapore moving into Phase 3 and people slowly shifting back into a more normal lifestyle, it is of the utmost importance to keep yourself protected as much as possible. Check out Daikin's air purifiers now and invest in one today!