10 reasons why Daikin is Singapore's favourite air-con brand
Back to List
There are many air-con brands in the market today. However, when it comes to Singapore, people favour Daikin. After all, Daikin has an edge over other brands in terms of cooling and energy saving technology.
Here are 10 reasons Daikin is Singapore's favourite air-con brand.
Daikin air-con units look great.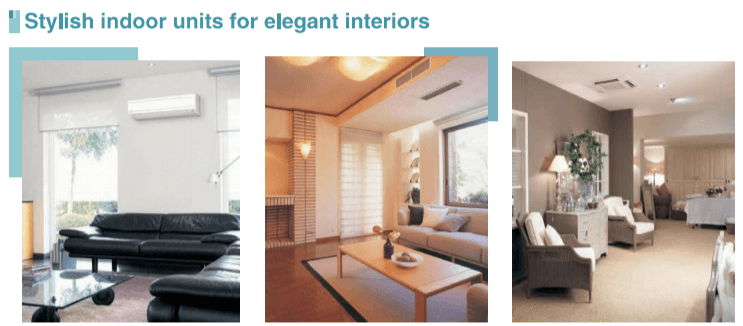 If you think design isn't important when it comes to air-conditioning, just wait until you install a clunky one in your home. Daikin has simple and compact designs that will look good in any room of your house. They are also easy to install and can fit above doors, so you can save space while ensuring that your interiors still look crisp and clean.
Daikin air-con is quiet.
A noisy air-con can really prevent you drifting off to sleep, especially if you are a light sleeper. Daikin's air-cons operate at sound levels of only 19dB(A), which is barely a whisper, so your family can sleep in peace every night.
Daikin keeps air free from allergens.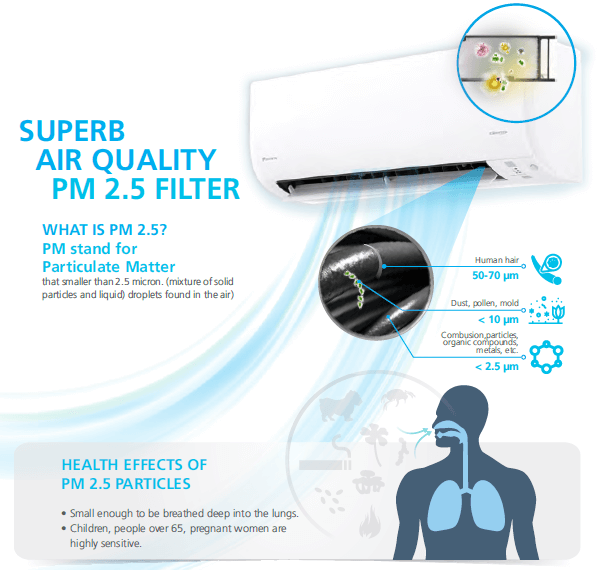 Daikin has more than 90 years of experience in research and development. If air quality is important to you, then Daikin is a great choice. Our streamer technology can eliminate 99.7% of fine particles and provide clean and purified air for your home by trapping in PM 2.5 particles and keeping polluted air at bay. This will ensure that the air in your home is always healthy and clean.
Daikin uses R-32 refrigerants.
R-32 is known to be a better alternative to R-410a as it enables air conditioning systems to achieve better energy efficiency levels while reducing environmental impact. It has approximately 30% lower Global Warming Potential compared to R-410a, making it more environmentally friendly.
Learn more about R-32 refrigerants
Daikin can help you save money in the long run.
Thanks to their energy saving features, Daikin air-con units can also help you save money in the long run. The inverter system can reach your desired temperature faster and cool rooms more rapidly. From there, the system will then maintain that temperature without wasting any energy. Daikin units also have low standby power, so you can save more energy and more money on your electricity bill every month.
Daikin air-cons have built-in SMART air conditioner controls.
iSmile series is installed with a built-in wireless features that you can control through your smartphone. You can also set timers everyday, so that it turns on and off when you want it to and turn it off if you forgot to do so.
Learn more about ismile series
You can monitor your energy consumption.
Daikin's D'SmartHome Home Energy Management System is an energy-saving feature that allows you to monitor your energy consumption through an app. You can also analyse your energy consumption this way to ensure that your electricity bill doesn't get too high.
Daikin has SMART home automation features.
SMART home automation can make your life easier, safer, more convenient, and truly modern. Just connect all of your appliances, so you can communicate with them easily. You can even control your devices from your smartphone thanks to this technology.
Daikin offers security features.
Daikin's keyless system allows you to lock your doors from wherever you might be. You can even monitor what is going on in your house through your phone, thanks to the intelligent surveillance camera in the app. The app will even notify you if smoke is ever detected in your home. You can set up notifications for any indoor movements, as well.
Learn more about D'SmartHome Security Solutions
Buy Digital Locks, IP Camera or Smoke Detector
Daikin offers maintenance solutions.
If you need servicing or maintenance for your Daikin unit, it's easy to get in touch with our team. Some of our services include clean air solutions, steam cleaning, and duct cleaning. By coming directly to us, you can also avoid extra middleman fees. Besides, who would be the better choice for maintenance than the maker itself, right?