Daikin's R32 refrigerant makes the world cooler and greener
Back to List
According to the 2019 Climate Change Public Perception Survey, which is done every two years, 90% of Singapore residents are aware of the impact of climate change and almost 80% are ready to take action in fighting it.
The same survey shows that 8 in 10 Singaporeans are ready to pay more to support the shift to a low carbon economy, while more than 6 in 10 Singaporeans believe that individual action can make a difference. If you are one of these Singaporeans, one way you can make a difference is by switching to more sustainable choices at home, including your air-con.
A more energy-efficient air-con can reduce greenhouse gases and even help you save money on your electricity bills. In fact, a 2020 report by the United Nations Environment Programme (UNEP) and the International Energy Agency (IEA) suggests that using more energy-efficient air-conditioners could save US$2.9 trillion in reduced electricity generation by the year 2050.
To find out if an air-con is energy-efficient, you should find out what refrigerant it uses. A refrigerant is basically the compound in an air-con that absorbs heat from the environment, cools the air in it, and distributes cooler air in your home. Many refrigerants release pollutants, such as chlorofluorocarbons (CFCs) and greenhouse gases, when the air-con unit is faulty, poorly-serviced or improperly disposed of.
Fortunately, Daikin – the only company in the world to manufacture both air-con systems and refrigerants, has invested significant effort in developing eco-friendlier alternatives. Having been in the business of manufacturing air-conditioning equipment for over 50 years now, Daikin Singapore is aware of how much electricity air-conditioners can consume and how harmful they can be to the environment. Chemicals like fluorocarbons contribute to the ozone layer's depleting and result in global warming.

The Daikin iSmileEco series uses an R32 refrigerant which can lower electricity consumption by up to around 10% compared to other air-conditioner refrigerants. It has a Global Warming Potential (GWP) of 675, which is a third lower than other refrigerants, making it less of an environmental burden.
GWP is a measure of how much energy the emissions of 1 ton of a gas will absorb over a given period of time, relative to the emissions of 1 ton of carbon dioxide (CO2). The larger the GWP, the more that a given gas warms the Earth compared to CO2 over 100 years. The GWPs of CFCs and other fluorocarbons can be in the thousands or tens of thousands.
Compared to other refrigerants, an R32 refrigerant offers better cooling, smoother operation, and less moisture to prevent parts from failing.
The Daikin iSmileEco series is the world's first residential-use R32 air-con. Aside from the benefits mentioned above, it also has zero Ozone Depletion Potential (ODP) so there is no impact on the ozone layer depletion whatsoever, protecting both the environment and human health from pollutants.
Having been rated the highest number of five ticks in energy efficiency by the National Environment Agency, the Daikin iSmileEco series can also help you save money by achieving a higher cooling capacity and your desired temperature faster. Additionally, this Smart air-con can be controlled via a mobile app so you never have to worry about forgetting to turn off your air-con. Simply check the app whenever and wherever you want to.
Daikin believes we are responsible to expand our products so we can help reduce greenhouse emissions while ensuring that you still enjoy the cool and comforting air of your air-con at all times. To do this, Daikin constantly improves on air-conditioner technology, making products with high efficiency ratings and constantly innovating to become even better.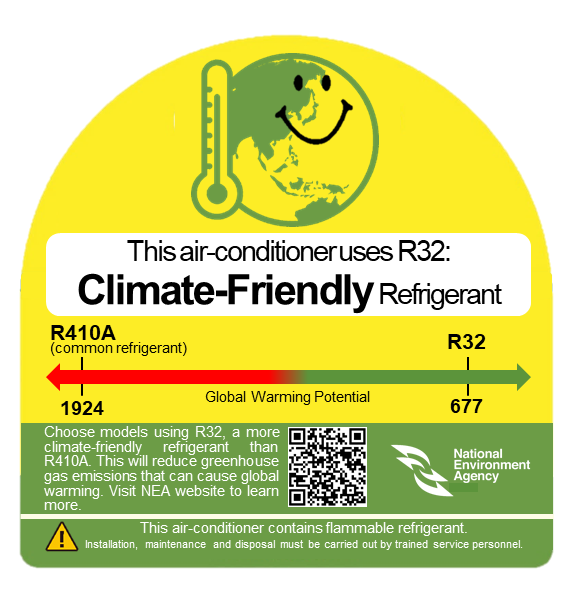 Daikin's R32 refrigerants provide energy efficiency, lower power consumption, lower conversion costs, sufficient supply capabilities, better life cycle climate performance, and lower GWP. They are also of top quality to ensure that your air-con is always in optimal operating conditions. R32 refrigerants are currently categorised as climate-friendly by NEA.
At the moment, R-410A is widely used in air-conditioners, but hopefully, R32 refrigerants will soon be more commonly used around the world. To continue making strides in environmental sustainability, Daikin aims to keep creating and promoting products and services that will increase the efficiency of air-conditioners while reducing environmental impact at the same time.
Find out more about Daikin's Sustainability efforts.
Switch to iSmileEco Series now!