Working from home and anticipating higher household electricity bills? Smart Home Solutions can help
Back to List
With afternoon temperatures hovering around the mid-30s, those of us working from home surely are not looking forward to receiving our electricity bills at the end of the month.
Thankfully, if you have an air-conditioning unit from the Daikin iSmileEco series, it will help you keep your home cool and your bills low, thanks to its various energy saving features. Integrating it into a Reiri for Home hub means that you'll be able to use voice control to manage your Daikin air-con, freeing up your hands to work.
Enabled by Reiri for Home technology, Daikin's Reiri for Home Hub provides your house with more comfort and convenience. Here's how it can help save electricity and keep your bills low.
Smart Remote Controller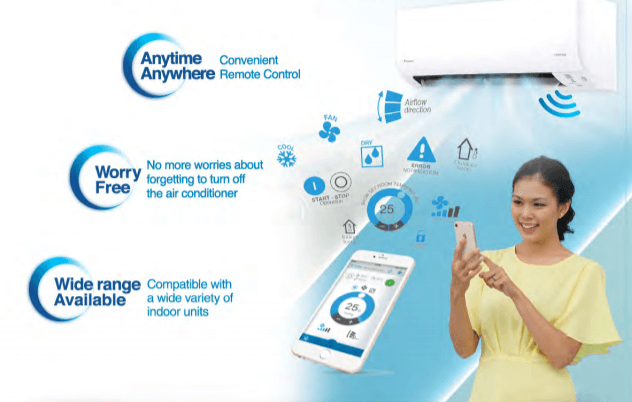 Daikin iSmileEco series air-conditioners have a built in Wi-Fi adaptor, and are upgradable to Reiri for Home, where with a smart home system, electronic devices and appliances can be connected to communicate with one another. The system can be downloaded onto your smartphone in the form of an app, so you can control your air-conditioning units from wherever you might be. This allows you to adjust the temperature on your air-conditioner from anywhere in the house or even turn it off remotely in case you forget to do so before leaving the house. This energy saving feature will give you the ultimate peace of mind even while you are just out walking the dog or buying essentials.
Energy Consumption Analysis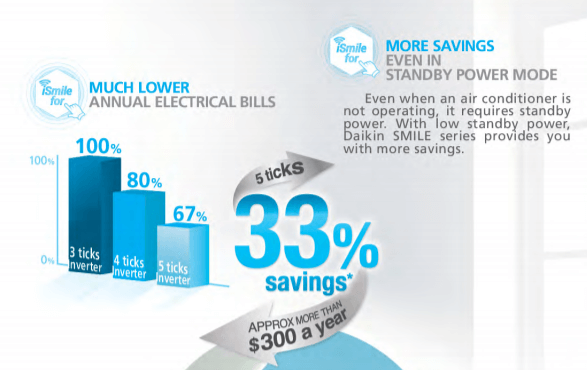 Another energy saving feature that Daikin provides is the Home Energy Management System which will let you monitor and analyse your air-con's energy consumption through the app. This will help you keep track of your overall electricity cost and ensure that you don't use up too much energy or money any given day.
Find out which air-con mode works best for your wallet and your home. You might be surprised by how little electricity you're using to cool your room in Auto mode.
Air Purifier

Don't mistake that runny nose for Covid-19 – it may well just be allergic rhinitis triggered by pollen, dust, mites, or pet fur.
Daikin's streamer technology can effectively get rid of 99% of viruses, bacteria, and allergens to ensure that you get nothing but purified and clean air at all times. Through the app, you can activate the air purifier with ease wherever you are.
Smart Home Features

Ideas for Smart Home use include adding certain features for your convenience and meeting your lifestyle needs. You can automate your curtains through the Daikin app, for example, as well as monitor and control the lighting in your house. You can also set up a Voice Assistant to work as a personal butler, performing actions prompted by your voice.
Get all this done without looking up from your phone so you can stay in the zone for as long as you like – until Mum comes along and asks you to fold the clothes, that is.
Security Features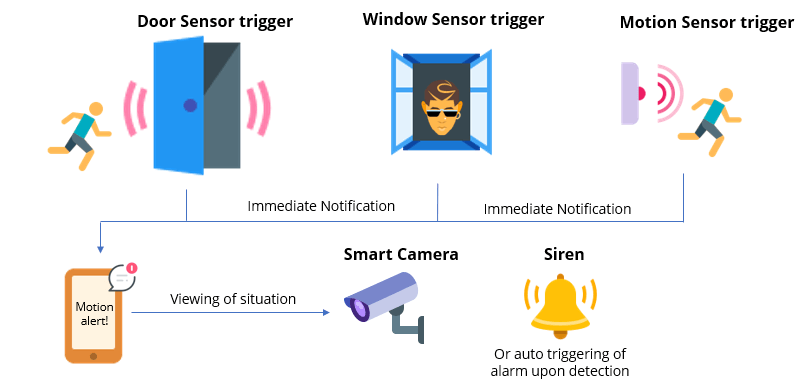 Other ideas for Smart Home use is to set up certain security features. This includes Daikin's keyless system that will allow you to add a digital lock, enabling you to lock and unlock your doors from anywhere. You can also monitor your home through an intelligent surveillance camera on your phone. Add a smoke detector and the app will notify you whenever smoke is detected in your house. You can also add motion sensors and set up notifications for your doors, windows, and room interiors.
Self-Diagnosis
Daikin air-conditioners can provide data on their performance through self-diagnosis, sending notifications to your smartphone if the system gets faulty.
With great energy savings features and ideas for Smart Home solutions, Daikin provides great value for money with every air-conditioning unit. Your bill is the best testimony to that!
Find out more about Daikin's products on our E-Proshop!
Icons credits: Icons8