The evolution of Daikin air-con through the years: from 1924 to Smart Home 2020
Back to List
Daikin isn't a new name in the air-con industry. However, do you know just how much the brand has evolved through the years? Read on to find out more about Daikin's interesting and amazing evolution.
1924
The Japanese company was founded by Akira Yamada in the Osaka Prefecture in 1924 under the name Osaka Kinzoku Kogyosho LP. Back then, it manufactured radiator tubes for aircraft.

1933
After realising that there was a niche in the industry for proper handling of refrigerant gas and refrigeration equipment, Yamada decided to start a chemicals business. While fluorocarbon gas was being developed in the US, Daikin started doing its own research and eventually developed fluorocarbon gas in 1933.
1935
After much trial and error, Daikin became the first company in Japan to manufacture fluorocarbon gas and succeed in fluorocarbon synthesis in 1935. It was also the only company in the whole world to be able to manufacture and develop air-con equipment and refrigerants, turning it into a leading air-con company.
1936
After thorough research on fluorocarbon refrigerants, Daikin started a new business producing refrigeration units. In 1936, its technology supported the first air-con train in Japan on the Nankai Electric Railway.
1938
Refrigerants can easily absorb heat and provide air-con when combined with other components. In 1938, Daikin achieved another first for Japan by delivering a refrigeration unit called the 'Mifujirator' to the Kure Naval Arsenal for their submarines. This unit used a fluorocarbon refrigerant which posed no harm to humans, and was colourless, odourless, and nonflammable. It was the perfect solution to various problems with natural refrigerants like methyl chloride, carbon gas, and ammonia.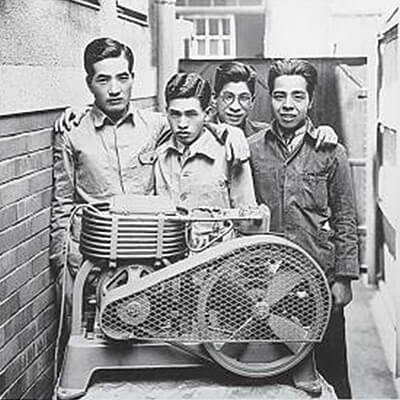 1951
Always keeping up with the trends, Daikin developed the first packaged Mifujirator air-con for commercial use in Japan in 1951. Before then, air cons needed expert technical skills to be installed and operated. This convenient new air con allowed regular people to operate it with ease.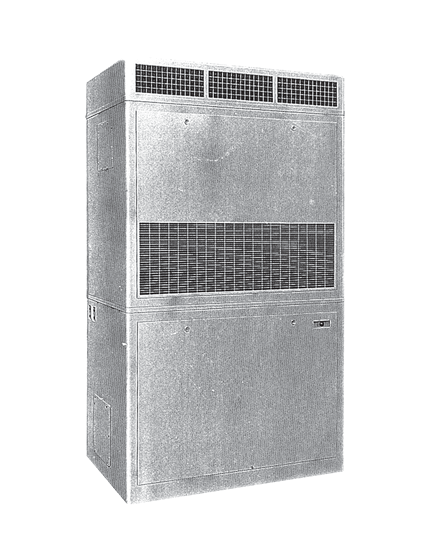 1963
In 1963, the company was renamed to Daikin Kogyo Co. Ltd. This was also the time it developed Neoflon, which is non-flammable and chemical resistant, and has better electrical properties and almost no moisture absorption compared to traditional fluorocarbon. Daikin also established a main production base for commercial air-cons at this time.
1968
Daikin set up shop in Singapore, introducing multi-split air-cons to Housing and Development Board (HDB) homeowners.
1973
Daikin developed a multi-split air-con in 1973, which could connect multiple indoor units to one outdoor unit.
1975
Daikin marketed the first air purifier in 1975.
1978
In 1978, Daikin successfully produced the first Neoflon Film fluorocarbon polymer in Japan, and established the Rinkai Factory in the Sakai Plant as a compressor manufacturing company. As a first for packaged air-cons, Daikin also released the industry leader 'SkyAir' in 1978, an air-con for stores and small offices.
1982
1982 is the year Daikin launched Japan's first commercial multi-split type air-con for small to medium-sized buildings.
1984
1984 was another huge year for the company as it marketed the first inverter type air-con and also became the first company in the world to produce 1 million air-con and heating units.
1985
In 1985, Daikin marketed multi-split type air-cons (also called VRV systems), which can connect several indoor units to a single outdoor unit – another first in Japan.
1986
Daikin introduced the world's first super-efficient VRV systems for commercial buildings to Singapore.
1993
Daikin marketed the Air Conditioning Network Service System, an online diagnostic monitoring system that was available for 24 hours, 365 days a year.
1997
In 1997, Daikin established the first R-32 mass production plant in the world. This next generation refrigerant can efficiently carry heat and has lower environmental impact.
1998
In 1998, Daikin adopted the R-410A for air-cons and launched the 'SkyAir Super Inverter 60' as a response to the need for more energy efficient air-cons. These do not have any ozone depletion potential, making them eco-friendlier choices for residential and commercial air-cons.
1999
The 'SkyAir Super Inverter 60' became the first commercial-use air-con to receive the Director General Prize award from the Agency of Natural Resources and Energy in Japan.
2003
In 2003, Daikin introduced the 'Ve-up Q' multi-split type air-con to the market for replacement use. This enabled the use of existing piping and came with a function that automatically charged the right amount of refrigerant, decreasing the installation time and cost for replacements.
2007
In 2007, Daikin marketed the heat pump desiccant humidity control OA unit called DESICA. This unit did not have any water drainage or supply pipes, and was able to handle sensible heat and gave user individual control of its humidity and temperature, making for a more comfortable and energy efficient experience.
2008
Daikin popularised inverter technology in Singapore to address the need for greater energy efficient and eco-friendly products.
2009
In 2009, Daikin marketed the 'Hexagon Module Chiller' for factories and buildings. This chiller had a highly efficient DC inverter that greatly improved its cooling abilities and energy efficiency.
2012
After extending a presence in the US; Daikin acquired Goodman, a major US residential unitary company, in 2012. This marked the brand's full-scale entry into the residential unitary market of North America. Daikin also introduced the 'Urusara 7' in 2012. A first in the world, this unit used the more energy efficient R-32 refrigerant for lower impact on the environment.
2013
In 2013, the 'Urusara 7' received several awards for excellent engineering and energy conservation. Daikin expands the use of the R-32 refrigerant to India.
2014
Daikin has produced 10 million packaged air-con units by this time.
2019
In 2019, Daikin received the Good Design Award by the Japan Institute of Design Promotion for five products: Air Purifier with Humidifying and Dehumidifying Functions, Outdoor Air-Cons, Air-Con for Stores and Officers, Vehicle Air Purifier, and the Daikin Altherma Outdoor Unit.
Daikin has been a driving force for success in the heating, ventilation, and air-con marketplace for over 90 years now with a strong presence in Singapore for close to half a century. With constant innovation and evolving technology, you can now even look into smart home solutions in Singapore, thanks to Daikin's products. We can't wait to see what else Daikin has in store in the future.